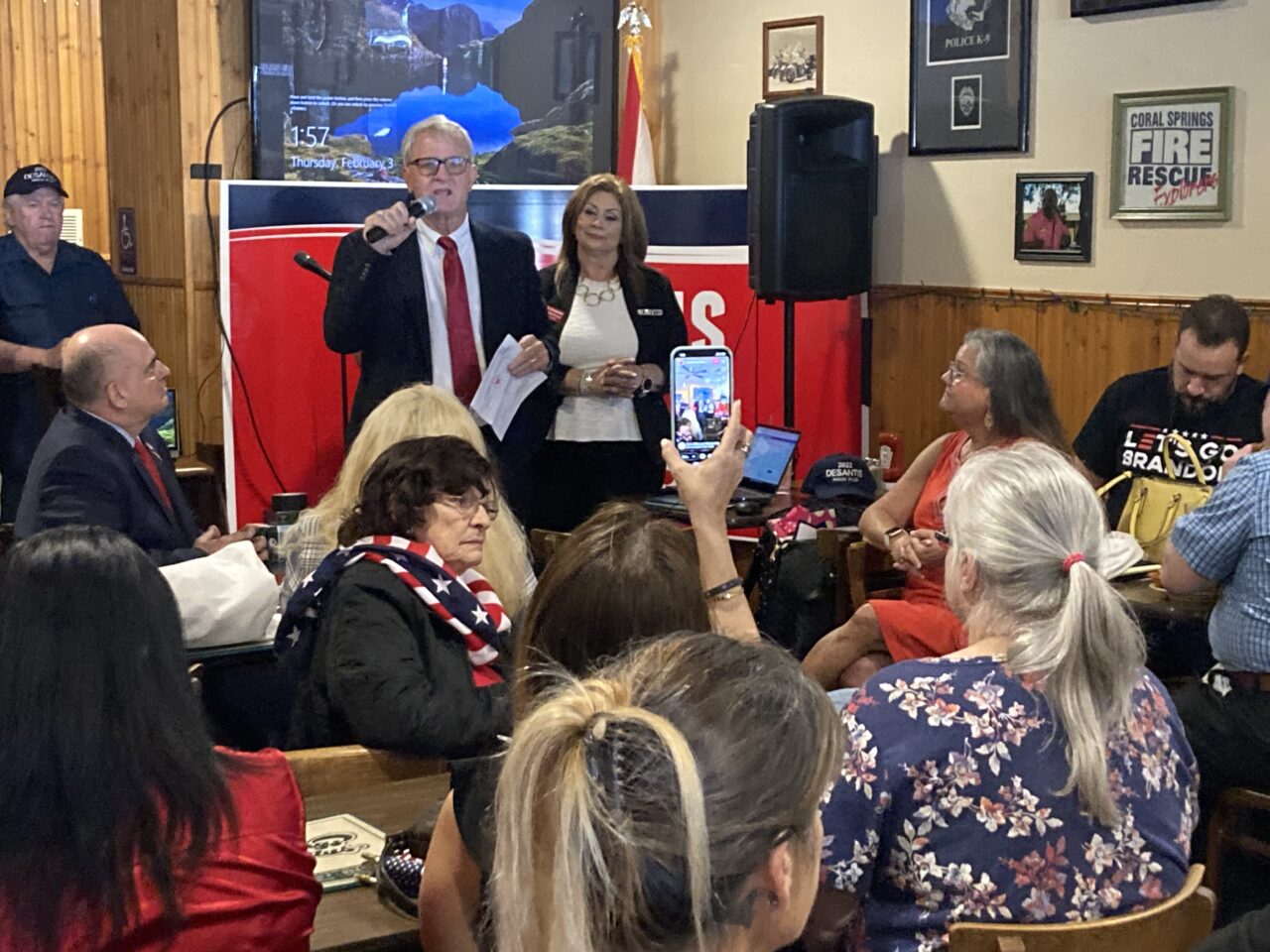 Republicans are aiming high in a county with more than double the number of Democrats.
Broward County is a famously Democratic stronghold, but more than 100 people who packed Wings Plus in Coral Springs Thursday came not for lunch but for training aimed at making the county redder.
The event drew a totally unmasked crowd and was part of the Republican National Committee National Week of Training. Organizers were ebullient at Republican accomplishments thus far and what Thursday's turnout portended.
"You are the backbone of what's going to help us in Broward County. … The changes we've made and the changes we'll continue to make are phenomenal," said Tom Powers, Broward County Republican Party chairman and former Coral Springs City Commissioner.
"We have flipped the state of Florida officially to a red state," Powers said, inciting wild applause from the crowd jammed cheek to jowl in the two adjoining meeting rooms of the restaurant.
Powers told the group that it was going to be "easy" this year as President Joe Biden's "failed policies" are helping Republicans with recruiting.
"Just think of where we were 18 months ago. … It's all come apart in just one year," he said.
Since Powers was elected to his post leading the Broward County GOP in December 2020, he said party precinct men and women have doubled from 200 to 400 and there are 100 more applying for those positions. There are currently 577 precincts in Broward County.
Later, Power marveled over the diversity of Thursday's crowd. Past events have drawn mostly senior citizens. He said his goal was to increase Gov. Ron DeSantis' margin of victory in the Governor's race.
No mention was made of President Donald Trump during the introductory remarks Thursday, but DeSantis' name drew cheers and applause.
"I'm excited about being here and I just recently signed the endorsement for Republican mayors," said Weston Mayor Peggy Brown. "I just added my name to endorse Gov. Ron DeSantis."
Members of the press were escorted from the event before the actual training began, but some other Republican activities in South Florida have been drawing Democratic concern.
Two days earlier, Democratic Sen. Annette Taddeo called for an investigation into reports that elderly, lifelong Democrats in Miami-Dade County were surprised to get new voter identification cards saying they were registered Republicans after being visited by people with clipboards wearing red hats.
Lauren Cooley, executive director of the Republican Party of Broward County, said the Broward volunteers are being told to target newcomers to the area rather than turning party affiliation. She argued many of these new residents were drawn from bluer states because of the Governor's approach to handling the pandemic.
"We're focused on voter registration because there are a lot of people who moved here from other states," she said.
Figures from the Broward County Supervisor of Elections show Republicans have plenty of ground to make up. There are 630,139 registered Democrats in Broward County, compared to 270,360 Republicans.