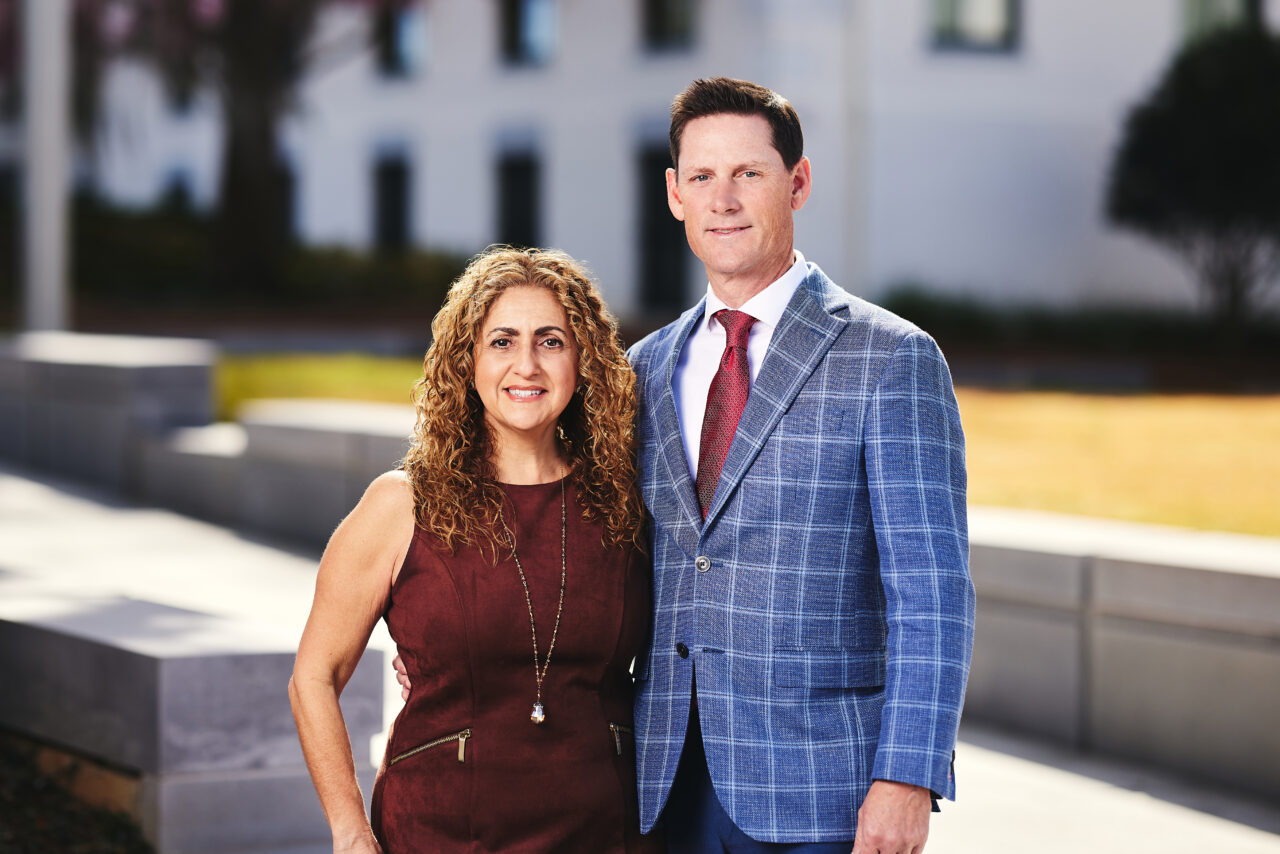 'We were just such a great team and we balance each other out.'
It takes a special kind of person to work in the pressure cooker that is Session. Is it possible for two of these special people to find each other, fall in love, and tackle The Process together?
Not just possible, but highly likely.
For Valentine's Day, we're here to share the story of six couples who have found success — under the rotunda, in their love and family lives.
___
Alia Faraj had been working in Gov. Jeb Bush's communications shop for five years, ending up as his Communications Director, and she had a rule — "not dating anybody I worked with."
Toward the end of Bush's administration in 2006, she was tempted into breaking her personal decree and began discreetly dating "lowly" (his word, not hers) cabinet aide Rob Johnson.
Apparently not discreetly enough, because the Governor caught wind of their blossoming relationship in its early days and blabbed. To the media.
"I got the phone call from (Bush) saying something like, 'Hey, I'm so sorry, but I couldn't help myself. I told everybody you were dating somebody,'" during an impromptu news conference, she recalled. "We didn't even know if our relationship was solid. It was early days."
It was solid. Rob proposed, and Bush put the news on blast once again, this time during the Governor's presentation of the official state Christmas tree. "He held a media gaggle, and he called me out and showed everybody my ring and then went on to say I had gotten engaged," Alia said. "And then went downstairs to the Cabinet, which is what Rob was prepping for, and told Rob that he just announced our engagement to everybody."
There was no need for a long engagement; they married the following June, when she revamped her name to Alia Faraj-Johnson. "I had not felt that way before" about any other man, she said, "We were just such a great team, and we balance each other out."
"I think I'm more intense; I think Rob is more laid back. I like to follow a schedule; I'm a list maker," she said.
Rob continued the thought. "She's more of the taskmaster, and I play more of the long game. I have an ability to look down the road and line things up in the long-term, and she balances me out by keeping me focused on the near-term agenda. That's a healthy balance."
Both have found great success in The Process in their post-Bush years. Alia continued her career with public communications and public affairs in Tallahassee at Sachs Media and Hill+Knowlton. At the end of 2019, just months before the pandemic shutdown, she created her own shop, Alia Strategic Group.
"You become innovative just like everybody else, and you try to overcome those challenges," she said. "I feel very fortunate and blessed that my business took off and actually grew."
Rob said his wife is "her own brand," and he never doubted her success.
"Alia is a known commodity in her profession, and it only made sense for her to have her own business … because the work product, the quality, the dedication, the honesty, everything that comes with being successful, she already had," he bragged., "She's done a fantastic job, and I'm happy to be part of her business. She's just a force of nature in the public affairs and communications world."
Rob also has an impressive resume as a policy adviser and legislative affairs director, working for Florida's Attorney General for 16 years. He joined The Mayernick Group as a partner in 2017.
It's a good fit for him because of the boutique firm's family-first policy. The couple's daughter, 13-year-old Peyton, is a standout junior golfer, playing on her school's high school varsity team when she was in sixth grade.
As difficult as being locked down was in 2020, "the situation gave us a chance to spend quality time together," Alia said. "We actually spent a lot of time golfing as a family because it was about the few things that we could do. It also helped (Peyton) hone her skills because we had a little more time and flexibility to do that."
The couple doesn't put a lot of emphasis on Valentine's Day celebrations. Alia said usually she doesn't remember while Rob is a bit curmudgeonly about the "whole transactional deal of candy and all that."
"That doesn't take away the way I feel about my wife," he explained. "We find ways to enjoy our lives and ourselves without having to pinpoint holidays and things," he said.