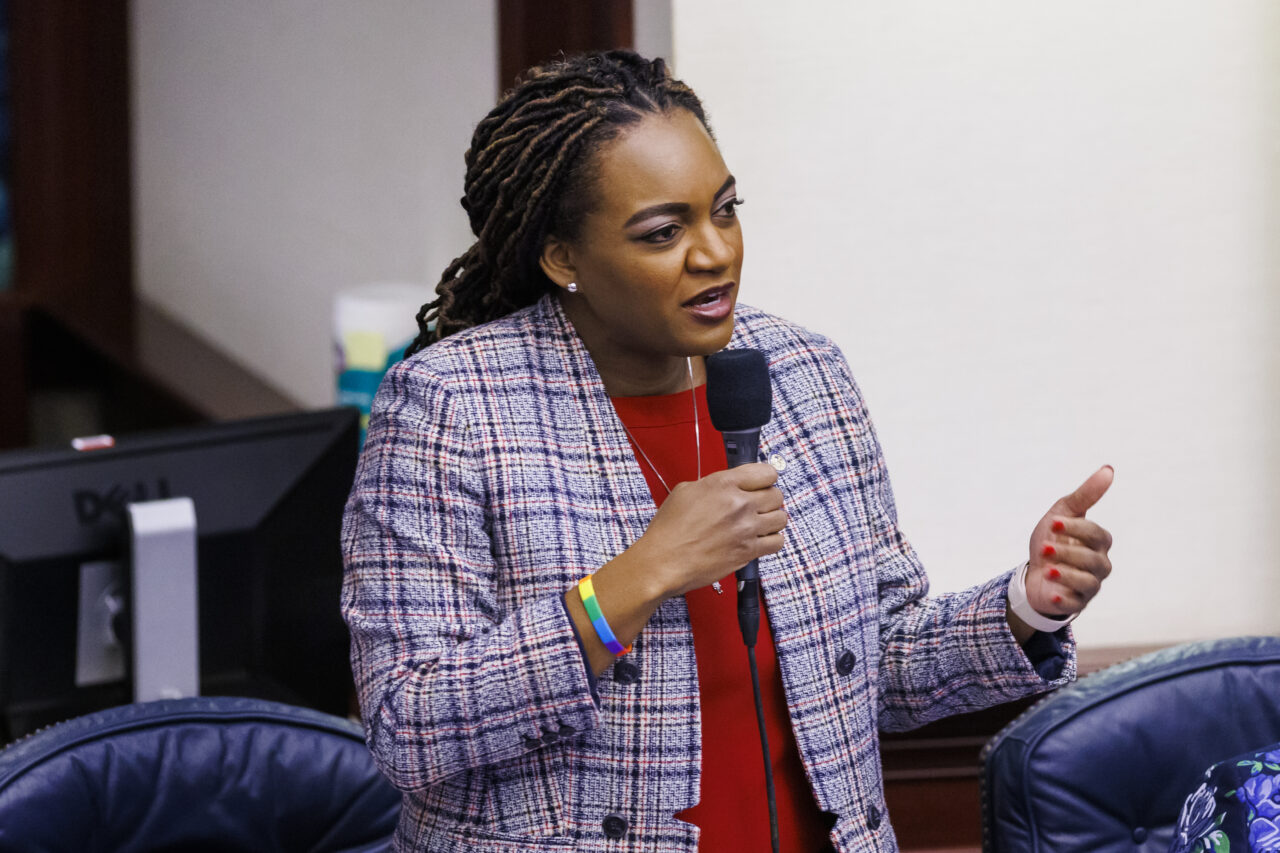 Driskell is the third member to be Democratic Leader-designate ahead of the 2022-24 term.
Florida House Democrats have unanimously named Rep. Fentrice Driskell their leader for the upcoming legislative term, priming her to be the first Black woman to lead a House party caucus.
Driskell steps into the role amid a transitional period for House Democrats and as the caucus is less than six months away from what is expected to be a difficult Election Day. Following her election during a caucus meeting on Tuesday, the Tampa Democrat told reporters she hopes to build unity in the caucus.
"I'm just really very honored that my colleagues instilled their trust in me today and their confidence as we try to chart a path forward as a caucus," Driskell said. "I mentioned in my remarks that we may be a smaller caucus, we are diminutive in number, but I think we serve an important role in terms of fighting for the people of Florida, pushing for the responsibility and transparency that we need."
Driskell's path to lead the caucus during the 2022-24 term wasn't a direct one. She is the third member to be Democratic Leader-designate.
Democrats elected her in a vote called to replace Rep. Ramon Alexander, a Tallahassee Democrat who was in line to lead the caucus during the 2022-24 term until he scrapped his House re-election bid amid sexual harassment allegations. Alexander, in turn, had been elected to replace St. Petersburg Rep. Ben Diamond, who dropped his House re-election bid to run for Congress before withdrawing his candidacy amid an unfavorable redistricting plan.
A year ago, Democrats elected Driskell as caucus leader for the 2024-26 term, giving her an opportunity to lead the House minority for four years.
Speaking before the caucus, outgoing House Democratic Leader Evan Jenne congratulated the new Leader-designate on her election. Jenne, who has served in the House for 14 years, is term-limited and won't serve next year.
"You are an amazing woman. You're a historical figure, and you were always destined to be," Jenne said.
Alexander, a Democrat from Tallahassee who has represented House District 8 since 2016, was accused of sexting and groping by a former Florida A&M University athletics employee who left the school in January after what the Tallahassee Democrat reported was an "ugly" staff shakeup. While Alexander, a husband and 37-year-old father of two, said it was a consensual relationship and something his family has been working through, accuser Michael Johnson Jr. filed complaints in February.
As Leader-designate, Driskell will take charge of House Victory, the caucus' campaign arm. Despite Alexander stepping down from leadership earlier this month, Driskell said House Victory has not stopped working, particularly because the qualifying deadline is less than a month away.
"We really have to roll up our sleeves and get to work — not that we ever really took our foot off the gas, but this has been a period of transition," Driskell said. "For me it's just been all about, 'Where can I jump in? Where can I start? Where can I help make sure that the trains are still running on time, that we're doing the things we need to in the campaign cycle to meet our goals and meet our metrics and and make sure that we're supporting each and every candidate that we need to bring back?'"
Jenne credited Driskell's work ethic for piloting House Victory through the turbulent time.
"She has been so integrated and ingrained into our House Victory apparatus for really the last year and a half, it's made this transition virtually seamless," Jenne said.
Driskell will lead the minority party against the Republican majority and Speaker-designate Paul Renner, a Palm Coast lawmaker who Driskell says she got to know when he was Chair of the House Judiciary Committee.
"I think that's where we best got to know one another, and I'm looking forward to his leadership and being his counterpart in the House Democratic Caucus," Driskell said.
Senate Democratic Leader Lauren Book, who is expected to lead the Senate Minority next term as well, congratulated Driskell in a news release. She said she looks forward to working with Driskell.
"With an unshakable commitment to making life better for everyday Floridians, Leader Fentrice Driskell has officially made history as the first Black woman elected to lead the House Democrats," Book said. "But Leader Driskell is remarkable far beyond simply being the 'first' — her exemplary legal career, service to others and tenacity to do what's right will continue to bolster not only our Democratic colleagues in the House, but our collective, efforts to defend Floridians' rights and freedoms across both chambers."