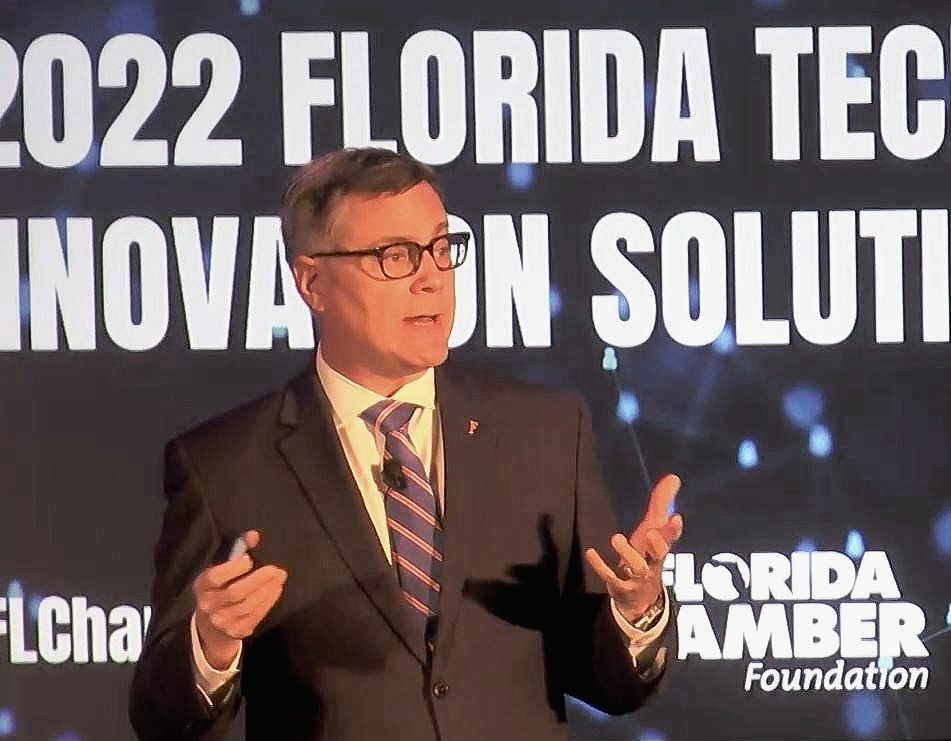 The bottom line is Florida is already a massive tech and innovation hub.
California, Texas, North Carolina — what do they have for technological innovation that Florida doesn't have or can't obtain? The belief is not much, that what it takes for Florida to lead on technology is commitment and collaboration among leaders in the field.
"We want to be globally competitive — we want high-wage, high-skill jobs, and we want vibrant and resilient communities," said Mark Wilson, President of the Florida Chamber of Commerce and Foundation. "At the end of the day, that's what we wish every County Commission, every city, every group in Florida would be thinking about in every decision that they make."
He made his remarks at the opening of the 2022 Florida Technology & Innovation Solution Summit in Tampa.
Florida has the fourth-largest tech industry in the country, behind Texas, with the second-highest number of net new tech jobs, and more than 446,000 people working within it. 
The goal is for Florida to become a Top 3 state for tech jobs with 1.62 million net new jobs, and a Top 10 global economy by 2030. The state's 39th ranking in state-level research and development funding though, according to the Foundation, is far short of the 2030 goal of third in the country.
To become a Top 10 global economy, Florida will have to move up a few spots from its No. 15 ranking. There are six pillars on which to focus to grow the economy to that level that quickly — talent; innovation and technology; infrastructure; business climate and competitiveness; civic and governance, and quality of life.
"We have over 546,000 jobs that can't find people in Florida right now, but we have under 300,000 people even looking for work," Wilson said. "That's a big problem."
There is good news, though.
"One of our goals was to be No. 1 in the country for new business startups by 2030," Wilson said. "We're already there. We're No. 1 in the country, so now we need to keep our focus on how do we keep that, and how do we keep that growing?"
The bottom line, he said, is that Florida is already a massive tech and innovation hub.
"We have this huge brand perception of that's not what's going on in Florida," Wilson said. "So, we need to champion what we have, but the rest of us in the business community need to get the word out."  
Among the things people don't generally know about Florida's tech industry, he said, is that there are 33,000 tech companies headquartered in the state, and the Sunshine State added more tech companies in 2021 than any other state. Florida was second in the country in tech job growth in 2021, not far off from Texas' numbers, and Tampa is the No. 1 emerging tech city in the United States, with a quarter of the state's tech jobs in the Tampa area.
Among the places for improvement is venture capital, and the aforementioned state-level funding. Florida is seventh in the country in venture capital funding, but the Chamber would like to see that ranking in the Top 3.
"California gets more venture capital every 13 days than Florida gets in a year," Wilson said. "So let that sink in and be thinking of what can we do about it." 
The state government is getting in on the game as well, developing and maintaining data security.
"With regard to tangible solutions, the state of Florida is making strides in this effort," said Pedro Allende, Secretary of the Florida Department of Management Services.
"In a relatively short period of time, under Gov. (Ron) DeSantis, we've gone from a state with virtually no centralized and cohesive plan on cyber, to one that has a roadmap, has implemented a portion of a solution set to discover threats and vulnerabilities across agencies, going back to the collective defense point."
State agencies are also sharing data collaboratively in real time, funneled through the state's cybersecurity center.
"This is huge," Allende said.