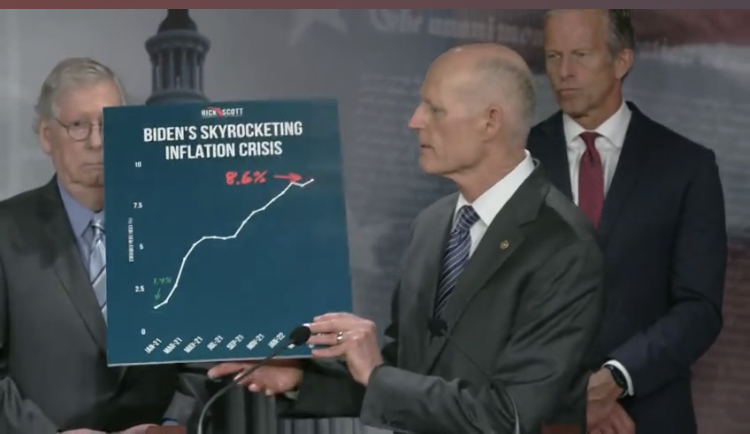 'It's a shot at our candidates and the voters.'
U.S. Sen. Rick Scott continues to push back against Minority Leader Mitch McConnell amid the Kentucky Republican's doubts the GOP can take back the Senate this year.
Scott blasted McConnell Thursday during a national interview, the latest evidence that the Kentucky Republican's skepticism is irking him.
After hearing sound of McConnell saying the House is more likely to flip than the Senate because, in part, of the "quality" of Senate nominees, Scott swiftly countered during an appearance on the Fox News Radio Brian Kilmeade show, saying the voters of the states picked the candidates and they deserved respect.
"It's a shot at our candidates and the voters," Scott contended.
"Let's look at this for a second. We've got a world-renowned doctor, a Heisman Trophy winner, a successful business person, a small businessman and a Congressman from a farming community, a best-selling author who showed the struggles of drug addiction, an Iraqi War veteran who served two terms as state Attorney General, a successful construction company entrepreneur and a nurse who brought her husband back to health who was blinded in Iraq."
"Do you think that sounds like we don't have great candidates? And by the way, the people in these states, they picked these people," Scott said. "So respect the vote of the people of these states."
"I'm going to fight like hell every day," Scott promised, "and be a cheerleader for our hardworking candidates."
Scott singled out some of the candidates for specific praise by name rather than description, including Florida colleague Marco Rubio, who's "got a great story."
Scott also offered a defense of Pennsylvania nominee Mehmet Oz, saying he's only "down a little bit" in his race against Democratic Lt. Gov. John Fetterman, who Scott said was a "Marxist."
Also running against a "Marxist," according to Scott, is Georgia nominee Herschel Walker.
Despite multiple candidates facing people Scott calls "Marxists," McConnell believes Republicans have at best a 50/50 shot at taking back the Senate.
Scott was on national television earlier this week, when he dealt with a similar question.
"We've got great candidates! Look at the background of these people. These are wonderful individuals that believe in this country, and they believe in the right things," Scott said on the Fox News Channel's "Hannity" program. "We are going to win, but we've got to raise our money. When we raise our money, we win."
In the segment, Republicans like Sen. Ron Johnson of Wisconsin, Ted Budd of North Carolina, J.D. Vance of Ohio, and Walker of Georgia were each lionized as "running a great race."
The schism between Scott and McConnell is documented at this point. They had a public split over Scott's "12-point plan to rescue America." McConnell slammed the plan's suggestion of review of federal entitlement programs as a nonstarter if he led Senate Republicans next year.
Former President Donald Trump has reportedly urged Scott to make a play for McConnell's post. Scott has not endorsed McConnell to lead the caucus beyond this year.