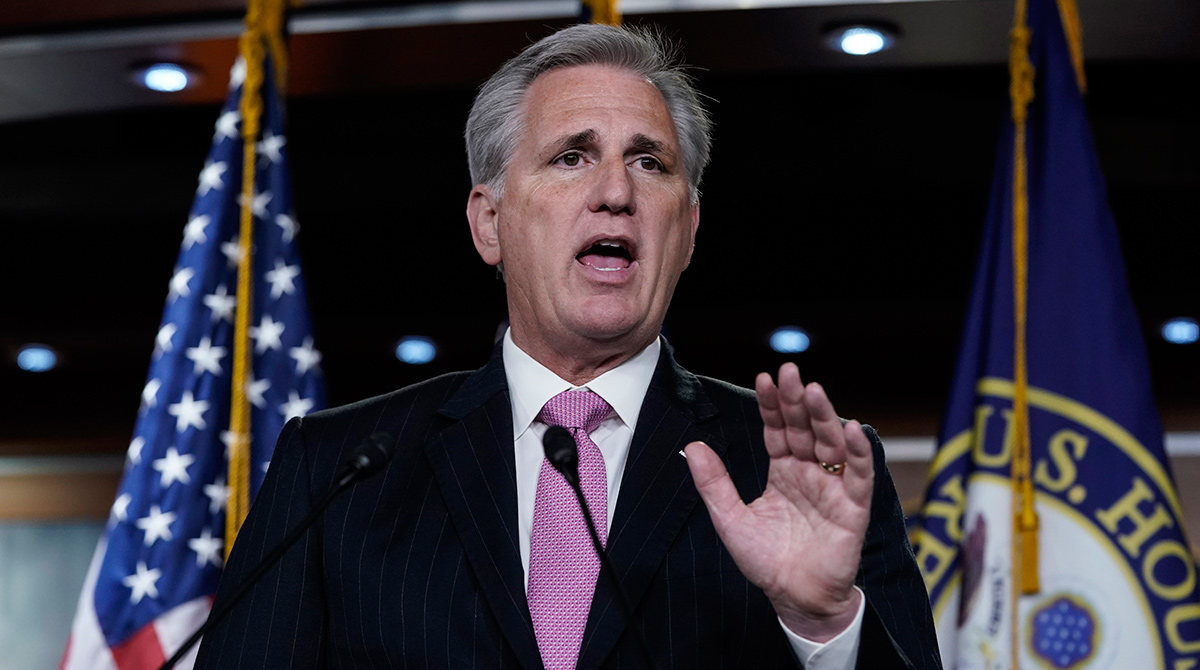 Democrats say the plan is short on details.
House Republican leader Kevin McCarthy on Friday directly confronted President Joe Biden and the party in power, choosing battleground Pennsylvania to unveil a midterm election agenda with sweeping Trump-like promises despite the House GOP's sometimes spotty record of delivering and governing in Congress.
McCarthy, who is poised to seize the speaker's gavel if Republicans win control of the House in the fall, hopes to replicate the strategy that Speaker Newt Gingrich used to spark voter enthusiasm and sweep House control in a 1994 landslide.
The House GOP's "Commitment to America" gives a nod to that earlier era but updates it in the age of Donald Trump, with economic, border security and social policies to rouse the former president's deep well of supporters in often-forgotten regions like this rusty landscape and rolling farm land outside Pittsburgh.
"What we're going to roll out today is a 'Commitment to America' in Washington — not Washington, D.C., but Washington County, Pennsylvania," McCarthy said at a manufacturing facility. "Because it's about you, it's not about us."
On Friday, the House Republican leader stood with a cross-section of other lawmakers to roll out the GOP agenda, offering a portrait of party unity despite the uneasy coalition that makes up the House minority — and the Republican Party itself. The GOP has shifted from its focus on small government, low taxes and individual freedoms to a more populist, nationalist and, at times, far-right party, essentially still led by Trump, who remains popular despite the deepening state and federal investigations against him.
The "Commitment to America" reflects the strength of McCarthy's abilities but also his weaknesses. He spent more than a year pulling together the House GOP's often warring factions — from the far-right MAGA to what's left of the more centrist ranks — to produce a mostly agreed-upon agenda.
But the one-page "commitment" preamble is succinct, essentially a pocket card, though it is expected to be filled in with the kind of detail that is needed to make laws.
"Long on slogans and short on details," House Majority Leader Steny Hoyer told union workers in Pittsburgh on Friday, according to excerpts of his speech. "That's because the true details of Republicans' agenda are too frightening for most American voters."
___
Material published with permission of the Associated Press