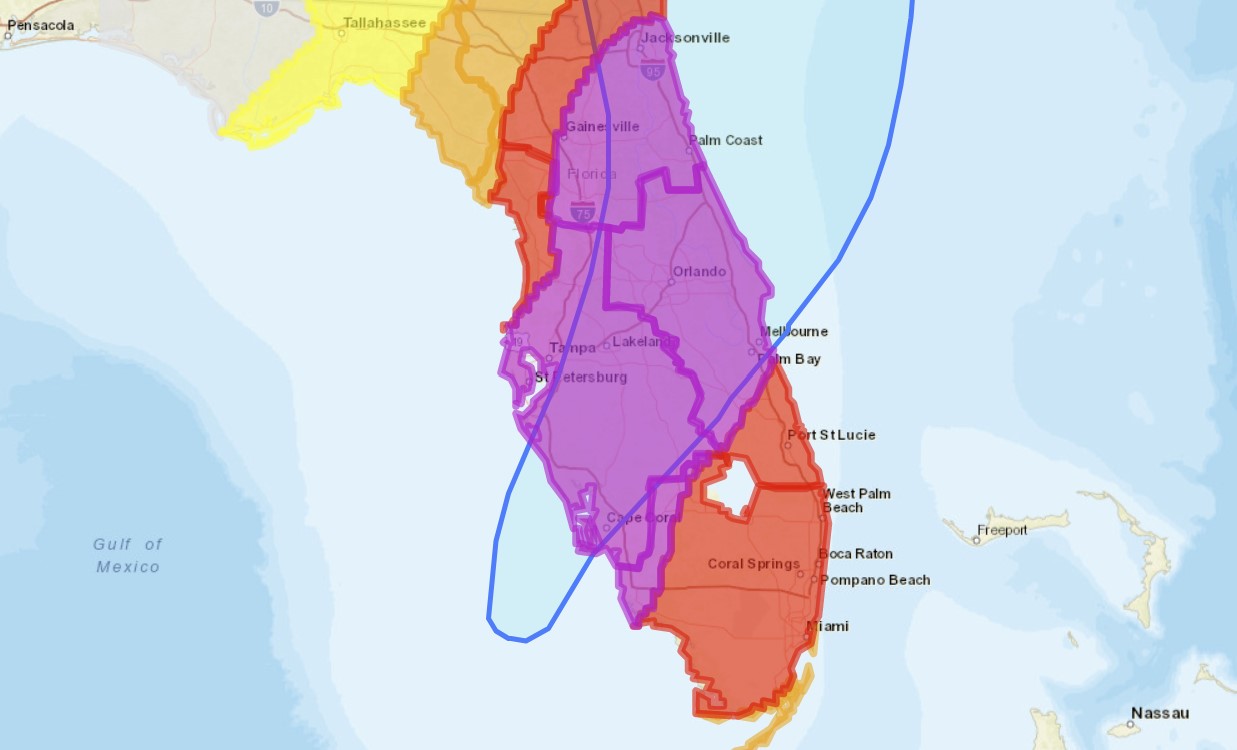 'You're going to be dealing with a significant storm surge here, which is just going to wipe structures off their foundation.'
Hurricane Ian reached near-Category 5 strength Wednesday morning while crawling toward southwest Florida, and weather experts are predicting the storm will cause significant flooding across the Florida Peninsula.
Ian's wind speeds reached 155 mph as it moved at roughly 10 mph north-northeast across the Gulf of Mexico. By 10 a.m., it was about 60 miles west of Naples, 70 miles southwest of Fort Myers, and roughly 90 miles south of Sarasota, according to the National Hurricane Center.
The NHC predicted storm surges to bring up to 11 feet of water to coastal areas between Bonita Beach and Chokoloskee in Collier County.
In West Central and Southwest Florida, the center forecast "widespread deep inundation," "extreme beach erosion" and "massive damage to marinas, docks, boardwalks, and piers."
"Potential impacts from the main surge event are also now unfolding across Tampa Bay and the Nature Coast," NHC personnel wrote. "Remain well away from life-threatening surge having possible significant to devastating impacts."
Broward County Commissioner Jared Moskowitz, a former Division of Emergency Management director, told Florida Politics, "You're going to be dealing with a significant storm surge here, which is just going to wipe structures off their foundation."
Flooding will be a serious problem in the coming days for a huge swath of the Peninsula. From between Naples and Clearwater on the west coast to between Palm Bay and Jacksonville on the east coast, the NHC says there is potential for "extreme flooding rain."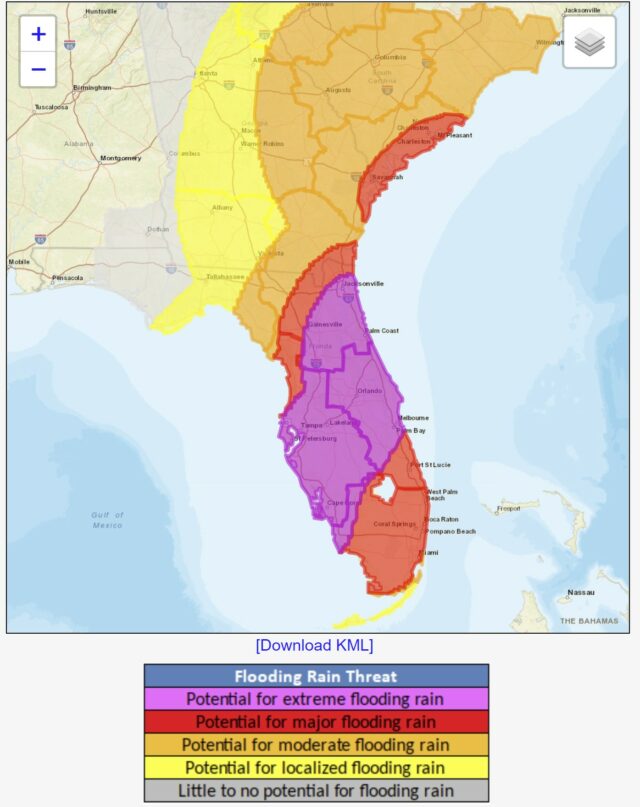 That area is on track to also receive the storm's strongest winds, with wind speeds of greater than 110 mph expected to reach as deep into Florida as Lakeland.
All areas south of that region — except for the Keys, which will see localized to moderate flooding — should expect "major flooding rain." The same goes for a banner of the Peninsula above Spring Hill, northwest of Gainesville and north of Jacksonville.
As of 10:45 a.m. Wednesday, mandatory evacuation orders are in place for Charlotte, Citrus, Clay, Collier, Flagler, Hernando, Hillsborough, Lee, Levy, Pasco, Pinellas, St, Johns, and Sarasota counties. The Division of Emergency Management has also issued partial mandatory evacuation orders for Manatee, Orange and Putnam counties.
Franklin, Gilchrist, Glades, Seminole, Taylor and Volusia are under voluntary evacuation orders. DEM officials recommend those who live in recreational vehicles, mobile homes or low-lying areas to seek accommodations elsewhere.
"This is a major, major storm," Gov. Ron DeSantis said Wednesday, adding that he expected Ian to leave an "indelible impact" on the state.