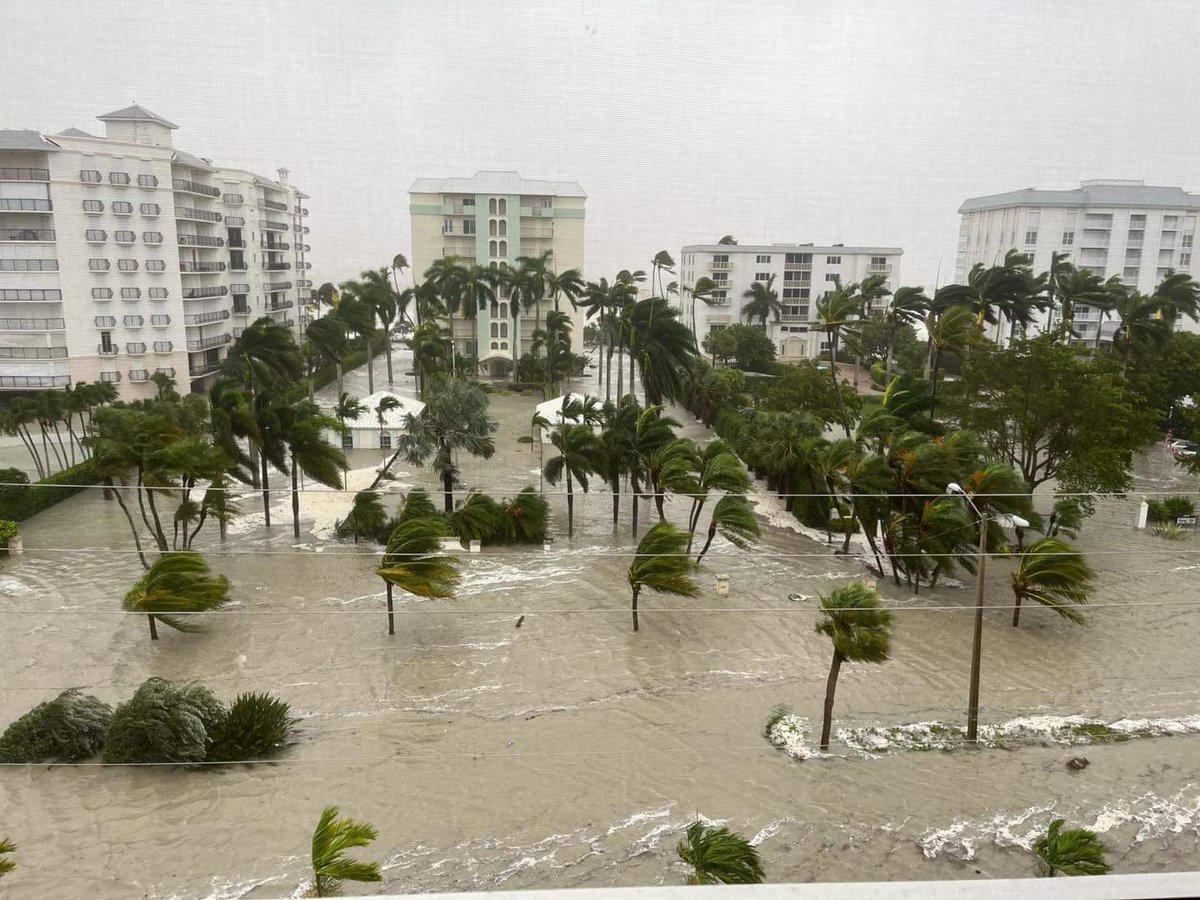 Hurricane Ian made landfall near Cayo Costa.
Lee County, where Hurricane Ian made landfall at 3:05 p.m., was the latest Southwest Florida community to announce a curfew. One will go into effect at 6 p.m., today, Wednesday, Sept. 28.
The decision in part came because of looting already reported in Fort Myers. Lee County Manager Roger Desjarlais said reports are coming in that verify the Lee County community has been "decimated" by the storm.
"This will be a difficult and trying time the next several months," he said.
He also stressed criminal activity exploiting the natural disaster will not be tolerated.
At the moment, law enforcement and first responders still cannot respond to calls in the community. County Commissioner Kevin Ruane, a former Sanibel Mayor, said he has received heartbreaking calls from individuals on the barrier islands. However, bridges are closed and it remains unsafe for first responders to fly rescue helicopters.
"We can't put our first responders in harm's way," he said.
He also said tropical storm winds may continue in the area until early morning.
Naples announced an immediate curfew in the wake of Hurricane Ian, which flooded significant portions of the community.
"The City of Naples has issued an emergency citywide curfew to protect and safeguard the health, safety and welfare of City of Naples residents, visitors and first responders," reads an announcement on the Naples Police's Twitter. "The curfew is effective immediately until further notice."
The curfew does not apply to first responders and emergency workers. But all others are required to stay inside.
"As Hurricane Ian approaches landfall, extremely hazardous conditions are on our roadways," reads a notice on the city website. The site also includes a list of currently flooded roads in Naples.
After Hurricane Ian made landfall near Cayo Costa, Charlotte County also announced a curfew, in effect from 9 p.m. to 6 a.m. until further notice. Sheriff Bill Prummell and Punta Gorda Police Chief Pam Davis announced the measure.
"I am enacting this curfew as a means of protecting the people and property of Charlotte County as it pertains to Hurricane Ian," Prummell said. "As soon as it is safe to rescind this order, I will do so. Until that time, the only people that should be out on the roadways after hours are essential workers as they strive to assess and provide assistance to those who received damage caused by the storm."
Davis runs the police department of Charlotte County's only incorporated municipality. "We are happy to partner with the Sheriff's Office in establishing a curfew in the City of Punta Gorda for the safety of our citizens," she said. "This curfew will allow emergency responders to focus on post-storm rescue and recovery efforts."
The curfew will have exceptions for emergency workers and for those commuting to and from a place of employment.
The Collier County Health Department has also advised all residents of the broader area to stay inside.
"With Hurricane Ian here, the time now is to stay inside," reads a Health Department tweet. "DO NOT play in water at the beach or in the roads. Flood water can increase your risk of drowning, even if you are a strong swimmer. If flooding occurs, get to higher ground."
This comes as local meteorologists say some parts of Naples saw wind speeds on land of more than 115 miles per hour.
Collier County Government reports roads throughout the region are unsafe to drive.
"We can't stress enough the importance of staying off the roads," reads a government tweet. "Many roads in sections of southern Collier County are not passable or safe at this time. We expect additional storm surge inundation for many hours and possibly tomorrow. We have reports of down power lines."