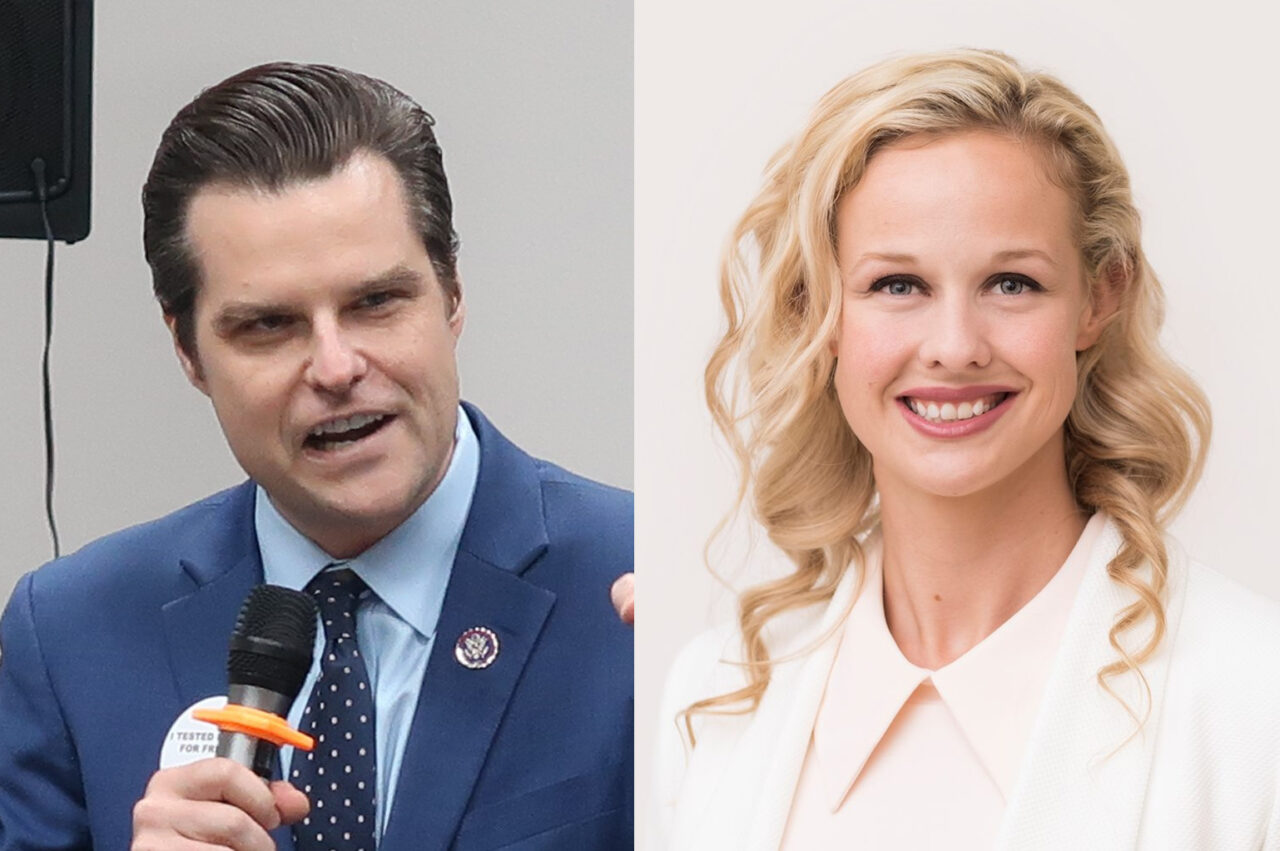 Democrats selected Jones as their choice to test Gaetz's resilience, electing a nominee with name recognition but her own set of scandals.
In a race between two of the most controversial characters in Florida's Republican and Democratic parties, U.S. Rep. Matt Gaetz has punched his ticket to another two years in Congress.
Gaetz, a Fort Walton Beach Republican who has represented the 1st Congressional District since his election in 2016, defeated Democrat Rebekah Jones in the Panhandle district by more than 35 percentage points. Two hours after polls closed in the Panhandle, the vote was 68%-32%.
There was little doubt voters in the ruby red Northwest Florida would re-elect Gaetz, but the race drew national attention because of the prominence of the parties' two scandal-plagued nominees.
Gaetz, already a conservative star for his vocal support of former President Donald Trump, has dug his heels further into the fringes of his party since he was accused of violating sex trafficking laws by paying for a sexual relationship with a 17-year-old girl. He denies the allegations — and reports suggest prosecutors won't charge him — but he has fallen out of favor with the Republican establishment, which provided Democrats a possible window to unseat him.
In August, Democrats selected Jones as their choice to test Gaetz's resilience. While electing a nominee with name recognition, Democrats also elected their own scandal-ridden candidate.
Jones rose to national prominence during the height of the COVID-19 pandemic, when she was fired from the Florida Department of Health after claiming the DeSantis administration was manipulating data to make Florida's outbreak appear better than it was — a claim made with unsubstantiated evidence. Although Jones says a state investigation concluded she was the target of whistleblower retaliation by DOH, PolitiFact has scored that claim as false.
Since her firing, prosecutors have accused Jones of hacking into a state emergency messaging system, and law enforcement carried out a highly publicized raid on her home. Jones rejected a plea deal earlier this year, putting her on the path to a Jan. 23 trial date.
She has also been the subject of a sexual misconduct allegations, including cyber stalking a former student and romantic partner, as well as posting revenge porn.
Gaetz has aligned himself with figures like Georgia U.S. Rep. Marjorie Taylor Greene, who has promoted conspiracies and who falsely claims Trump won the 2020 election.
Last month, Gaetz and Jones sat down for a locally televised 30-minute debate, which highlighted their differences on abortion and veteran health care.
Gaetz has advocated for abolishing the U.S. Department of Veterans Affairs after years of controversy at the agency. His plan would provide veterans with government-funded health care through private doctors.
Meanwhile, Jones promised to secure funding for a new Veterans Affairs hospital in Northwest Florida.
Political observers watched the CD 1 race more for the characters and intrigue than the race's competitive nature — or lack thereof. The only public polling in the race showed Jones leading by 6 percentage points and Gaetz leading by 2 points. However, the pair of surveys come from The Political Matrix/The Listener Group, which touts its use of "real data" but frequently produces outlying polls that favor Democrats.
CD 1 is Florida's westernmost congressional district, covering Escambia, Santa Rosa and Okaloosa counties and the western half of Walton County.