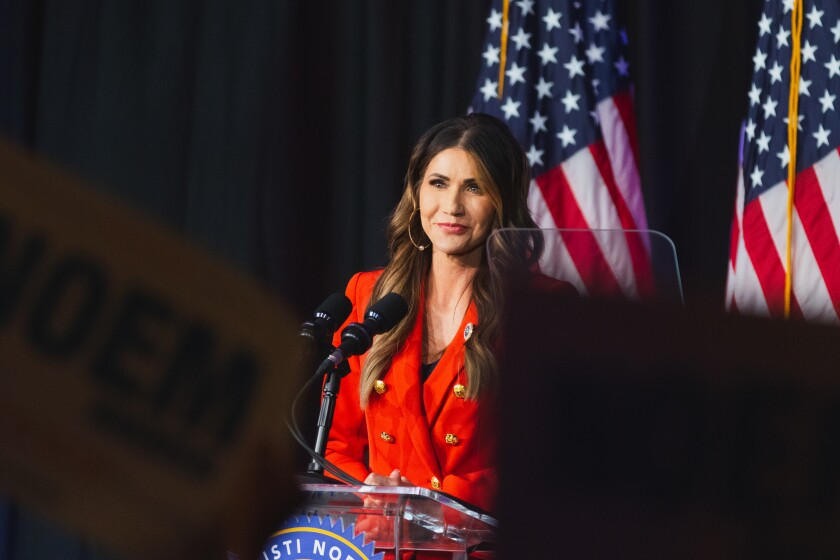 More incoming fire for DeSantis comes from a potential 2024 rival.
As 2024 comes into view, Democrats are exploiting Republican jockeying on red meat issues, with abortion topping the list.
The Democratic National Committee "War Room" messaging operation is calling attention to a rift between two red state Governors on one of the biggest "litmus test" issues of any Republican Primary.
"As the 2024 Republican primary shapes up in a competition to be the most MAGA, South Dakota Governor Kristi Noem is already taking shots at Florida Governor Ron DeSantis over a key GOP litmus test: Abortion. Kristi Noem's spokesperson went on a rampage against Ron DeSantis for being insufficiently extreme on banning abortion," the War Room recounted.
Indeed, spox Ian Fury spotlighted DeSantis' dubious reaction to the Dobbs decision last year, contending the Florida Governor was "hiding behind a 15-week ban."
Though there are some indications that more restrictive reproductive rights legislation may come from Tallahassee this year, DeSantis indicated a comfort level with the "reasonable" 15-week restriction during press conference comments last year.
"I'm supportive of 15 weeks. I mean, I think that's very reasonable and I think that's very consistent with, you know, being supportive of protecting life," DeSantis said.
Noem's spokesman's DeSantis denunciation came during an exchange with the conservative National Review earlier this week, a seeming deflection from questions on another topic.
"Where was Gov. DeSantis? Hiding behind a 15-week ban. Does he believe that 14-week-old babies don't have a right to live?"
Fury also contended DeSantis "terminated" his "pro-life Secretary for AHCA, Simone Marstiller, the most pro-life member of his cabinet. Florida Right to Life is embarrassed by Gov. DeSantis's record, so they invited Gov. Noem to speak at their annual conference in October 2021."
The Governor's Office says that assertion is "absolutely false." She submitted her resignation Nov. 9, the day after DeSantis's re-election. DeSantis and Marstiller exchanged laudatory tweets upon her departure.
The Governor said she "led the way by driving transparency & accountability in health care, fighting for patients' rights & standing against vax mandates. She demonstrated an unwavering commitment to Floridians."
Marstiller said it was "a privilege and a blessing to work with (DeSantis) on such critically important issues."
"In faith, I step now into a new chapter in my personal and professional life not knowing what comes next but knowing it is the right time and I am confident I will be able to use all I have done and learned in continued service to my fellow man," she wrote in the resignation letter.
The Marstiller narrative notwithstanding, the DNC War Room says this is a preview of a "2024 GOP primary (that) will be a competition to out-MAGA each other on key issues."
___
Christine Jordan Sexton of Florida Politics contributed to this report.