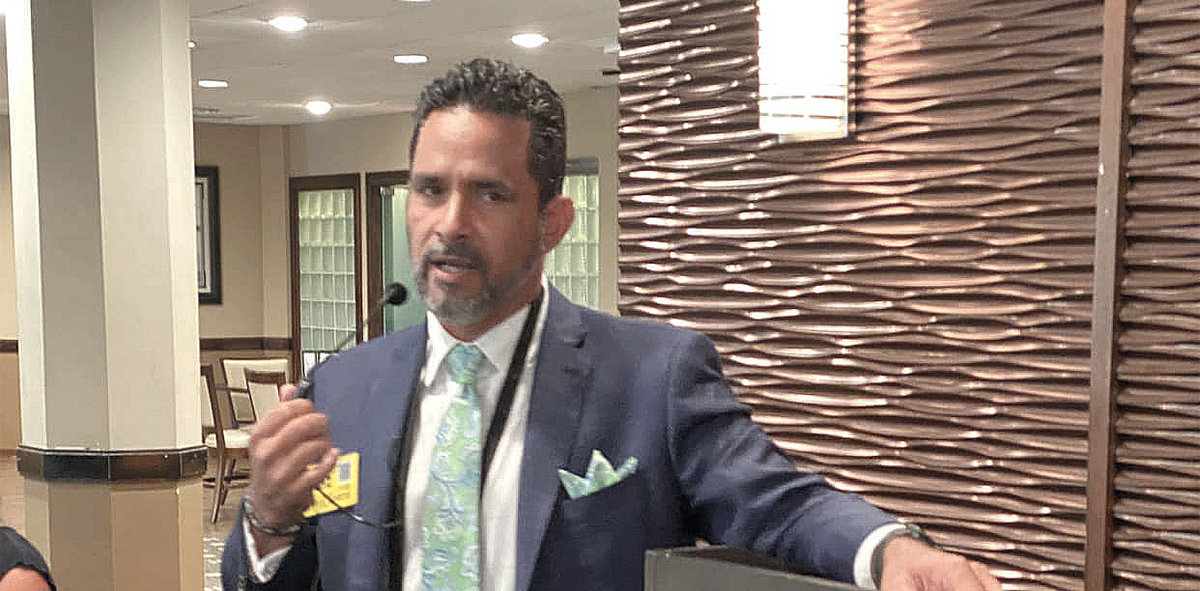 Rod Velez says that Amendment 4 allows him to hold office and the order that installed someone else was issued prematurely.
Rod Velez is filing a lawsuit against Gov. Ron DeSantis, asking a court to declare that a 27-year-old felony conviction should not keep him from taking a seat on the Broward County School Board.
Velez's 66-page complaint contends DeSantis' executive order that declared a vacancy on the Board, despite Velez's election, is unlawful and that Velez should be declared the rightful occupant of the seat, representing the southern swath of Broward County on the School Board.
Velez, of Hollywood, is also suing over DeSantis' order installing Daniel Foganholi of Coral Springs in the seat. Foganholi is also named as a defendant. 
"I am continuing this fight for all of our children and returning citizens," Velez said, according to a news release announcing the suit filed in Broward County Court. 
DeSantis' office called the suit, "meritless."
Velez was convicted of aggravated battery in 1995, completed his sentence and had his voting rights restored subsequently. The case filed Monday argues that Amendment 4, which voters approved in 2018, also restores Velez's right to hold office. The Governor's spokesman, however, disputed that contention.
"As a convicted felon whose civil rights have not been restored, Velez could not qualify and does not qualify for the School Board," Spokesman Bryan Griffin wrote in an email.
Immediately after the November election, the second-place finisher to Velez filed a criminal complaint and a civil suit against Velez and his election. The suit said only a clemency hearing would restore Velez's right to hold office and that Velez should not have been qualified to run.
The criminal complaint was dismissed Dec. 20, however. And Velez scheduled his swearing-in for Dec. 22. Before that could take place, though, DeSantis issued his executive order.
"We believe the Governor exceeded the authority granted to him by the Florida Constitution in denying Rod Velez the office to which he was elected," Velez's attorney, Marc A. Burton, said in the prepared statement. "The voters of District 1 chose Rod Velez to fight for the children of Broward County, and we are confident that the Court will reach the right decision to effectuate the will of the voters."
Democratic Rep. Michael Gottlieb, also a lawyer, had been making Velez's case, but he's no longer representing him. Gottlieb said he stepped back because he usually represents criminal matters and because of the conflicts this case could present.
Foganholi told Florida Politics he didn't know about the suit and had no comment as of Monday morning. 
The case filed Monday argues that Amendment 4, which voters approved in 2018, restores felons' right to hold office after the completion of their sentence. The Broward County State Attorney's opinion clearing Velez of the complaint filed notes that is a point of confusion in the law, according to the lawsuit.
"The Broward State Attorney's Office issued a Close-Out Memorandum, declining to prosecute Velez despite that office's stated position that Amendment 4 does not restore the right to hold office, because 'the 2018 change in the law was confusing even for seasoned attorneys and investigators and, as such would be confusing for the general public,'" the lawsuit says.
Velez's suit also notes the civil suit against Velez's holding office was dismissed from Broward County Circuit Court the next day, on Dec. 21.
With that action, Velez arranged to be sworn in on Dec. 22. And that would have meant he would have been installed within the 30 days that Velez had to take the seat and be sworn in — but the Governor acted first.
"The executive order was issued prematurely," the lawsuit says.
Foganholi's appointment on Dec. 22 represented his second stint on the turmoil-racked Broward County School Board and the Board's third iteration since November.
While on the Board, Foganholi joined in voting with four other DeSantis appointees to the Broward County School Board. Those four appointees came to the Board after a grand jury report that sitting Board members had been negligent in not pressing for the now-dismissed Superintendent from starting work on $800 million in facilities improvements that voters approved in 2014.
DeSantis suspended the elected Board members, including one due to serve through 2024.
DeSantis' appointees — all Republicans — made waves in the Democratic stronghold as they formed a voting bloc. Referred to as the "Reform Board," they voted to fire Superintendent Vickie Cartwright and increase charter schools' share of Broward County's schools' public revenues, all actions the elected minority opposed.
Those moves were reversed once elected Board members' formed a new majority of votes as their terms started in November. But the election of Board member Brenda Fam — who voted against rescinding Cartwright's firing earlier this month — along with Foganholi's appointment promises a conservative bloc on the Board.