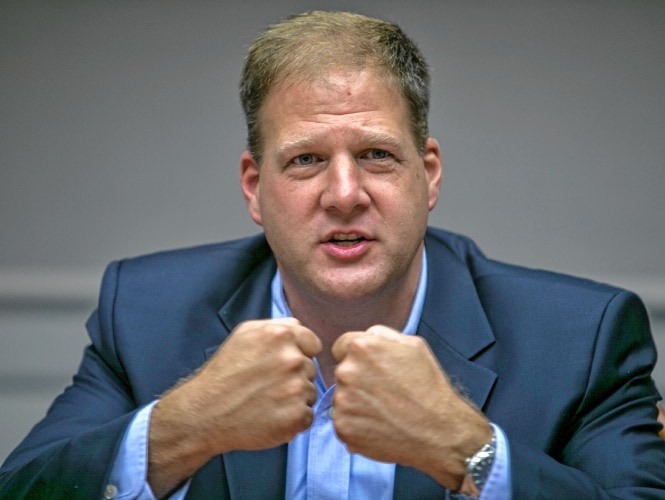 Sununu may run for President himself.
New Hampshire Gov. Chris Sununu isn't ruling out his own run for the White House, but he acknowledges other Governors may have a path.
Among those potential candidates in 2024 is Florida Gov. Ron DeSantis, and on Wednesday Sununu acknowledged DeSantis could "do well" in New Hampshire, were he to run for the Republican Presidential nomination next year.
"Specifically, Ron? I think Ron would do well," Sununu said on the Fox News Channel's "America's Newsroom," in response to a question from co-host Dana Perino.
He then offered some qualifying language.
"I would say this. Any Governor has to be willing to engage with voters in their homes, in their businesses, in their communities and shake hands. We want to look you in the eye. We want to buy off on you as a person before we even get to policy. If you can't pass that first test, I don't care how much money you have, you're not going to be successful. But Governors are pretty darn good at that."
Sununu's qualified praise for DeSantis comes in the wake of recent criticism of the Florida Governor.
In an interview with Fox News that ran last week, Sununu agreed with DeSantis there is a "need to push back on woke policy," an ongoing concern of DeSantis, but that such pushback shouldn't happen at the expense of private businesses.
He said that "going after private business is a whole different story. … I come from the 'Live Free or Die' state, and private businesses can and should act like private businesses without the fear of being punished by people that might disagree with them."
"While I agree with a lot of those issues that Ron brings to the table," Sununu does not think it wise "to necessarily punish private businesses because they don't agree with a policy or whatever it might be. Those types of culture wars pushing their way into the private sector, that's definitely not, I think, where we want to be as Americans," Sununu said.
DeSantis famously made an example of The Walt Disney Company last year after its opposition to the state's Parental Rights in Education bill, with a Special Session memorializing legislative intent to dismantle the Reedy Creek Improvement District that allows Disney governmental autonomy.
Sununu slammed DeSantis before Christmas for another policy decision, meanwhile, chiding DeSantis for his desire to create a state equivalent to the Centers for Disease Control and Prevention.
"He's creating his own group to basically be a critique, as I understand it, of the federal group," Sununu told Hugh Hewitt.
"I don't need a committee or an organization to tell me and the American people the obvious. But I don't know, maybe there's some other function that they're achieving down in Florida. But I'm just telling you, in terms of critiquing that group, I think I've got it. I think the American people got it. It's been a disaster."
Previously, Sununu slammed Florida for raising taxes as his state cut them.
"And again, we just doubled down on that with the cutting of the taxes," Sununu said in May on The Howie Carr Show. as previously reported by POLITICO Florida Playbook. "And Florida is great, Florida's been very flexible. He did sign another billion dollars of tax increases. I love Ron, but the fact of the matter is their taxes are going up and ours are going down. So I think we're going in the right direction."
Indications are DeSantis has some strength in the Granite State, where a recent Club for Growth poll showed in a head-to-head battle between DeSantis and Donald Trump, DeSantis had a 15-point lead. But what's clear is that any Primary field will be crowded, potentially including favorite son candidates like Sununu.