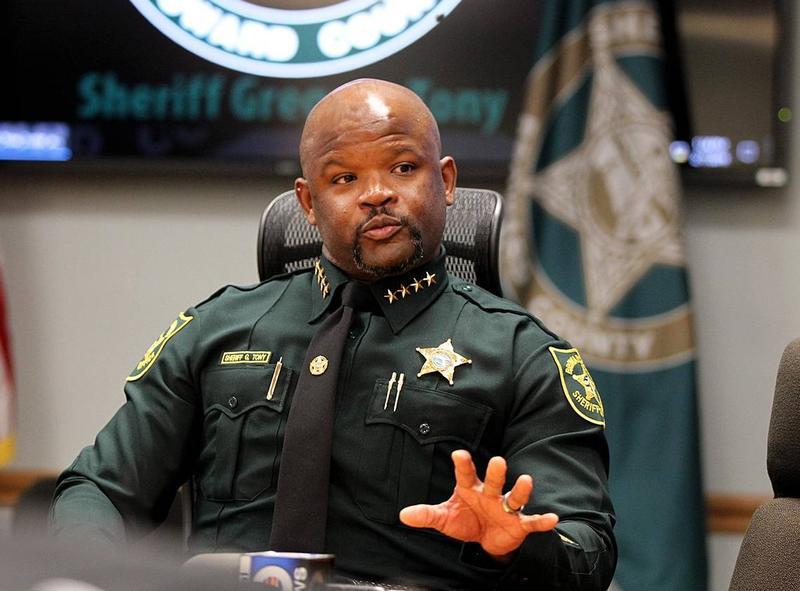 The Republican-dominated Legislature is expected to push it forward, though.
Broward County's embattled Sheriff Gregory Tony appeared before the Broward County legislative delegation Friday and took a stand against what the Republican-controlled Legislature has said is a priority: allowing people to get guns without a permit.
Republican lawmakers have said they are for permitless carry, and Gov. Ron DeSantis said he will sign legislation allowing it. A bill proposing it has not yet arrived, but Tony said he is "100,000 plus 10%" in disagreement with the idea, as are most of his fellow Sheriffs around the country.
"I have too much experience with mass shootings and dealing with mass shooter events," he said.
The Florida Commission on Ethics twice — once in September and another time in December — found probable cause Tony misused his public office when he failed to disclose that he had been arrested as a juvenile for a fatal shooting. He was acquitted of the charge, but now he will either have his case heard in front of a Florida Division of Administrative Hearings Judge, and go back to the Commission, or accept a stipulated agreement with the ethics panel.
His name is not on the next meeting's agenda scheduled for later this month, however.
None of the delegation members brought up the situation, which could mean Gov. DeSantis suspends Broward's first Black Sheriff. DeSantis appointed Tony to the role after he suspended Sheriff Scott Israel, responding to the Department's widely panned performance during the Marjory Stoneman Douglas High School shooting.
Tony, however, acknowledged the awkwardness of the situation when he responded to an audience member's question about "open carry" gun laws, that Democratic Rep. Michael Gottlieb is more likely to arrive in Tallahassee as a law allowing permitless carry.
"Let me get out while I'm ahead," he said, chuckling after the question was asked. "Have a good day."
Tony said he knows some of his fellow Florida Sheriffs to the north will be supporting the change to permitless carry, but argued Sheriffs from bigger jurisdictions, those who belong to the Major County Sheriffs of America share his sentiments about looser regulation of gun ownership. The organization is opposed to permitless carry, he said.
"They've shared their experiences of the dynamics of calls that, 'Hey, we have someone walking through school campus with a rifle over their shoulder,'" he said. "That creates some alarm and activation of 1,000 different variables that are not good for public safety."
He said that too often the same factors emerge in deadly shootings and they all involve access to a firearm.
"Let's keep the checks and expand," he said.