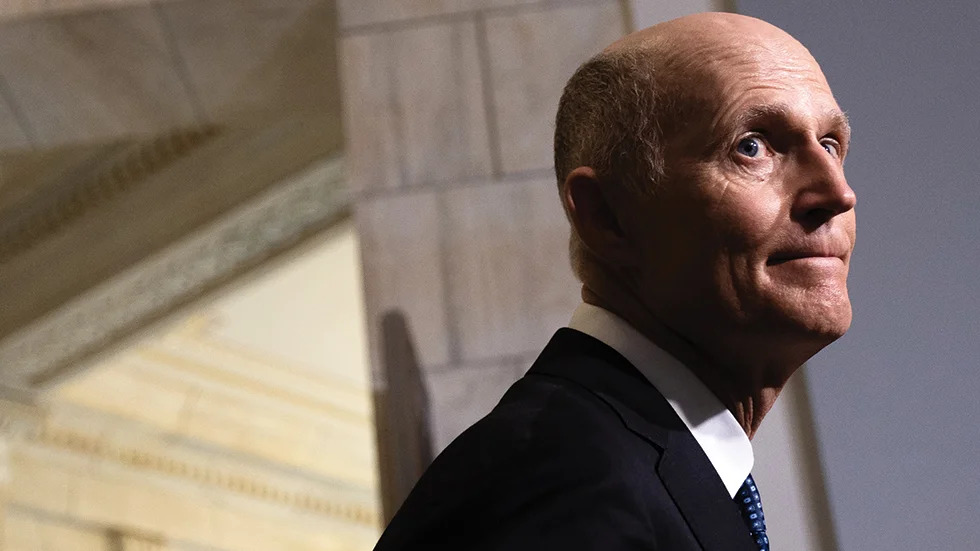 Scott wrote the FBI Director about "rogue operations by CCP-affiliated groups in our country."
U.S. Sen. Rick Scott is demanding an investigation of Chinese police stations on U.S. soil after reports of such in recent months.
In a Friday letter to FBI Director Christopher Wray, the Florida Republican urges  "immediate action and coordination between the FBI, State Department and local law enforcement" to "end these illegitimate and illegal operations and provide the American people with full transparency" about so-called "overseas police service centers."
Scott's letter responds to reporting by Safeguard Defenders, a human rights group whose stated mission is to "to support the survival and effectiveness of civil society and HRDs in some of Asia's most hostile environments, including China."
The Senator condemns "shocking evidence of Communist China carrying out illegal, transnational policing operations across 53 countries, including the United States, targeting overseas critics of the CCP for harassment, threats against their families in China and 'persuasion' to get them to return home." One of these police centers is in New York City, Scott notes.
"Established under the guise of helping Chinese nationals living abroad with administrative paperwork and travel, the stations operated by CCP front groups are actually helping to track and return Chinese nationals to China for criminal prosecution," Scott asserts.
"These extraterritorial police actions by the CCP violate United States sovereignty and pose a grave threat to our national security.  I ask that you notify state and local law enforcement agencies of the presence of these rogue operations by CCP-affiliated groups in our country," Scott urges Wray.
The Senator also urges FBI coordination with the U.S. State Department to catalogue on a website a "list of countries where similar CCP-operated 'overseas police service centers' are known to exist so that Americans can make informed decisions prior to traveling abroad."
Scott's concerns actually track with those of FBI Director Christopher Wray, who told the U.S. Senate Homeland Security and Governmental Affairs Committee in November that the FBI was aware of these extraterritorial enforcement arms and was concerned.
"To me, it is outrageous to think that the Chinese police would attempt to set up shop, you know, in New York, let's say, without proper coordination," he told the committee, as quoted by the BBC. "It violates sovereignty and circumvents standard judicial and law enforcement cooperation processes."
"It's a real problem and something that we're talking with our foreign partners about, as well, because we're not the only country where this has occurred," he added.
In addition to the New York operation, Chinese police have a similar operation in Toronto, Canada.
Reuters notes that Scott's concern about extralegal Chinese enforcement mechanisms stateside and elsewhere tracks with similar warnings from the House of Representatives expressed in a letter last year, including Florida's Rep. Mike Waltz as one of the signatories.