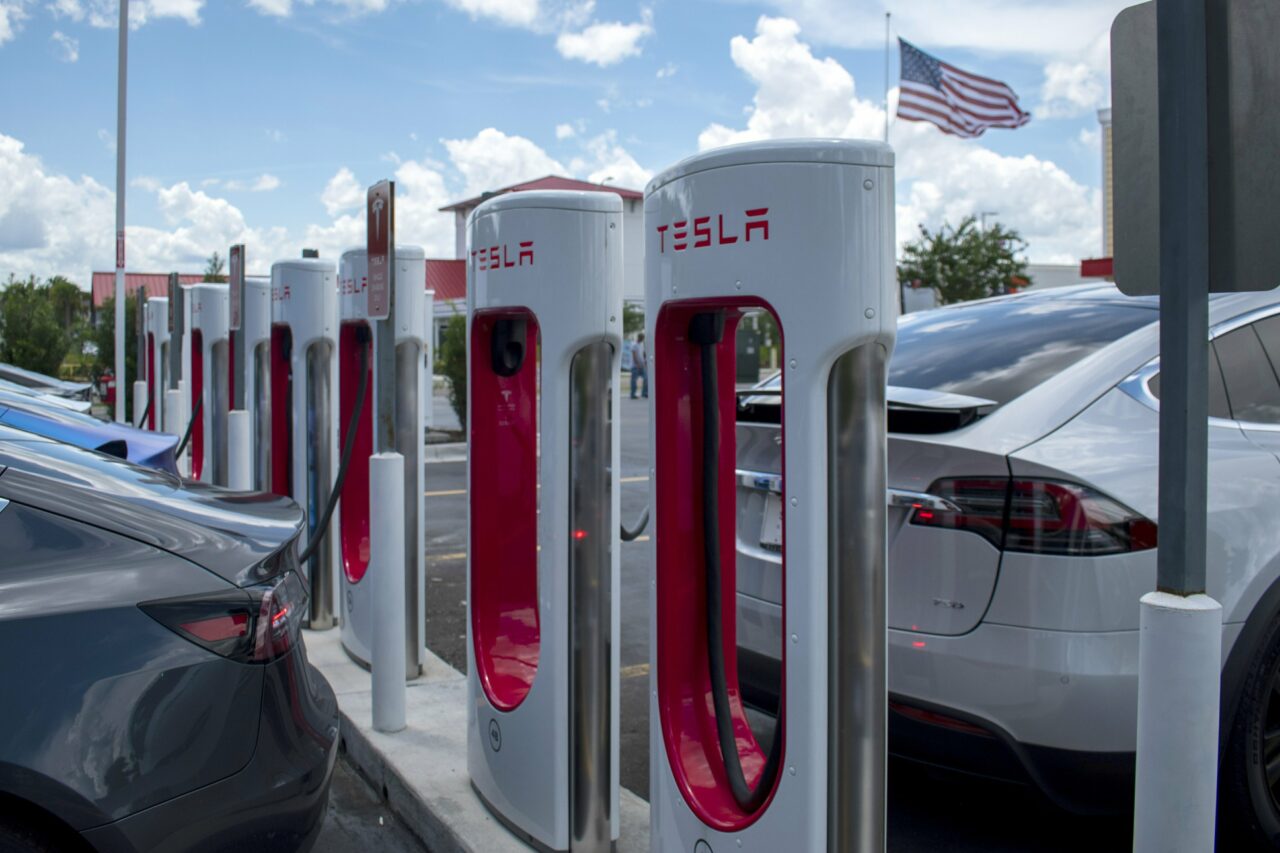 Florida is getting at least $198M in federal funds to increase its statewide inventory of electric vehicle charging stations.
Florida is on track to receive hundreds of millions in federal dollars to expand electric vehicle (EV) charging. Judging from the uptick in adoption statewide, it's going to need every cent.
In the past 15 months, Florida has seen an 87% increase in electric vehicle (EV) registrations, placing it behind only California nationally in battery-powered automobiles owned.
The 203,000 EVs on record with the Florida Department of Highway Safety and Motor Vehicles comprise just over 1% of car registrations statewide today. That figure is expected to soar through 2040, and Florida needs to be ready, according to Trey Tillander, executive director of transportation technologies for the Florida Department of Transportation (FDOT).
In FDOT's first update on Florida's EV plans since September 2021, Tillander told members of the Senate Committee on Transportation Tuesday that EVs could account for between 10% and 35% of all vehicles owned in the state by 2040, based on an analysis the department conducted of market and advanced automotive tech models.
The expected rise in adoption coincides with record EV production and sales. Last year, one out of every 10 cars sold globally was battery-powered. While Americans aren't yet buying EVs at that rate, experts say the smart move is to build capacity before it's needed.
That's where FDOT's plan to build out Florida's EV charging infrastructure and funding from the Bipartisan Infrastructure Framework comes in, Tillander said.
The framework, a President Joe Biden priority, includes the National Electric Vehicle Infrastructure (NEVI) Formula Program, which earmarks $5 billion over the next five years for state transportation departments.
FDOT is cleared to receive $198 million in federal funds to build more charging stations and traffic control devices. The Department, local governments and Native American tribes will also be able to seek apportionments from a separate $2.5 billion discretionary grant program that is "still pending guidance" from the Joint office on Energy and Transportation, Tillander said.
FDOT anticipates the first round of funds, distributed as grants, to go live this year.
"As the EV adoption rate grows, the vision is to develop a statewide network of convenient, reliable and accessible EV charging infrastructure (supplying) both long-range and short-range travel," he said.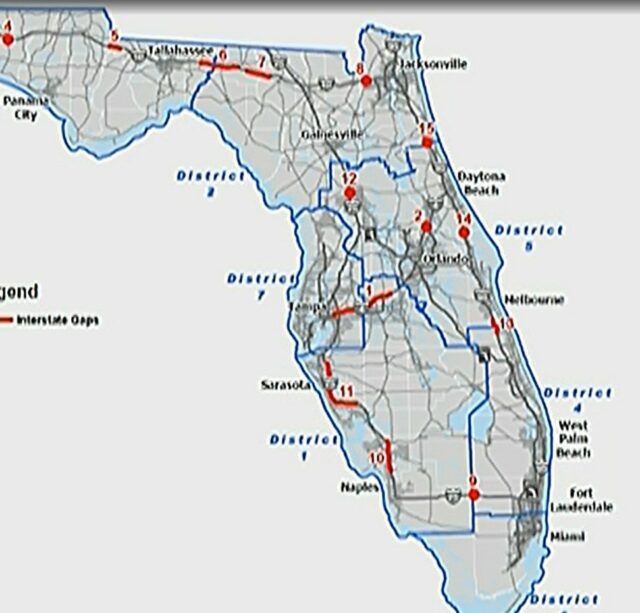 The NEVI funding comes with some provisos. Charging stations must be built along predesignated roadways identified as "alternative fuel corridors" and open to the public. They must also be spaced no more than 50 miles apart from one another. States are required to prioritize charging stations along the interstate system, with locations at least a mile from a highway.
"Phase one" of FDOT's EV's forthcoming infrastructure rollout will target "major interstate gaps," Tillander said. A slide he shared showed 15 such gaps, mostly along the Gulf Coast in Lee and Sarasota counties, Hillsborough and Polk counties nearer to Central Florida and across Leon, Madison and Hamilton counties in the Panhandle.
Planners will also prioritize "critical evacuation routes" statewide, Tillander added.
"This first phase is an opportunity for us to recognize and learn lessons and incorporate those into the subsequent phases," he said.
During an industry review forum it hosted in November, FDOT received feedback from more than 450 stakeholders in related industries. From those talks, Tillander said the Department plans to hold a "clear and competitive" selection process for companies to build EV infrastructure and distribute funds through a request-for-applications process that will allow for multiple applications at multiple sites to be evaluated concurrently.
Asked by Palm Harbor Republican Sen. Ed Hooper what the cost to consumers will be at the EV stations, Tillander said it will be "market-driven" but that many of the prospective operators aren't looking for direct profit.
"They see it kind of like a gas station, where they make their money from other amenities," he said.
Hooper also inquired about the possibility of building EV stations at rest stops along the Florida Turnpike. Federal law currently prohibits fueling facilities at rest stops, Tillander said, but a change to that rule "has come up in Congress, and so far there's been no movement on that."
He added, "It would be a natural location."
Criteria that will weigh into FDOT's grant distribution of NEVI funds include electric power distribution readiness, the availability of amenities provided at each site and how resilient proposed projects will be. The current plan also envisions FDOT turning over the stations to local entities rather than maintaining and operating them all itself.
"We want to engage with partners that will reliably operate and maintain the charging sites through the five years and beyond," he said.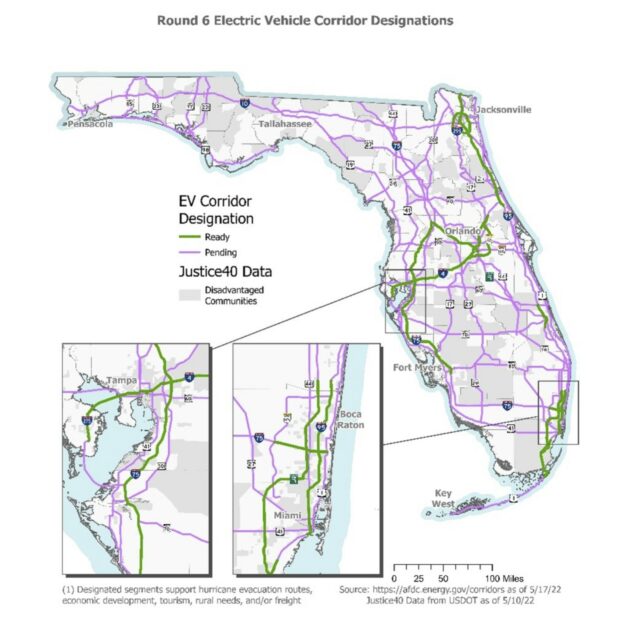 Florida has 6,168 miles of Federal Highway Administration-approved alternative fuel corridors. Along those routes, FDOT plans to install "Level 3" charging facilities for passenger vehicles capable of delivering direct currents for a full charge after 30 minutes, Tillander said.
Transportation Departments accepting NEVI funds must also consider rural, underserved and disadvantaged communities in rolling out the EV infrastructure. That stipulation drew rebukes from Gov. Ron DeSantis shortly after U.S. Transportation Secretary Pete Buttigieg floated it more than a year ago.
"To me, a road's a road," DeSantis told Fox News host Tucker Carlson in early November 2021, likening the infrastructure framework to "pork-barrel spending" that would disproportionately benefit "very high tax and dysfunctional states" like New York and New Jersey.
Florida has 21.5 million residents, according to the 2020 U.S. Census. New York and New Jersey, which have populations of 20.2 million and 9.29 million, respectively, are cleared to receive $175 million and $104 million. California, where more than 39.5 million people live, is on track to get $384 million through the NEVI program.
Assuming there was no cost to apportion the funds, California, New York and New Jersey should receive $596.5 million, $305 million and $140.5 million. Florida, meanwhile, should get $325 million.
Asked by Miami Democratic Sen. Jason Pizzo why Florida was receiving so much less than that, Tillander said Florida's allocation is "one of the highest funding levels amongst the states" but promised to provide further clarity on the funding later.
According to PlugShare.com, Florida had 7,981 EV charging stations as of Tuesday. The state trails only Texas (8,018 stations), New York (8,403 stations) Michigan (8,914 stations) and California (34,489 stations).