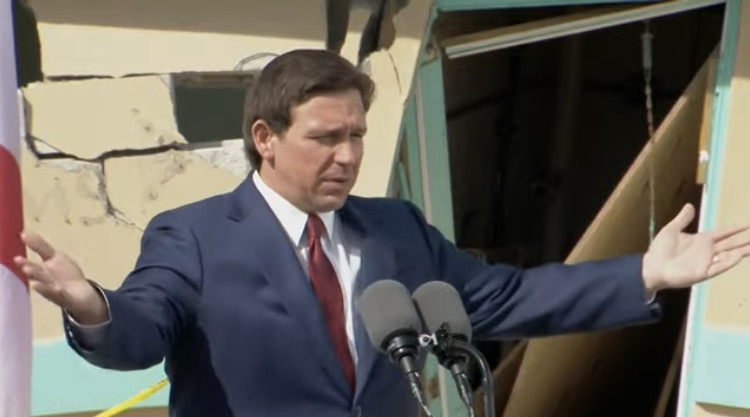 Volusia County is set to receive $37.7M out of the $100M set aside for beach renourishment.
Volusia County and other areas that suffered beach erosion from Hurricane Ian and Hurricane Nicole are set to receive $100 million for beach renourishment projects as part of legislation passed by lawmakers and signed by Gov. Ron DeSantis in December.
DeSantis highlighted the specific grant amounts to each community during an event Wednesday in Daytona Beach.
Although Hurricane Ian hit the state as a Category 4 storm on Sept. 28 and packed the biggest punch in Southwest Florida, where storm surge caused more than 100 deaths, it brought damaging beach erosion on the east coast as well, especially in Volusia County where dozens of homes and other structures were affected.
"The coastal erosion caused by these storms not only damaged upland structures and infrastructure but left them vulnerable to subsequent storms if not addressed," DeSantis said. "I am pleased to announce another step to expedite recovery of our communities impacted by these historic storm events. This funding will support beach restoration needs, allowing us to rebuild and further enhance resilience."
Then the same area was hit again by Hurricane Nicole, a less powerful Category 1 storm but which still exacerbated erosion brought by Ian, leading to 50 buildings in Volusia to be deemed unsafe.
Under SB 4A, passed in the December Special Session, $100 million was appropriated for beach erosion. The money is in addition to the $20 million for renourishment efforts approved in November in the aftermath of the storm. Here's a breakdown of how much each county will receive:
— Volusia County: $37.7 million.
— Lee County: $23.1 million.
— Flagler County: $17 million.
— St. Johns County: $4.6 million.
— Indian River County: $4.1 million.
— Brevard County: $3.2 million.
— Collier County: $2.4 million.
— Palm Beach County: $2.1 million.
— Martin County: $1.4 million.
— Charlotte County: $1.3 million.
— Nassau County: $922,000.
— Sarasota County: $618,500.
— Broward County: $488,000.
— Duval County: $419,000.
— Manatee County: $305,000.
— St. Lucie County: $250,000.
Meanwhile, Department of Environmental Protection Secretary Shawn Hamilton acknowledged he's received a "loud and clear" message from DeSantis to approve permits for seawalls in the area to help protect structures near the coast.
"We're challenging our team to do everything they can to permit safe, reliable and habitat-protected structures approved as fast as possible," Hamilton said.
DeSantis was also asked whether the series of changes to property insurance laws that were also passed in the December Special Session are affecting the beleaguered market. DeSantis said it might take some time for the impact to be felt by homeowners, but said some reinsurance carriers are reconsidering decisions not to offer coverage in the state after he signed the legislation into law.