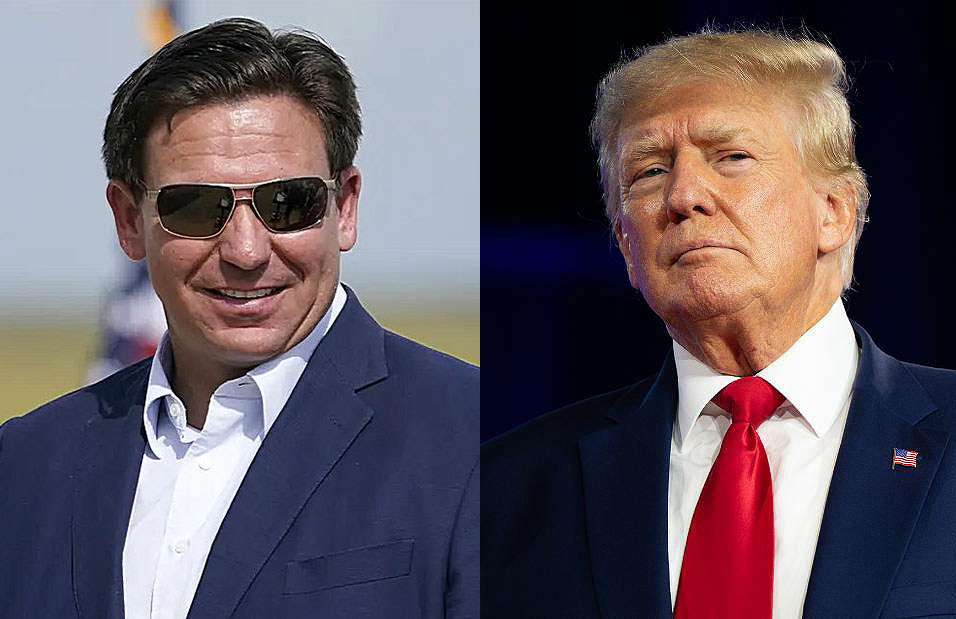 Viability questions linger for the former President.
Former President Donald Trump has made no secret of his unhappiness with Ron DeSantis, and a new poll offers a potential reason why.
Though there are many months before even the first Presidential Primaries, a survey from The Economist and YouGov says that Trump couldn't defeat President Joe Biden in the General Election, but Florida's Governor likely can.
When respondents were asked whether DeSantis or Biden would win a 2024 hypothetical, the Florida Governor narrowly edged the sitting Democratic President, 37% to 36%. The split was more pronounced with registered voters, with DeSantis taking 43% and Biden 37%.
The question was separate from another one gauging who people said they would vote for.
DeSantis was considered to be the most likely winner by his base: Male voters, White voters, and those aged 45 or older. A full 79% of Trump 2020 voters thought the Governor could win the presidency, along with 72% of Republicans, 68% of conservatives, and 49% of rural voters. The rural share was more than double Biden's 24%.
Trump was seen as a loser by poll respondents, meanwhile.
Just 33% said Trump could defeat Biden in a rematch of 2020's General Election, while 45% thought a Trump nomination meant four more years for the octogenarian Democrat in the Oval Office. Biden also led by double digits with registered voters, 48% to 37% for Trump.
Both men and women bet on Biden, who had double-digit leads with both professed gender identities. White, Black, and Hispanic voters also believed Biden was the better bet, as did all demographic cohorts under the age of 65.
Though Trump languished with most demographics, people on the right still seem to believe he could be a viable candidate. Sixty-nine percent of 2020 Trump voters thought he could win again in 2024, along with 68% of Republicans and 60% of self-professed conservatives.
Biden was preferred over Trump and DeSantis when it came down to who people actually wanted to vote for, meanwhile. Biden led DeSantis 40% to 35% with all respondents, though they tied at 43% with registered voters. Biden led Trump 42% to 36% with all respondents, and also edged out Trump with registered voters, 46% to 42%.
The poll of 1,500 adults was in the field from Jan. 14 to Jan. 17, 2023.