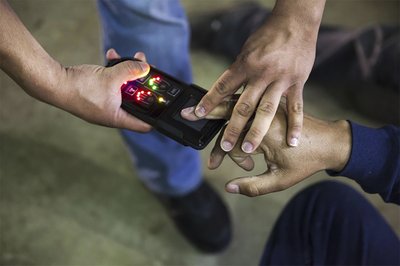 Proposed new software, which would make Florida's biometrics system 'evergreen,' would cost $10 million yearly in upkeep.
Florida's aging fingerprint-searching system could get an overdue replacement capable managing other biometrics, including facial recognition and iris scans, if lawmakers decide to finance the overhaul.
The Florida Department of Law Enforcement is seeking about $20 million through 2025 to cover the cost of migrating its existing Biometric Identification System (BIS) database to one stored in a Microsoft cloud. The software to be used for the system — the Multi-biometric Identification System (MBIS) — is a flagship product of French identity technology company IDEMIA.
The new system will be far faster and more capacious than the BIS system Florida has used since 2009, which is no longer upgradeable, Crime Information Bureau Chief Lucy Saunders told the House Justice Appropriations Subcommittee on Tuesday.
It will still be able to forward data to the Federal Bureau of Investigation for criminal history background checks. It will also boast capabilities that complement facial recognition systems Florida now uses and iris-identification technologies, though neither will be active components of the state's MBIS at first.
"The facial recognition portion of this — we've included that modality of capability in the system," said Joey Hornsby, Director of Information Technology Services for FDLE. "We're not moving forward with doing facial recognition in the system. We've just included it as a futureproofing so (we have it) in the eventuality that we want to do that long term.
Saunders said the modernization project will take between 25 to 30 months "in a phased approach," costing $8.16 million this year — a sum for which FDLE has already applied — plus $11.7 million for fiscal 2024-25 and $10 million every year afterward for maintenance and support.
Lawmakers already approved $3.9 million for the project last year.
The cloud-based nature of MBIS solves a major issue that for years has plagued the system Florida currently uses, Hornsby said. By staying in constant connection with the vendor behind the software, the system can receive regular updates to the point where it will be "evergreen," he said.
"We are some 13 years later (into using our current system, and) it's just reached the end of its life," he said. "The capacity of the system has been exceeded. It's still functional, but it's over its capacity limits, and now it's time to re-platform onto something new that can carry on for the foreseeable future."