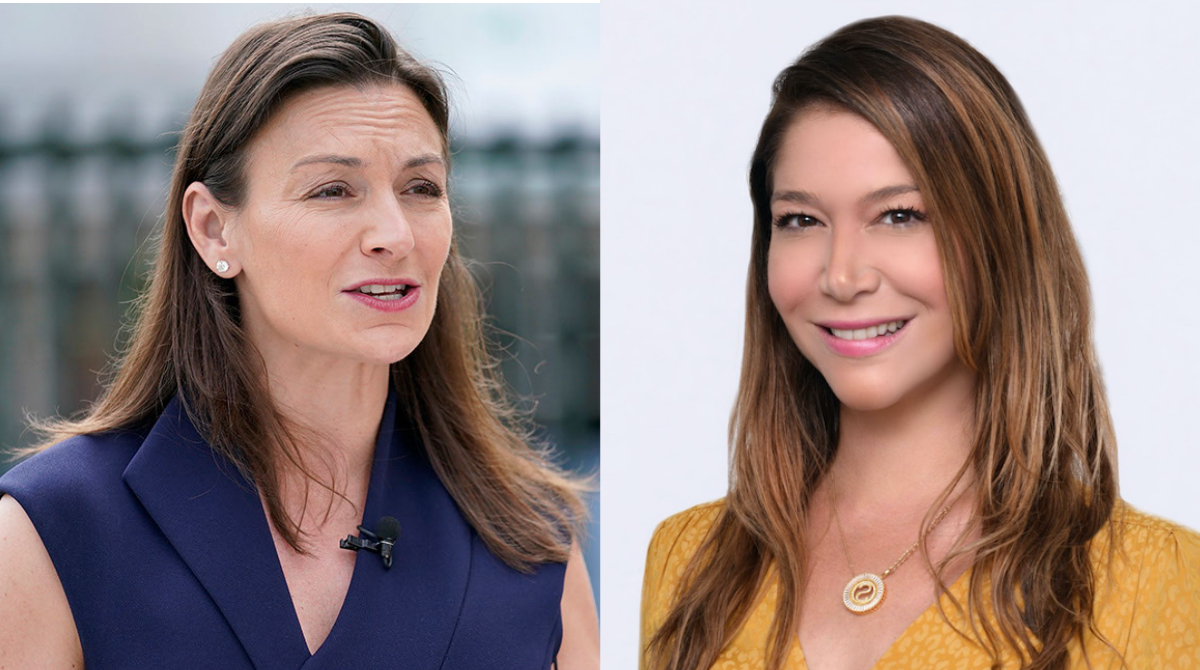 Covo worked for Fried at the Florida Department of Agriculture and Consumer Services.
Florida's last statewide-elected Democrat is backing Sabina Covo's bid for the Miami City Commission.
On Friday, former Agriculture Commissioner Nikki Fried announced her endorsement of Covo, a former television journalist-turned-public relations pro running for the vacant Commission seat representing District 2.
"Sabina's candidacy reflects the very strength of our democracy when a working mom and former investigative reporter decides to run for public office for the first time to fight for a better future for their community," said Fried, a Miami native.
"She has the passion, integrity and commitment to deliver for her community and I urge voters to join me supporting Sabina."
Fried and Covo are no strangers. Covo, who also runs her own public relations firm, led Hispanic media relations and communications at the Florida Department of Agriculture and Consumer Services for a year under Fried. Both left this month after former Senate President Wilton Simpson took over the Department. Fried forwent running for re-election in favor of an unsuccessful campaign for Governor.
"I saw firsthand someone who cares deeply about preserving our environment, protecting Biscayne Bay, strengthening neighborhoods through public safety investments and more green spaces, and taking on corruption wherever it exists," Fried said. "I know Sabina will make her community proud as the next City Commissioner for District 2, which is why I proudly endorse her campaign."
Fried's endorsement joins a nod Covo received Tuesday from the nonprofit Ruth's List Florida, which backs women candidates in the state who support abortion rights.
Kayla vanWieringen, vice president of political and programs for Ruth's List Florida, said in a statement Covo has "seen firsthand the issues that matter most to our community."
"She's ready to tackle Miami's affordable housing crisis, address climate change, ensure public safety, make Miami more public transit-friendly, and improve the overall quality of life for all residents," she said.
Covo said in a statement that she is "honored" Fried supports her and said she "won't back down from the important work that must be done in our city."
"I am running for City Commissioner because I believe in our future and that if working moms like me stand up for our families, we can achieve the very best for District 2," she said. "We need safe neighborhoods, investments in green spaces, take on overdevelopment that destroys communities and ensure our environment, like Biscayne Bay, is protected."
She added, "I am ready to bring trust and integrity to City Hall because our residents deserve nothing less."
Fifteen candidates qualified this month for a Feb. 27 Special Election to fill a short-term vacancy in District 2. They are running to succeed Ken Russell, who vacated his seat late last month in accordance with Florida's resign-to-run law following an unsuccessful bid for Congress.
Other candidates include wealth manager Michael Goggins; realtor Javier González; digital marketer Lior Halabi; interior designer and retailer Alicia Kossick; lawyer Eddy Leal; media producer and marketer Max Martínez; lawyer Lorenzo Palomares-Starbuck; Coconut Grove Village Councilwoman Renita Samuels-Dixon; luxury real estate agent June Savage; auto dealer Kathy Suarez; jeweler and home décor designer Christi Tasker; Downtown Neighbors Alliance President James Torres; musician and former Miami outreach worker Mario Vuksanovic; and former circuit court Judge Martin Zilber, who continues to work as a lawyer.
District 2 spans most of the city's coast and includes the neighborhoods of Brickell, Coconut Grove, downtown Miami, Edgewater and Morningside.
Whoever wins will only hold the seat until the city's regular election Nov. 7, when Russell's four-year term was due to end.