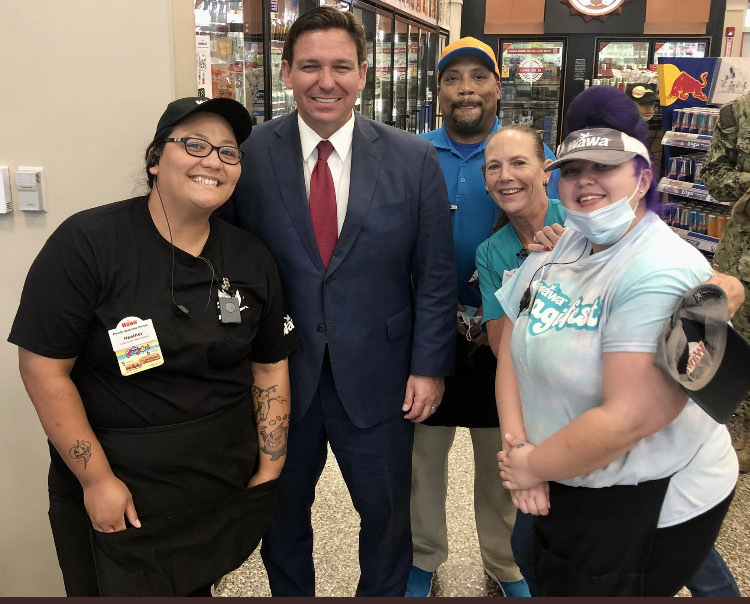 'When I became Governor, they couldn't hire them.'
Florida's beleaguered correctional guards will get some help in Gov. Ron DeSantis' new budget.
In fact, the men and women tasked with overseeing Florida's worst criminals will now be better compensated than convenience store clerks, something the Governor said Wednesday was not the case when he took office in 2019.
"We're now being able to increase the starting pay for correctional officers to $23 an hour. When I became Governor, they couldn't hire them, because they could work at Wawa or some of these other places. So now we've made it a lot more competitive, and that will help with recruitment and retention."
The Governor's budget includes more than $107 million to boost salaries of prison guards, with an increase of the minimum pay for Correctional Officers to $47,840, as part of a larger package of enhancements for the Department of Corrections (DOC).
This is the latest attempt to deal with longstanding staff shortages that have required members of the Florida National Guard to take shifts in prisons given thousands of unfilled positions.
Last month, Deputy DOC Secretary Richard Comerford told the Senate Criminal Justice Committee that 5,000 vacancies still exist statewide, with 23,375 positions overall. The vacancy rate of just over 25% is an improvement over November 2021's 38.5%. But gaps still exist despite recent reforms in what can often be a "dangerous and undesirable place to work."
"We often have one officer supervising hundreds of inmates," Comerford told the Senate Criminal Justice panel.
Recruitment and retention are recurring challenges, despite the recent "positive shift" in trends, which include beginning the transition to 8.5-hour shifts and increases in pay under DeSantis' watch.
"We were losing more correctional officers than we were gaining. Since that raise, the trend has reversed. We have turned the corner, but we're not out of the woods yet," Comerford told the Senate committee.
Secretary Ricky Dixon offered much the same insights last month to the House Justice Appropriations panel about "significant vacancies."
"Recruitment of qualified applicants and the retention of employees has been very challenging in recent years," Dixon said. Though trends have been positive since late 2021's "freefall," local police departments have been competitive for the same entry-level pool more recently.