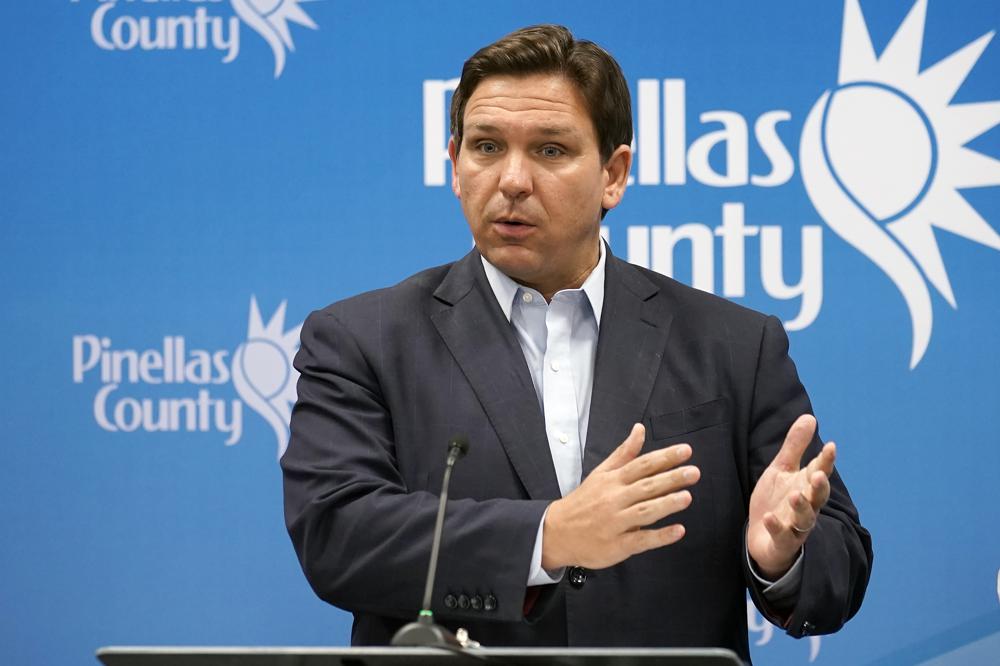 The Governor may wait until summer. Will that be too late?
Florida Gov. Ron DeSantis may be months away from publicly declaring his presidential intentions, but his potential rivals aren't holding back.
No fewer than a half dozen Republicans eyeing the White House have begun actively courting top political operatives in states like New Hampshire and Iowa, which traditionally host the opening presidential primary contests. At the same time, former President Donald Trump, the only announced candidate in the race, is launching regular attacks against DeSantis — and others — while locking down key staff and endorsements in early voting South Carolina.
For now, DeSantis is plowing forward with a fiery "anti-woke" agenda in the legislature before a presidential announcement in late spring or early summer. His team is beginning to hold informal conversations with a handful of prospective campaign staff in key states, according to those involved in the discussions. But compared with would-be rivals, the Florida governor, famous for crafting his own political strategy, appears to be stepping into the 2024 presidential primary season much more deliberately.
"They understand they are in kind of a sweet spot now. They can feel the demand building and they don't really have to show any leg yet," said David Kochel, a veteran Republican operative who has been in touch with DeSantis' team to relay interest from activists. "I just don't think there's any urgency yet to start putting things in place."
For voters, it may seem early in the 2024 presidential election season. But by historical standards, it is not. The GOP's opening presidential primary debates are just six months away, expected in late July or early August when the Republican National Committee holds its summer meeting in Milwaukee.
Already, Trump has been in the race for more than two months. The former president on Saturday released a list of high-profile supporters in South Carolina, including Gov. Henry McMaster and Sen. Lindsay Graham. And on Feb. 15, Nikki Haley, the former U.S. ambassador to the United Nations, is set to launch her own White House bid in South Carolina, followed by immediate appearances in Iowa and New Hampshire.
Haley is among a half dozen Republican prospects in various levels of conversations with political operatives in New Hampshire and Iowa about job openings, according to people involved with the discussions who requested anonymity to discuss internal planning. Beyond Haley, they include former Vice President Mike Pence, former Secretary of State Mike Pompeo, South Carolina Sen. Tim Scott, former Maryland Gov. Larry Hogan and former Arkansas Gov. Asa Hutchinson.
Hogan, a term-limited governor who left office only two weeks ago, talked up his executive experience in multiple New Hampshire radio interviews on Thursday. He told The Associated Press he was launching a multi-day fundraising tour beginning this weekend in DeSantis' Florida.
"There's plenty of room for Trump and DeSantis and me in the same state," Hogan said. "Everybody says it's Donald Trump or Ron DeSantis. But I think it might be somebody that nobody's talking about right now, which is what usually happens. … My argument is the front runners almost never win."
Indeed, recent political history is littered with tales of seemingly strong early contenders who ultimately failed. They include the likes of former Wisconsin Gov. Scott Walker, who looked like a front runner in 2015 and was forced out of the race before the first voting contest. Former Florida Gov. Jeb Bush then emerged as the strong favorite before being overtaken by Trump.
Veteran Republican strategist Ari Fleischer recalled the 2000 presidential campaign when his then-boss, Texas Gov. George W. Bush, successfully waited until mid-June to enter the Republican presidential primary. In the months before the announcement, Bush aggressively worked behind the scenes to line up donors, staff and endorsements.
For DeSantis to adopt a similar winning playbook, Fleischer said, it's critical to work now to assemble a strong campaign apparatus in private. He likened a successful strategy at this phase to a duck, who appears calm but is paddling hard just below the water's surface.
DeSantis' team declined to comment on his 2024 plans publicly, but the Florida governor's allies expect him to enter the race in late June or early July.
In the short-term, he's preparing to promote his upcoming book, "The Courage to be Free," set for release on Feb. 28. And he'll spend much of the coming months stacking up legislative victories in the Florida statehouse, where the Republican supermajority stands ready to deliver a bevy of measures sure to entice the most conservative voters in a GOP presidential primary.
Meanwhile, Trump has dramatically escalated his attacks on the man he and his aides see as, by far, his most concerning rival. But as other Republicans prepare to enter the race, Trump is also attacking them.
For example, in a Thursday interview with conservative commentator Hugh Hewitt, Trump described Haley in sexist terms as "overly ambitious," noting that she once vowed not to seek the presidency in 2024 if Trump was also running.
"She's a very ambitious person. She just couldn't stay in her seat," Trump said.
In the same interview, he also criticized DeSantis, claiming he cried while asking for Trump's endorsement during the 2018 governor's race.
"DeSantis got elected because of me. You remember he had nothing. He was dead. He was leaving the race. He came over and he begged me, begged me for an endorsement," Trump said. "He said, 'If you endorse me, I'll win.' And there were tears coming down from his eyes."
DeSantis has largely avoided responding to Trump's digs. And without a campaign apparatus, he doesn't have a rapid response team or surrogate operation designed to engage with 2024-related fire.
But earlier this week, he seemed to be knocking Trump — at least, indirectly — when asked about the former governor's repeated attacks.
"The good thing is, is that the people are able to render a judgment on that whether they re-elect you or not," DeSantis said when asked about Trump, who lost his 2020 reelection.
—
Republished with permission of The Associated Press.