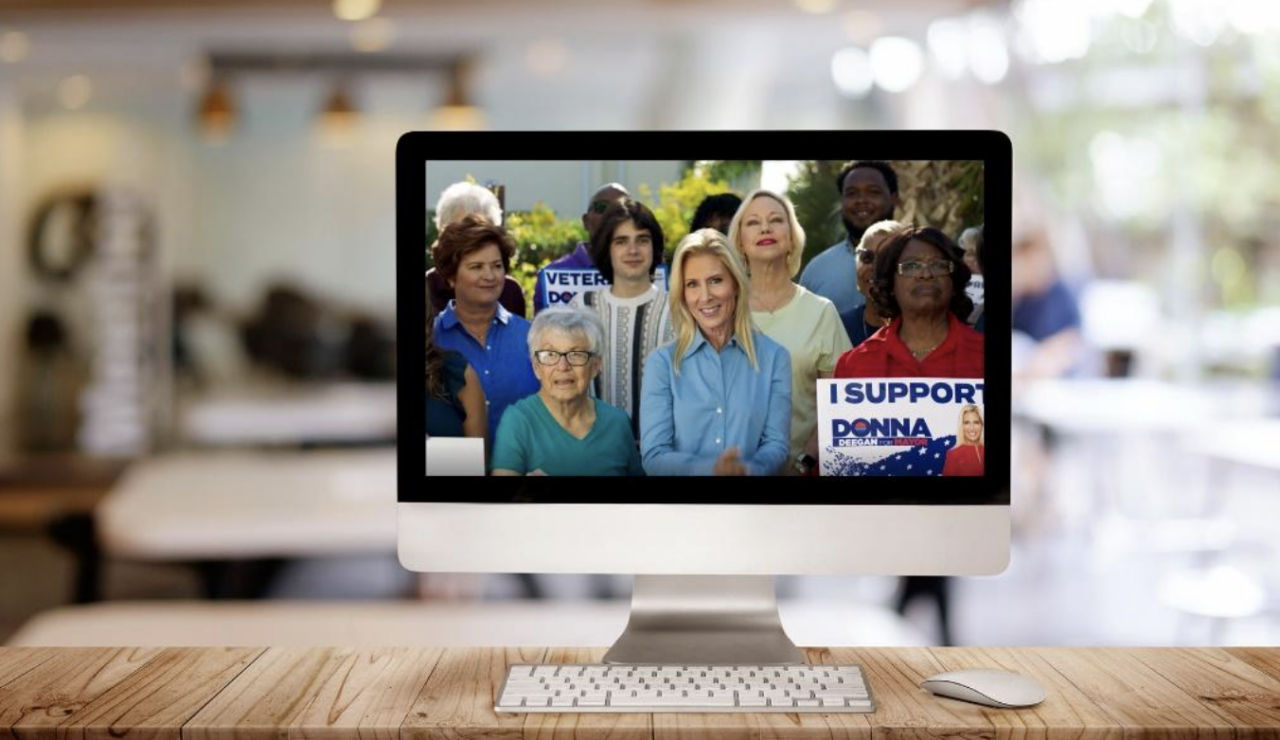 'You've had my back and I've had yours. I've heard your calls for change.'
Few, if any, of the candidates in the 2023 race for Jacksonville Mayor can boast of local connections as deep as those of Democrat Donna Deegan.
Her new long-form ad delves into her family's deep roots in the city and her own personal autobiography, which saw the Bishop Kenny alumna and former broadcast journalist embark on her own journey through adversity, including her battles with cancer, as a way of establishing herself as an alternative to the "broken promises from career politicians" she claims has typified local politics.
The spot, which runs just short of three minutes, opens with headlines and news clips from the scandal surrounding the attempted sale of local utility JEA, which has been a point of contention among Republican candidates LeAnna Gutierrez Cumber and Daniel Davis. Ten seconds in, static dominates the screen, and Deegan's exposition replaces those headlines.
"There's a wall between us and our city government," Deegan asserts. "It was put there a long time ago to benefit a select few. For decades, that wall has kept most of us shut out."
Deegan then says she is running because it is "high time that our city work for all of us," before explaining her deep roots as a fifth-generation Jacksonville native, whose great grandfather moved to Springfield in 1905, whose grandfather opened the Roosevelt Grill 70 years ago, whose father served in the Office of General Counsel, and whose cousin Tommy served as Mayor.
Even the city's famous "camel rider" sandwiches are tied to her family, via her uncle Larry's restaurant, Deegan notes.
She describes her own personal odyssey from a "trusted voice on the evening news" to having to report on "the most personal story of (her) career," her bout with cancer. The city was there for her then, and that motivated her to form her DONNA Foundation, which has "helped our community's cancer patients in need" for two decades.
"We've lived a shared life," Deegan notes. "You've had my back and I've had yours. I've heard your calls for change."
Running nearly three minutes long, the spot presents a contrast to the shorter ads dominating local television, spotlighting the candidate's unique value add and connection to the Jacksonville community ahead of the March 21 "First Election" that sees all candidates on the ballot.
Deegan is one of two Democrats running, along with former state Senator Audrey Gibson. Republicans running include the aforementioned Cumber and Davis, as well as Jacksonville City Council member Al Ferraro.
See the new Deegan ad below.