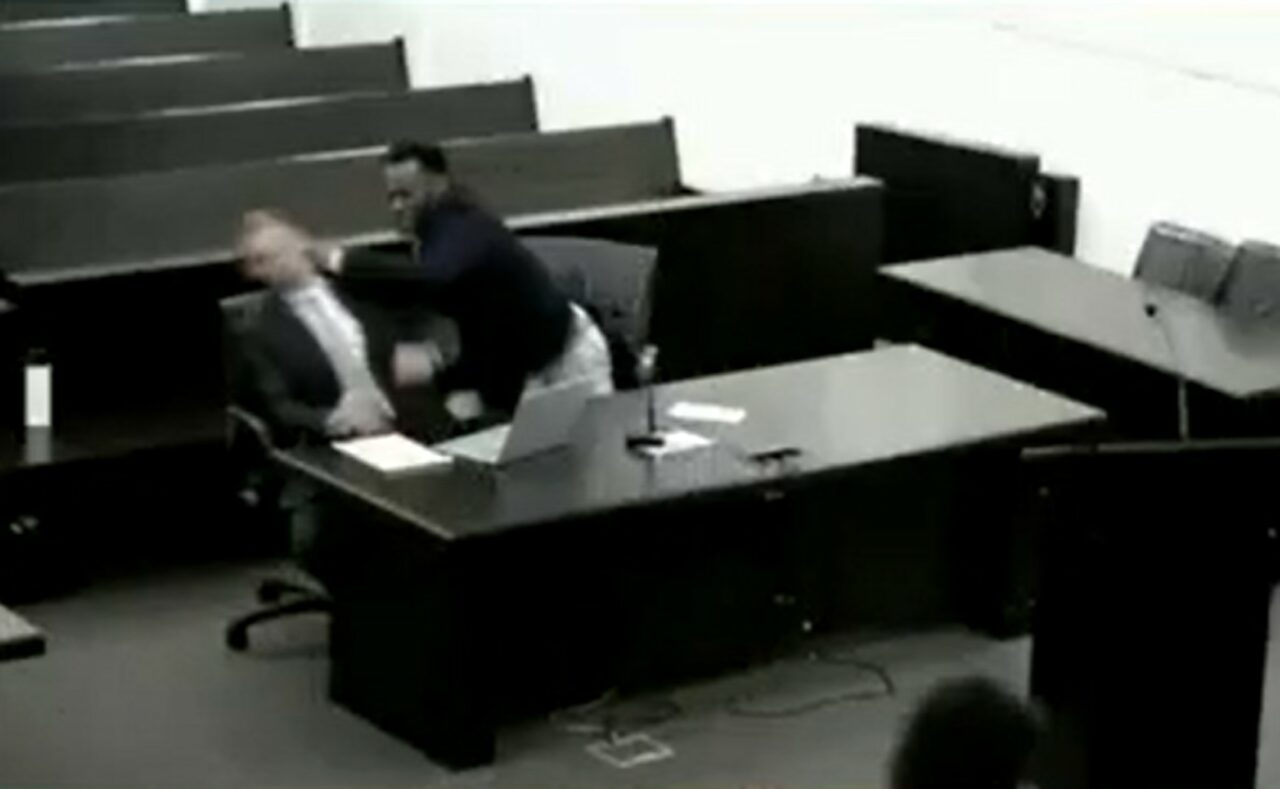 'You don't get a get-out-of-jail-free card by beating up your lawyer.'
Defense attorney Eric Atria was in an Alachua County courtroom Nov. 15 when his client sucker punched him to have the case thrown out as a mistrial.
In a phone call from jail afterward, Atria's assailant, a career criminal named Obadiah Dillard, giddily recounted the incident and played down the potential consequence. He reasoned the attack amounted to simple battery, a first degree misdemeanor.
"Fortunately for me, he cracked my skull right here," Atria said, pointing to the left side of his head.
"He broke this tooth and gave me a concussion. And I say fortunately because had he not done those things, it wouldn't have been a big deal. But because he did, the State Attorney's Office was able to file second-degree felony charges against him, making it more of a big deal."
The attack highlighted a peculiar oversight. Currently, Florida law provides greater punishment — felony charges — for violent acts against law enforcement and correctional officers, prosecutors and judges. Those added punitive deterrents do not extend to defense attorneys, public defenders, their assistants, regional conflict counselors and their assistants.
A bill (HB 71) that cleared the House Criminal Justice Subcommittee by a near-unanimous vote Thursday would close that loophole.
"It protects the defense attorneys just like it protects everybody else in the courtroom," said Walton Beach Republican Rep. Patt Maney, the bill's sponsor. "It provides for a safe space for the people's business to be conducted. And if somebody violates that law, it provides for an enhanced penalty so you don't get a get-out-of-jail-free card by beating up your own lawyer."
Discussion was almost uniformly positive of the bill, to which Lake City republican Sen. Jennifer Bradley filed a Senate companion (SB 384). Representatives from Right on Crime and the Office of Criminal Conflict and Regional Counsel signaled support.
Macclenny Republican Rep. Chuck Brannan, a longtime law enforcement officer and former U.S. Marshal, recounted being right behind a defendant in court decades ago when an episode similar to what happened to Atria unfolded.
The defendant, who Brannan said was shackled and handcuffed, still managed to harm the public offender assigned to him.
"Even in those situations when we think we're prepared, we're not," he said. "This will just add another layer of protection so maybe these folks will think twice, (and) anything we can do to protect all our court officials is certainly a good move."
The panel voted 16-1 for the bill. The sole holdout was Davie Democratic Rep. Michael Gottlieb, a former public defender who now works as a defense attorney.
Gottlieb said he was "torn on the bill" despite recalling a 2019 attack on Broward County Assistant Public Defender Julie Chase that sent Chase to the hospital. In that instance, Gottlieb said, the aggressor had "significant mental health issues."
Coincidentally, Gottlieb got his start as a public defender under the tutelage of Atria's father, Drew Atria, who retired from the Broward Public Defender's Office in 2015.
"I tried my first case in the courtroom with him sitting in the back," Gottlieb said. "As a criminal defense attorney, I feel for you. My heart breaks for what happened to you. It's just — I just don't know really where I land on the bill and I can't support it today. Maybe, as the bill goes through the process, I can.
"What happened to you shouldn't happen. I'm a big believer in the integrity in the system, (but) I just don't know that this is the right fix."
House Speaker Paul Renner has also assigned HB 71 to the House Justice Appropriations Subcommittee and the House Judiciary Committee. Just after 5:30 p.m. Thursday, Senate President Kathleen Passidomo referred SB 384 to the Senate Criminal Justice, Judiciary and Rules committees.