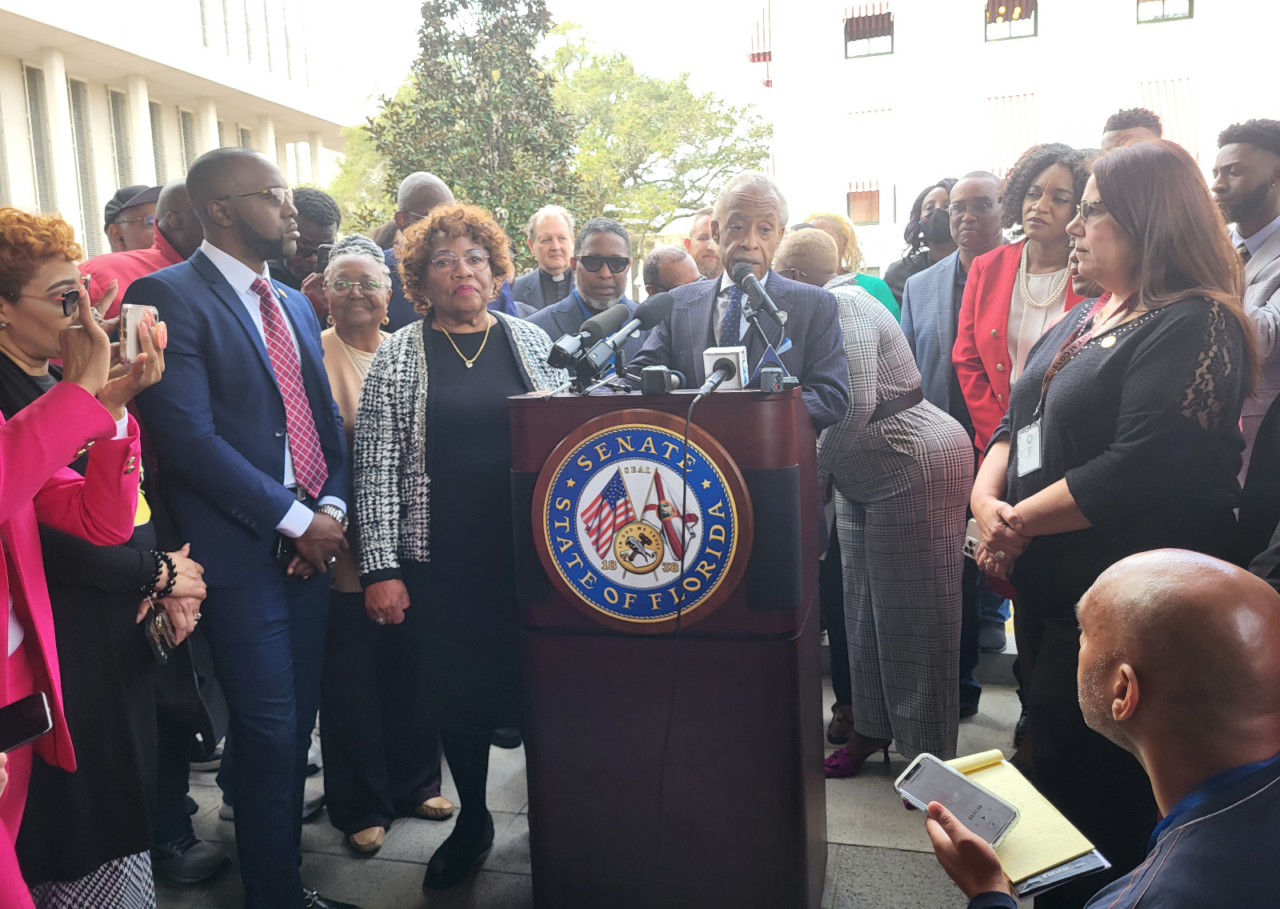 'We are trying to make sure that Florida does not set a national standard.'
Led by the Rev. Al Sharpton, members of the Florida Legislative Black Caucus marched with protesters to the state Capitol to condemn Gov. Ron DeSantis for what they framed as attacks on African American history and other controversial topics in the state.
The protest began at a local church in Tallahassee where hundreds of people marched to participate in a rally outside of the Capitol.
Sharpton, a renowned civil rights leader, pointed to the controversial incident where DeSantis directed the state to fly migrants from Texas to Martha's Vineyard in Massachusetts, which has led to lawsuits.
"We are trying to make sure that Florida does not set a national standard," he said, referencing policies and laws under the DeSantis administration. "We will fight together. … We got our slingshots!"
Additionally, lawmakers pushed through legislation during a Special Session that would earmark $10 million in the state budget to transport migrants to sanctuary cities and states across the nation, administered by the Department of Emergency Management.
When asked by a reporter whether he believes the Republican Governor is racist, Sharpton said, "I know what he is proposing is racist."
The rally comes a few days after DeSantis suggested the state would "re-evaluate" its relationship with the College Board for allegedly attempting to "jam its agenda down our throats."
Florida drew national attention for rejecting an Advanced Placement African American Studies pilot course. DeSantis took issue with certain parts of the curriculum, such as Black queer history. Since then, the organization publicly denounced DeSantis in a long letter posted on its website.
Meanwhile, Sharpton commented on rumors about DeSantis running for President in 2024, saying he foresees a battle between him and former President Donald Trump.
"I don't really know if him and his daddy (are) having daddy and kid problems," Sharpton said. "I don't know if he can take the spanking from Trump."
Sharpton was joined by Democrats from both chambers, including Sen. Shevrin Jones, Rep. Dianne Hart and House Democratic Leader Fentrice Driskell.
Students from organizations at Florida A&M University gathered at the rally to raise awareness about the importance of Black history and other young leaders encouraged people to vote. Driskell said the state should focus on addressing issues surrounding affordable housing and property insurance.
"Keep the faith. Don't give up, because I know together, we will overcome," said Driskell, who represents part of Hillsborough County. "Part of (DeSantis') playbook is to attack these culture wars. … I think it's very important for the nation to understand what is happening in Florida right now."
"We intend to stand every single day in unity to make sure AP African American history is back in our schools," said Hart, Chair of the state's Black Caucus.