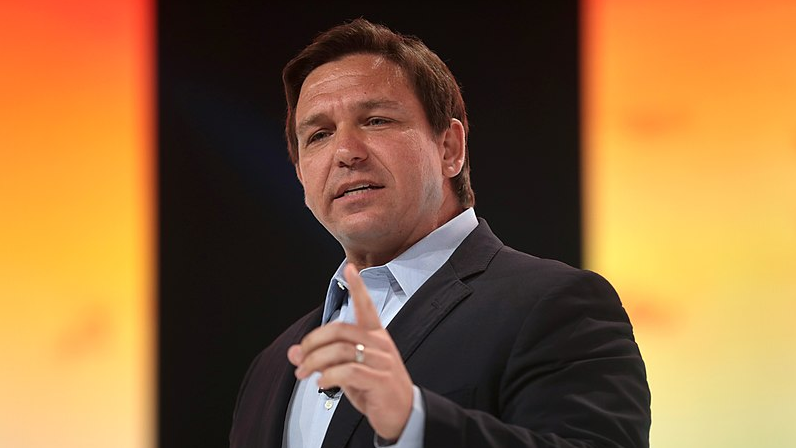 'I didn't know what DEI was a couple of years ago as this had taken hold.'
Florida's Governor reserves the right to change his mind when it comes to diversity, equity and inclusion (DEI).
Confronted by a reporter in West Palm Beach about a seeming policy change in so-called DEI initiatives, Ron DeSantis defended his administration's newfound focus on them by saying he initially didn't understand what they were.
"I didn't know what DEI was a couple of years ago as this had taken hold. I mean, it sounds innocuous, right? I thought maybe diversity of ideas, maybe actually have more than one viewpoint. Well, that's not what it is. What it is, is trying to enforce a political agenda and a political orthodoxy under the auspices of administration," DeSantis said. "And that is something that is not in the best interests of the state.
"It's incredibly divisive, it's incredibly divisive and I don't necessarily think anyone that supported this in the past necessarily had bad motives. But I think if you look to see how it's worked in practice, it's been an embarrassment to see some of the things that have come out at Florida State, at some of these universities here."
He continued by arguing the state has an interest in shaping the mission of these universities.
"It's not an appropriate use of the administrative machinery of a university that, oh, by the way, subsists on the generosity of the taxpayers of the state of Florida. These are not private institutions, they're public institutions," DeSantis added.
"And so as this has become a problem, I asked to get more information about it. We got them reporting how much money they're spending on it. We introduced legislation to remedy that, and we will be the first state in these United States to wipe out DEI at our public universities."
DeSantis declared war on DEI last month in rolling out legislative proposals "pushing back against the tactics of liberal elites who suppress free thought in the name of identity politics and indoctrination." But as he acknowledged, the policy was recently embraced by the state of Florida's university system and the taxpayers that funded it.
A 2020 memo from Brian Lamb and Marshall Criser, the Vice Chair of the Board of Governors and the President of the State University System (SUS), respectively, proclaimed the SUS had "the wisdom and leadership to make a difference in our nation's continuing efforts to end incidents of racism and societal injustice."
"The tragic violence of Spring and Fall 2020 in the U.S., as well as incidents of racism and social injustice, have alarmed most Americans and caused us to pause and recognize the prevalence and the impacts of racism and social injustice in our country, examine the current inequities in our society, recognize the conditions that have created the current situation, and think seriously about how to repair the racial divide and restore equal justice for all," asserted the aspirational document.
So when it comes to DeSantis and DEI, an axiom seems to apply: That was then, and this is now.