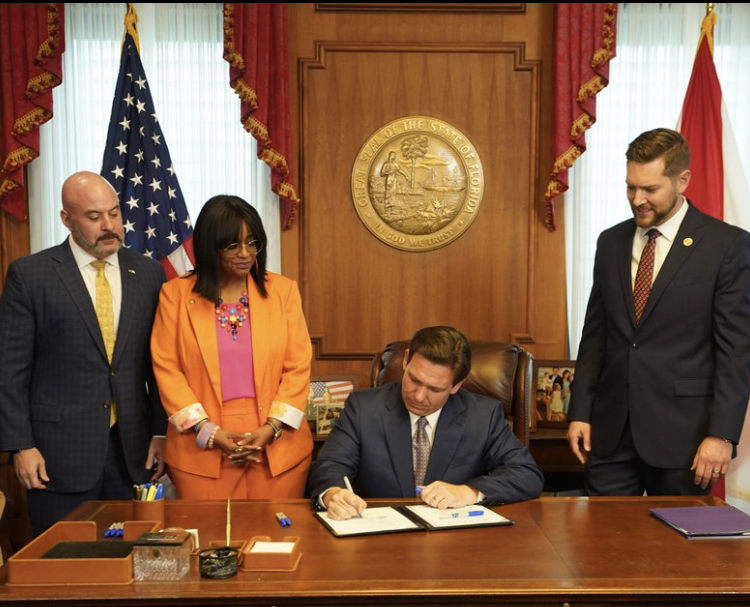 'It's highlighted this issue.'
Gov. Ron DeSantis continues to defend funding for migrant transport as money well spent.
DeSantis signed a glitch bill that allows his administration to fly illegal immigrants from anywhere in the country to any other point in the country, a practice his harshest critics have called "human trafficking."
The bill, passed during this month's Special Session, changes the previous law that only authorized flights originating in the state, which his administration arguably violated last September when it chartered two planes to transport 49 people, most of them Venezuelan refugees, from San Antonio to Martha's Vineyard in Massachusetts.
Asked to offer a defense of the practice, DeSantis was willing to oblige, saying there were human rights benefits, and that it increased awareness of the illegal immigration problem like nothing else could.
"Well, I would say that some of these folks going to the sanctuary jurisdictions are in much better circumstances than just being stranded somewhere with nowhere to go. It's not about them, because these are sanctuary jurisdictions that beat their chest, just a few years ago, about how nobody was illegal and all," DeSantis said. "Now that they're getting people going there, it's like this huge problem and they're complaining about it.
"And I think what it's done is it's highlighted this issue in a way that would not have been highlighted any other way," he added. "I mean, think about it. You have the Mayor of New York City traveling to the southern border. That would not have happened if you had not had transports going into the city."
DeSantis went on to offer a defense of the controversial Martha's Vineyard flight. "There's not been a single thing that has happened since (Joe) Biden's been in (office) that has raised awareness of this more than that," the Governor contended.
DeSantis had offered a series of novel defenses of the flights on conservative outlets, at one point blaming Martha's Vineyard for false "advertising."
The Governor told Fox News' Sean Hannity in October that "they have a social services office there that says, you know, everybody is welcome, refugees welcome, all this other stuff. That's what they were advertising."
The Governor had taken to Hannity's show before to offer unique defenses as well.
"It's only when 50 get put into Martha's Vineyard, which wasn't saying they didn't want this. They said they wanted this, they said they were a sanctuary jurisdiction," DeSantis said on Sept. 20, describing the migrants as "basically destitute" and "put in a situation where they could have succeeded" by being flown to Massachusetts.
"Not only did they not welcome them, they deported (sic) them the next day with the National Guard," DeSantis said.
Other flights were teased, meanwhile, though what happened with at least one is murky.
A press conference last fall was animated by questions about a Delaware trip, with DeSantis refusing to "confirm" the trip was happening as rumored. Ultimately, there was no landing in Delaware, a swerve a DeSantis-linked source said left the media "punked." Subsequent reporting from the Miami Herald revealed that these immigrants were stranded as a result, but a source gloated all the same.
"He didn't tell anyone and purposely left people in the dark. So technically the media, the Democrats, everyone got punked who decided to heed some s*** on Twitter instead of waiting for confirmation from the Governor's Office," a source told NBC News.