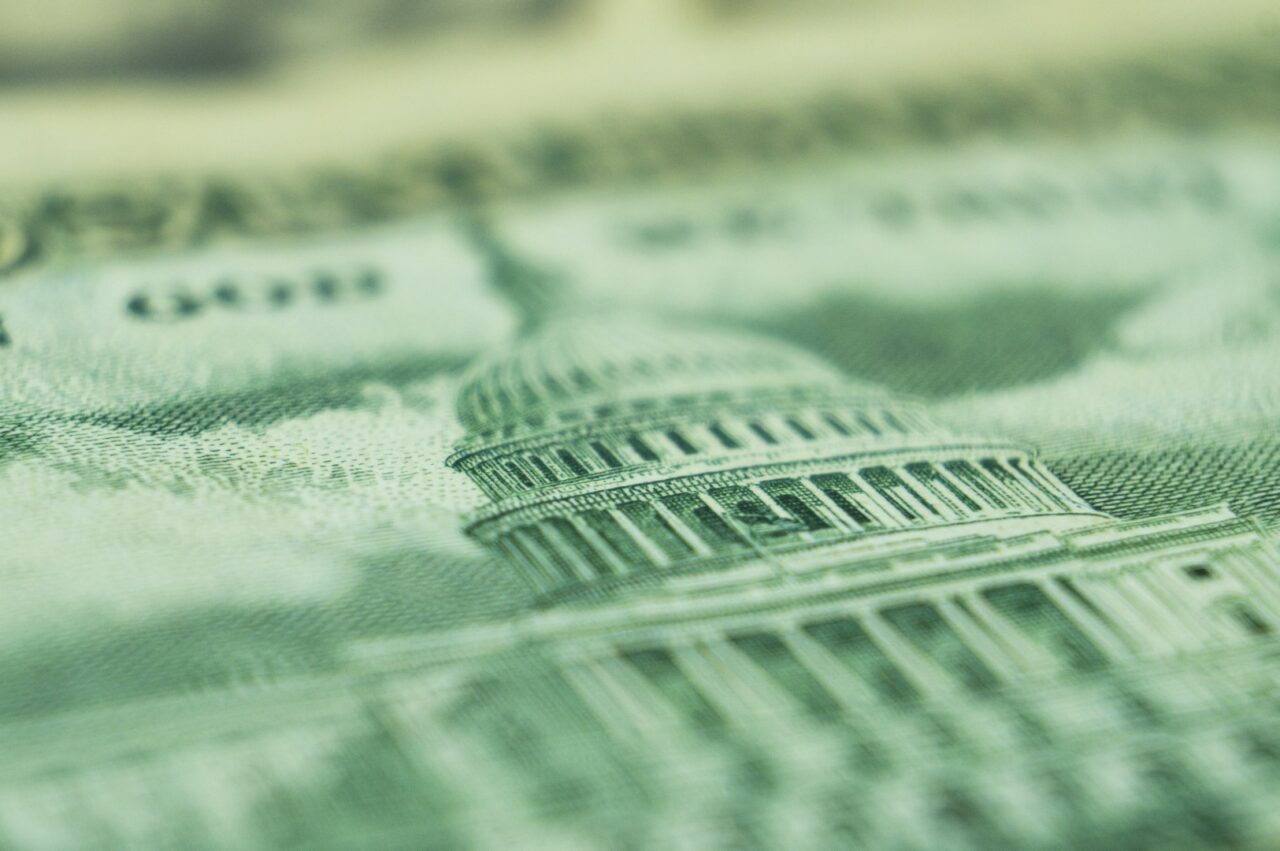 'He never got a penny from us.'
Somewhere, somehow, a mistake was made, making it looks like the progressive media outlet Occupy Democrats gave more than $80,000 to a Donald Trump-backed Republican Congressman from Michigan.
Federal Election Commission (FEC) records show Occupy Democrats' hybrid PAC, Occupy Democrats Election Fund, gave $82,200 to a political committee backing U.S. Rep. John James of Detroit between Aug. 9, 2021, and Dec. 1, 2022.
The funds are shown as going to James in monthly installments, first through back-to-back payments of $3,600 in August and September 2021, before increasing to $5,000 per month after.
Rafael Rivero, who co-founded Occupy Democrats as a Facebook page in 2012 with his twin brother, Omar, told Florida Politics those contributions never happened.
"He never got a penny from us," he said. "There is no way we donated to that man. We only donated to candidates we support."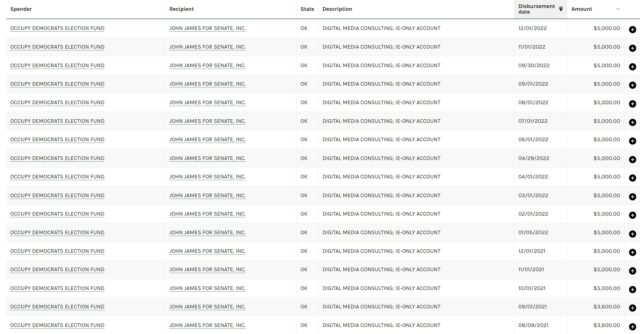 A deeper dive into FEC records supports Rivero's assertion.
For starters, the political committee in question, John James for Senate, Inc. — a still-active PC James launched in 2017 to support the first of two runs at the Senate — reports no receipts from Occupy Democrats.
Then there's the description of the payments themselves. Each payment the FEC lists as coming from Occupy Democrats to John James for Senate, Inc. shows Oklahoma, not Michigan, as the receiving state. The recipient was "Olivia Rose Company." Rivero said the company's owner is Olivia Rose Withington, a Tulsa advertising and digital media consultant.
Documents accompanying the payments show Occupy Democrats sent the money through the campaign finance service NGP Van. Curiously, the documents list John James under the "Candidate Name" line.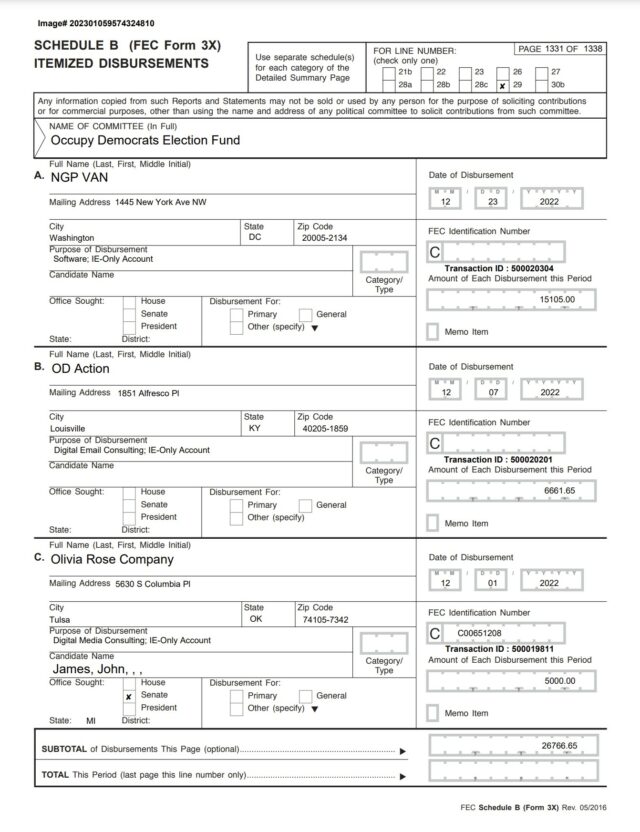 But Rivero said all the money went to Withington, a longtime Tulsa resident who in 2007 was crowned Miss Hispanic Oklahoma State University. Her LinkedIn page lists her as a content creator and social media manager who owned and operated a kiteboard company from 2013 to 2020.
"She definitely has the money," Rivero said. "Otherwise, she would have raised hell about it."
He chalked the errant FEC records up to a "data entry error," possibly by NGP Van.
"According to the person who does our compliance, reporting was done correctly on our side," he said.
The nonprofit OpenSecrets, which tracks campaign finance and lobbying data, shows Occupy Democrats Election Fund gave exclusively to Democratic candidates and groups during the 2022 cycle.
It would have been a major policy change if the organization actually gave to James. In 2020, Occupy Democrats produced an attack video about James, detailing his stalwart support of Trump, who endorsed James last March, and repealing the Affordable Care Act.
"Anyone trying to get elected into the party of Trump deserves your suspicion, and the last thing John James deserves is your vote," the video said. "Michigan already rejected John James in 2018. Now, it's time to reject him again and send him packing for good."
James lost in 2020. Two years later, however, he won a race for Michigan's 10th Congressional District by just 1,601 votes.
In September, the Rivero brothers faced accusations of self-enrichment through the Occupy Democrats PAC after wildlife photographer Hamish Mitchell noted on Twitter that the group paid $250,000 to a Miami company called Blue Deal LLC, which the Riveros own, for digital consulting and other services. The company is not related to The Blue Deal LLC, a women-owned business based in Virginia that Hamish mistakenly identified in a since-deleted tweet.
Since September, the Occupy Democrats Election Fund has paid another $52,000 to Blue Deal LLC.
Omar Rivero said he and his brother never received a cent from the Blue Deal payments, which he said instead funded "memes on Facebook" by a network of pages Occupy Democrats manages collectively called the "rebel alliance."
Florida Politics reached out to NGP Van and James' office for comment but received none by press time.
___
Editor's note: This story has been updated with a sentence clarifying that there is no connection between Blue Deal LLC and The Blue Deal LLC.