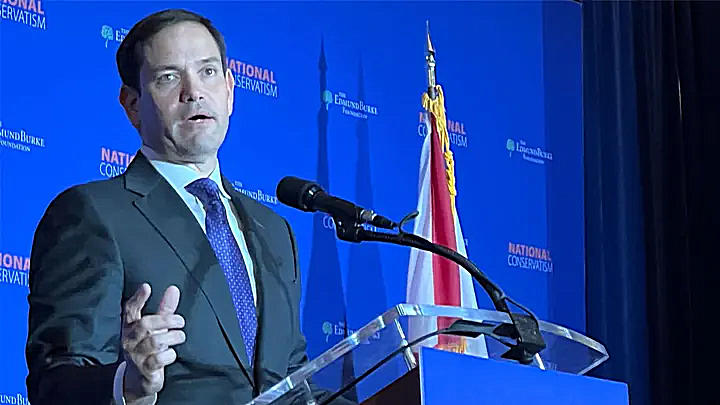 He wants to return to Donald Trump-era restrictions.
A controversial ban on transgender troops in the military left with former President Donald Trump. But U.S. Sen. Marco Rubio wants the restrictions back with more stringent screening than ever.
He filed the Ensuring Military Readiness Act, indicating a feeling that limiting who serves is a part of better preparing the military for engagement.
"The military has strict standards for who can and cannot qualify to serve," the Miami Republican said.
"For example, under President (Joe) Biden, you can't serve with a peanut allergy. Biden has turned our military into a woke social experiment. It is a stupid way to go about protecting our nation. We need to spend more time thinking about how to counter threats like China, Russia, and North Korea and less time thinking about pronouns."
While Rubio is doing nothing about allergies, he does not want any new recruits with gender dysphoria unless "they have been stable … in their biological sex" for three years prior to service. While he doesn't want to drum out any servicemembers already in uniform if a potential ban becomes law, he doesn't want health insurance coverage for any gender confirmation or hormone therapy.
The legislation would see anyone who has already gone through a gender reassignment immediately disqualified, and the military would not recognize any gender besides the one assigned at birth.
The measure will likely fail to move in the Democrat-controlled Senate.
U.S. Rep. Jim Banks, an Indiana Republicans and Senate candidate, will carry the bill in the House.
Transgender troops were first allowed to enlist and serve openly in 2016, following a two-year period of study by former President Barack Obama's administration that determined the service of transgender troops would cause "no significant impact" on military readiness.
But shortly after taking office in 2017, President Trump announced in a morning tweet he would ban transgender troops from serving.
President Biden reversed the ban after he took office in early 2021.
Pro-LGBTQ groups immediately condemned Rubio's legislation.
"In attempting to revive the ban on transgender people serving in the military, Senator Rubio and Congressman Banks are attacking thousands of brave and honorable servicemembers and veterans and sending a message to transgender people that they are unfit to serve our country simply because of who they are," said Brandon Wolf, spokesperson for Equality Florida.
"This disgraceful, alarming move openly discriminates against those servicemembers stationed around the world who willingly serve and is a dangerous escalation of the scapegoating of transgender people by right wing politicians to score cheap points. There are over 15,000 openly transgender people proudly serving in our military. They and future generations of transgender people have a right to serve the nation they love. We must stand together to prevent the clock from being turned back by ignorance and bigotry."
But conservative groups immediately supported the bill.
"Data shows that service members with gender dysphoria are at a much higher risk of suicide, crippling anxiety, or other mental conditions than their peers," said Ryan Walker, Vice President of Government Relations for the Heritage Foundation's political arm.
"The Biden administration's decision to allow for those diagnosed with gender dysphoria to serve will harm readiness by reducing the number of troops that are available to deploy. At a time when all branches of the military are already facing a recruitment and readiness crisis, this decision will also breed mistrust and uncertainty among units that need to know they can count on those standing next to them.
"Senator Rubio's Ensuring Military Readiness Act would block President Biden's dangerous policy changes, and all Senators that take our national defense seriously should support it."