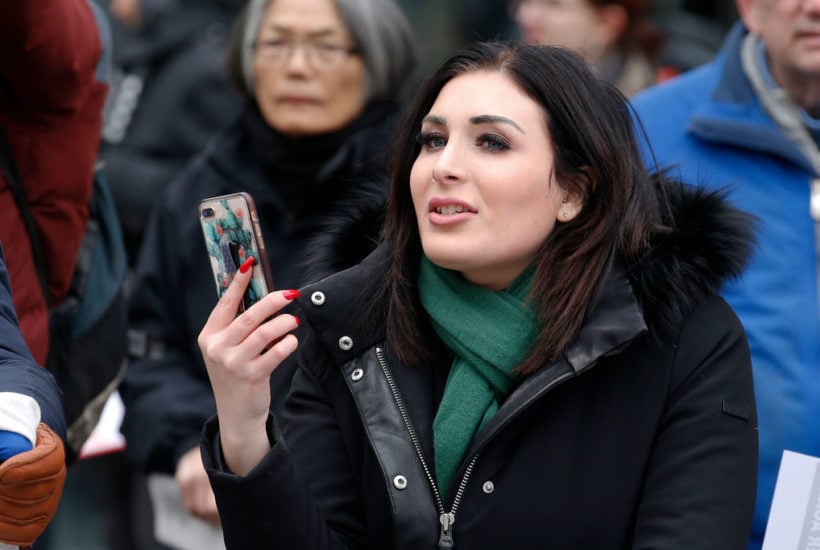 The Donald Trump supporter wants local RECs to demand the Governor serve out his term.
Failed congressional candidate Laura Loomer doesn't want to make Gov. Ron DeSantis' decision to run for President easier.
The Lady Lake Republican wants Republican Party of Florida (RPOF) leaders to take up resolutions opposing changes to Florida's "resign to run" law. She said it's important the party take that stance as DeSantis considers a White House run less than halfway into his second term as Governor.
She's attending the Republican Party of Florida annual meeting in Orlando and handing out copies of a resolution on the matter. It calls out DeSantis by name and says his priority needs to be the state of Florida.
"Ron DeSantis is obligated to the electors of the State of Florida to serve the entire four years of his second term as he was elected to serve," the resolution states.
She claims on social media that many members of the Florida Republican Executive Committee (REC) were surprised the Legislature has considered changing the law.
"My recommended resolution for Florida RECs has been passed out all afternoon at the RPOF quarterly in Orlando, FL!" she tweeted. "Every REC member and chair who has received it thus far supports it. Many are shocked to discover DeSantis is trying to change the law to benefit himself."
Of note, there's some disagreement about whether Florida's "resign to run" law applies to a run for President in the first place. The Florida law requires candidates who qualify for federal office to resign an office if the term runs concurrent with their office. While DeSantis could not serve as Governor and President, there has been debate about what counts as qualifying to run for President, which is a different process than running for U.S. House or Senate.
Regardless, the Legislature appears ready to change the law as needed to clarify DeSantis can run. Both Senate President Kathleen Passidomo and House Speaker Paul Renner support changing the law regarding the residential race.
Florida notably changed the law briefly when 2008 Republican presidential candidate John McCain was considering then-Gov. Charlie Crist for running mate, a job that ultimately went to then-Alaska Gov. Sarah Palin. But the Legislature reverted the law shortly afterward.
Loomer's resolution is something she would like county Republican Executive Committees to take up in coming weeks and months.
She notably supports former President Donald Trump over DeSantis for President.
"DeSantis is a showboater and a liar and it's time for you to leave the DeSimps and get back on the Trump train," she recently tweeted at conservative journalist Chris Nelson.  "Wake up and realize DeSantis only talks a big talk for press."
Loomer has said she plans to challenge U.S. Rep. Dan Webster again for Congress. She lost in the Republican Primary by a smaller margin than expected against Webster in 2022 and has refused to concede.