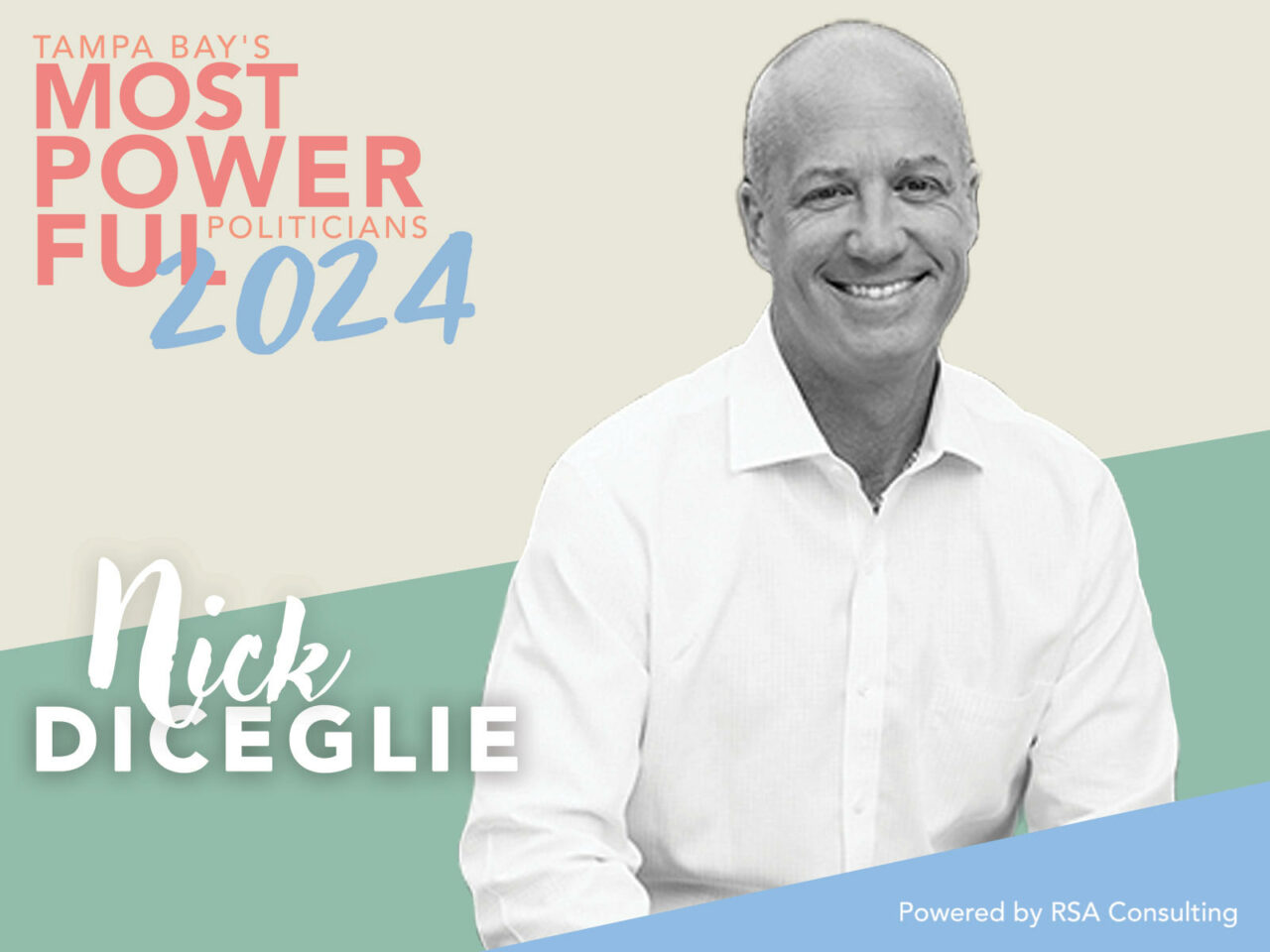 It was clear from the start that DiCeglie would be primed for at least some measure of leadership in the state's upper chamber.
From honorable mention to almost Top 10, it's clear that state Sen. Nick DiCeglie's star is rising. 
The Indian Rocks Beach Republican succeeded former Sen. Jeff Brandes in Senate District 18 after securing a comfortable victory over Democrat Eunic Ortiz in the November election. 
As Brandes' chosen successor, DiCeglie wasted no time getting to work.
In a sense, he carried his predecessor's torch with a bill (SB 198) calling for the dissolution of the Tampa Bay Area Regional Transit Authority, or TBARTA. Brandes filed identical bills in the 2021 and 2022 Legislative Sessions also seeking to dissolve TBARTA, telling Florida Politics it was a "doing nothing" agency.
But where Brandes failed, DiCeglie succeeded, albeit not through legislative channels. TBARTA itself voted to dissolve, likely seeing the writing on the wall. 
"Sen. DiCeglie is a solutions-oriented businessman who does not shy away from a challenge. With so many transportation issues facing the Tampa Bay region, he is in a unique position as Chair of the Senate Transportation Committee to implement a long-term regional plan that improves accessibility around Tampa Bay and accommodates its growth," said RSA Consulting President and CEO Ron Pierce.
It was clear from the start that DiCeglie would be primed for at least some measure of leadership in the state's upper chamber. Though a freshman in the Senate, DiCeglie landed a Chairmanship on the Senate Transportation Committee and is serving as the No. 2 on the Banking and Insurance Committee. 
Those leadership roles will give DiCeglie the chance to perhaps bring home big wins for the Tampa Bay region.
"Sen. DiCeglie was an incredibly effective lawmaker during his tenure in the House. President (Kathleen) Passidomo's tapping of him to lead the Senate Transportation Committee as a freshman Senator is a testament to that. He's been a huge advocate for the small business owner and has been very successful sponsoring and passing legislation to protect them," said Mike Moore of The Southern Group.
On Banking and Insurance, DiCeglie will have the opportunity to be part of a leadership team tackling a long-standing priority for Florida Republicans: tort reform. The GOP strategy on lowering insurance costs, both auto and property, has been to limit attorney fees and cut back on frivolous lawsuits.
But his leadership on transportation could serve as the biggest boost to his home region, where growing transportation issues, including increasing traffic congestion and aging infrastructure, plague the region from Tampa to the beaches. 
In addition to his leadership roles, DiCeglie will also serve on committees for Agriculture, Environment and General Government appropriations; Transportation, Tourism and Economic Development appropriations; Commerce and Tourism; Fiscal Policy; Judiciary, Rules and the Joint Legislative Auditing Committee. 
The committee assignments will give DiCeglie voting access to funding measures on transportation and tourism initiatives, both major concerns in the populous and tourism-heavy Tampa Bay region.
He's already making a difference in the region and beyond. At the end of last year, DiCeglie carried a bill (SB 6A) creating a toll relief program for drivers that notch 35 transactions a month on their SunPass transponders.
It authorizes the Florida Turnpike Enterprise to establish the program throughout 2023 for all Florida toll facilities that use a Florida-issued transponder or are interoperable with the Department of Transportation's (FDOT) SunPass system. Each month a transponder racks up 35 or more transactions, the transponder will receive 50% toll credit. The bill took effect in December.
DiCeglie is also sponsoring a bill (SB 90) to authorize a $296,000 settlement from the Florida Department of Children and Families (DCF) to Michael Barnett and his son, Ryan, as compensation for negligence that resulted in Ryan becoming a victim in a Palm Beach County Shooting that left six dead. 
DiCeglie is also sponsoring a bill that, at least in part, responds to the ongoing housing affordability crisis. The measure (SB 494) would create consumer protections for tenants who choose to pay a monthly fee instead of a security deposit.
"A businessman who understands headwinds for small business owners, it's going to be a productive eight years for the Senator, and his constituents," said Pinellas REALTOR Vice President of Public Affairs Joe Farrell.
Methodology
We define the Tampa Bay region as Pinellas, Hillsborough and Pasco, but can also include Hernando, Polk or Sarasota — if the politicians from those counties impact either Pinellas or Hillsborough.
We define a politician as being in office or running for office.
Being first on a panelist's list earns the politician 25 points, second earns them 24 points and so on, to where being listed 25th earns a politician one point. Points are added and, voilà, we have a list.
Special thanks go to our experienced and knowledgeable panelists, who were essential to developing the 2023 list: Christina Barker of the Vinik Family Office, Ashley Bauman of Mercury, Ed Briggs of RSA Consulting, political consultant Maya Brown, Ricky Butler of the Pinellas Co. Sheriff's Office, Reggie Cardozo of The Public Square, Ronald Christaldi of Schumaker, Barry Edwards, Joe Farrell of Pinellas Realtors, pollster Matt Florell of Vicidial Group, Shawn Foster of Sunrise Consulting Group, Adam Giery of Strategos Group, political consultant Max Goodman, Mike Griffin of Savills, Todd Josko of Ballard Partners, Natalie King of RSA Consulting, political consultant Benjamin Kirby, Merritt Martin of Moffitt Cancer Center, Mike Moore of The Southern Group, Ron Pierce of RSA Consulting, J.C. Pritchett, pastor of St. Pete's Faith Church, Darren Richards of Tucker/Hall, Preston Rudie of Catalyst Communications Group, Amanda Stewart of Johnston and Stewart, Bemetra Simmons of the Tampa Bay Partnership, and Alan Suskey of Shumaker Advisors and communications consultant Janelle Irwin Taylor. With Michelle and Peter Schorsch.