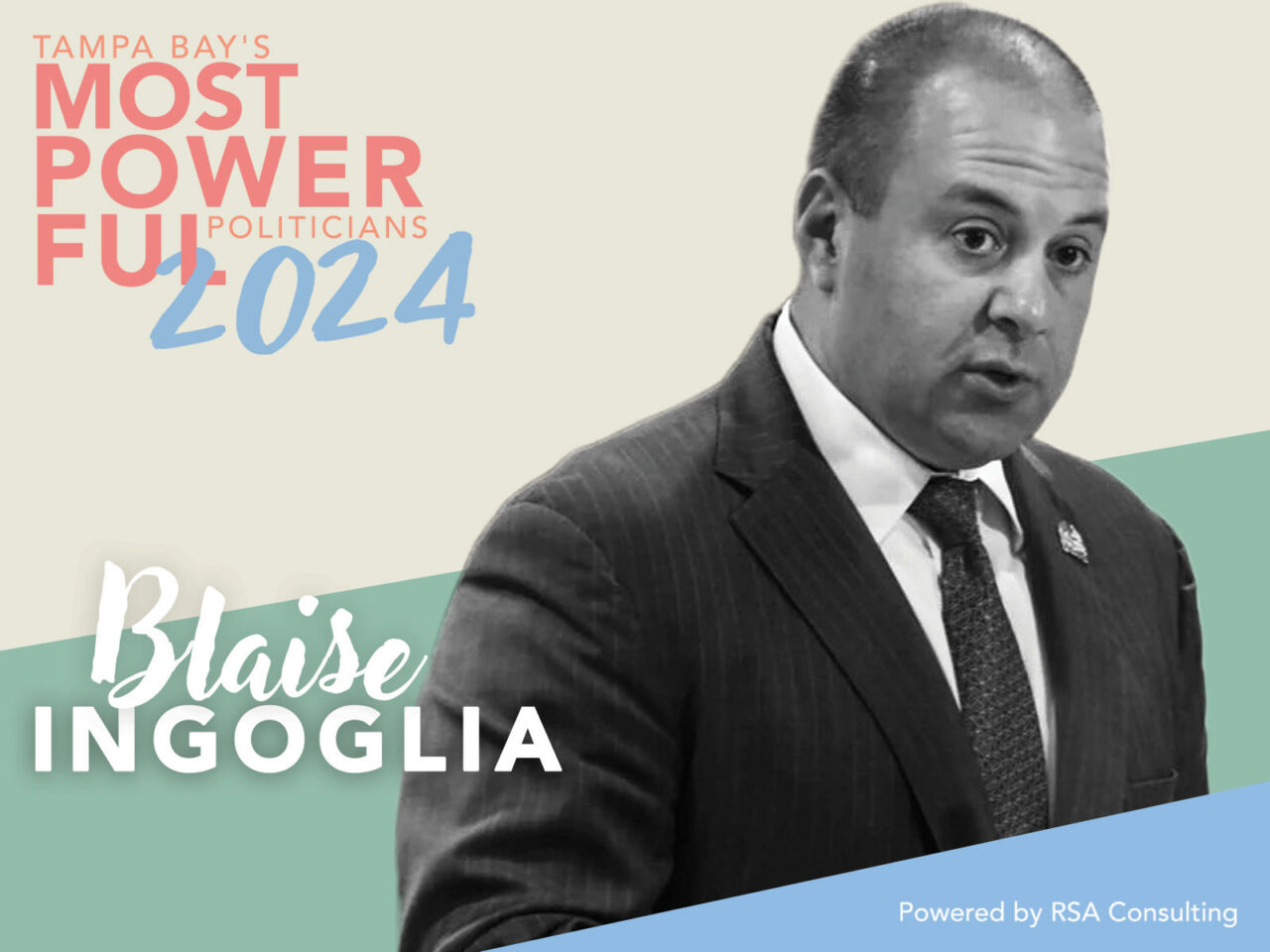 Ingoglia has found the conservative sweet spot, fortuitously at the same time Florida is led by a Governor who shares the same ideology.
Four years as state Republican Chairman. Eight years in the House. Lots of crisscrossing the state getting folks riled about tax-and-spend government.
Yet Blaise Ingoglia is only warming up.
"He's a businessman. He knows how to put people together. He's got a great personality and can listen well. He's a hard worker. It doesn't take much more than that to be successful," said Rep. Ralph Massullo, who served six years in the House with Ingoglia.
Ingoglia, elected to Senate District 11 in 2022, debuts at No. 21 in Florida Politics' 10th annual list of Tampa Bay's Most Powerful Politicians.
Ingoglia has found the conservative sweet spot, fortuitously at the same time Florida is led by a Governor who shares the same ideology.
Ingoglia is happy to carry many of Gov. Ron DeSantis' priorities, including election reform, anti-woke policy, combatting Big Tech censorship and an easing of death-penalty restrictions.
Even Ingoglia notices the resemblance.
"The Governor and I see things the same way almost 100%," the Spring Hill Republican previously said. "I'm one of his strongest allies."
Ingoglia has a personality made for politics. The amateur Vegas gambler keeps his upcoming moves close to the vest, but also is clear about his intentions.
"Bold, unwavering, and tenacious. Like any good poker player, Sen. Ingoglia knows how to influence a room regardless of what's on the cards," RSA Consulting Vice President of Government Relations Edward Briggs said. "But when it comes to public service, he's not one to bluff. He says things how they are and takes the bull by the horns. It's clearly a winning strategy, and he is most deserving of the respect he commands both within the Legislature and back home in his district."
Added Rep. Jeff Holcomb, who, like Ingoglia, is a former Hernando County Republican Chairman, "he has a lot of strong conservative values. He says something and he means it."
As for Ingoglia's rapport with the Governor, the Lecanto Republican added: "That doesn't hurt."
Massullo would know. He and Ingoglia were headed toward an SD 11 showdown when DeSantis threw his support behind Ingoglia for Senate. Massullo, with DeSantis' backing, ended up being re-elected to a fourth term in the House while Ingoglia easily won the Senate seat against a third-party candidate.
The connection began years ago when Ingoglia was state party Chairman and DeSantis was first running for Governor.
Mike Moberley, Citrus County Republican Chairman and Treasurer of the state party, said he recalls attending a reception that Ingoglia hosted for DeSantis.
"Blaise was talking up DeSantis when he was a little-known Congressman," Moberley said.
Moberley noted that Ingoglia's "Government Gone Wild" seminars targeted out-of-control government spending and rule-making.
"He sees Gov. DeSantis as the kind of politician he was railing for when he was running around the state with Government Gone Wild," Moberley said.
Ingoglia has seen a string of legislative successes, including a measure to send illegal immigrants to sanctuary cities; a bill protecting Floridians from Big Tech censorship; and election reform aimed at eliminating voter fraud.
This year's bills include removing the requirement for unanimous recommendations from juries for the death penalty in capital murder cases, and requiring judges who choose life in prison over a jury's recommendation of death to explain their decisions in writing. Both are DeSantis priorities.
Moberley, who has known Ingoglia for 12 years, believes Ingoglia's stature has no ceiling.
"He's clearly an intriguing person. Blaise is a fast leader," he said. "Will his influence continue to rise? I can't see how it won't."
Methodology
We define the Tampa Bay region as Pinellas, Hillsborough and Pasco, but can also include Hernando, Polk or Sarasota — if the politicians from those counties impact either Pinellas or Hillsborough.
We define a politician as being in office or running for office.
Being first on a panelist's list earns the politician 25 points, second earns them 24 points and so on, to where being listed 25th earns a politician one point. Points are added and, voilà, we have a list.
Special thanks go to our experienced and knowledgeable panelists, who were essential to developing the 2023 list: Christina Barker of the Vinik Family Office, Ashley Bauman of Mercury, Ed Briggs of RSA Consulting, political consultant Maya Brown, Ricky Butler of the Pinellas Co. Sheriff's Office, Reggie Cardozo of The Public Square, Ronald Christaldi of Schumaker, Barry Edwards, Joe Farrell of Pinellas Realtors, pollster Matt Florell of Vicidial Group, Shawn Foster of Sunrise Consulting Group, Adam Giery of Strategos Group, political consultant Max Goodman, Mike Griffin of Savills, Todd Josko of Ballard Partners, Natalie King of RSA Consulting, political consultant Benjamin Kirby, Merritt Martin of Moffitt Cancer Center, Mike Moore of The Southern Group, Ron Pierce of RSA Consulting, J.C. Pritchett, pastor of St. Pete's Faith Church, Darren Richards of Tucker/Hall, Preston Rudie of Catalyst Communications Group, Amanda Stewart of Johnston and Stewart, Bemetra Simmons of the Tampa Bay Partnership, Alan Suskey of Shumaker Advisors and communications consultant Janelle Irwin Taylor. With Michelle and Peter Schorsch.