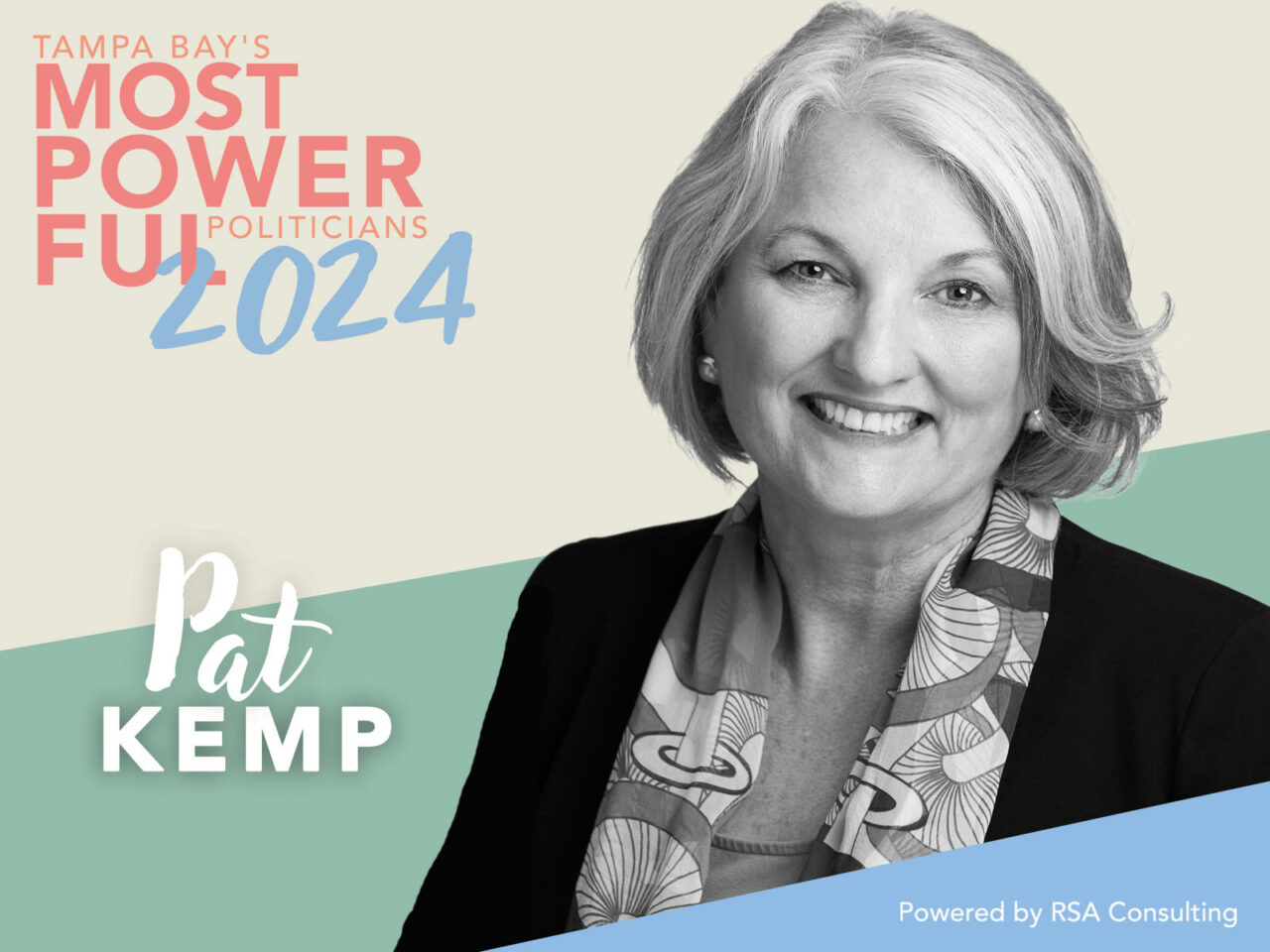 This isn't the first time Kemp finds herself an underdog.
Hillsborough County Commissioner Pat Kemp saw a slight dip from last year's list of Tampa Bay's Most Powerful Politicians, when she landed at No. 17, but that she made the list at all following the red tsunami in Hillsborough County is a feat in itself. 
This time last year, Kemp was part of a (mostly) united majority of Democrats on the Commission, powering through an agenda with the weight of five against two.
Fast forward to 2023, and the script is flipped, with Kemp and just two colleagues rounding out the Board, which now favors Republicans 4-3.
While the change had little to do with Kemp herself — she wasn't on the Midterm ballot — it inherently reduced her power and influence within Hillsborough County politics.
But it's not the first time Kemp finds herself an underdog. 
She narrowly lost to former Hillsborough County Commissioner Al Higginbotham in 2014 before returning to the ballot in 2016. She then came out on top of a crowded Democratic Primary and bested her GOP opponent for the open District 6 seat, Tim Schock, with a comfortable 55% of the vote.
In 2020, she faced arguably her biggest challenge, squaring off against longtime Commissioner Sandy Murman for re-election. 
Kemp served her first two years in office in the minority. Democrats gained a narrow majority in 2018 and then, in 2020, her victory over Murman helped the party expand its majority to 5-2. Now she's back in the minority and there's no reason to think she won't remember how to make that work.
"The November election introduced a new majority on the Hillsborough County Commission, but there are few people more apt than Commissioner Kemp to lead from the minority," said Christina Barker, Chief of Staff in the Vinik Family Office who has worked closely with Kemp on transportation issues.
"Her handle on unwieldy policy issues is only heightened when faced with resistance — even if it comes from her own party."
Transportation, or more specifically transit, has been Kemp's top priority. And even with partisan politics potentially in the way, she has the opportunity to continue shaping, or at least shifting, the conversation in productive ways.
Over the next term, Kemp and colleagues will be tasked with figuring out how to dispense with the $570 million in tax revenue collected from the now-defunct transportation surtax. Gov. Ron DeSantis has said it must first be returned to those who successfully request appropriate refunds and then, not used on any transit projects. 
That nixes one of Kemp's priorities for the excess funds, a new transit facility for the Hillsborough Area Regional Transit Authority (HART). But she so far looks poised to land at least a moderate win, with $9 million for trails included in the county's list of wishes for whatever funding remains after refunds have been dispersed.
She also sits on the HART board, where she will help direct solutions for an embattled agency that is facing insolvency and is still managing a CEO scandal that has led to calls for Adelee Le Grand's removal and has eroded trust in the public transit agency. 
"Pat is resilient, focused and committed to moving forward policy and investment for transportation, the environment and enhancing the quality of life for her constituents," Barker added.
Methodology
We define the Tampa Bay region as Pinellas, Hillsborough and Pasco, but can also include Hernando, Polk or Sarasota — if the politicians from those counties impact either Pinellas or Hillsborough.
We define a politician as being in office or running for office.
Being first on a panelist's list earns the politician 25 points, second earns them 24 points and so on, to where being listed 25th earns a politician one point. Points are added and, voilà, we have a list.
Special thanks go to our experienced and knowledgeable panelists, who were essential to developing the 2023 list: Christina Barker of the Vinik Family Office, Ashley Bauman of Mercury, Ed Briggs of RSA Consulting, political consultant Maya Brown, Ricky Butler of the Pinellas Co. Sheriff's Office, Reggie Cardozo of The Public Square, Ronald Christaldi of Schumaker, Barry Edwards, Joe Farrell of Pinellas Realtors, pollster Matt Florell of Vicidial Group, Shawn Foster of Sunrise Consulting Group, Adam Giery of Strategos Group, political consultant Max Goodman, Mike Griffin of Savills, Todd Josko of Ballard Partners, Natalie King of RSA Consulting, political consultant Benjamin Kirby, Merritt Martin of Moffitt Cancer Center, Mike Moore of The Southern Group, Ron Pierce of RSA Consulting, J.C. Pritchett, pastor of St. Pete's Faith Church, Darren Richards of Tucker/Hall, Preston Rudie of Catalyst Communications Group, Amanda Stewart of Johnston and Stewart, Bemetra Simmons of the Tampa Bay Partnership, Alan Suskey of Shumaker Advisors and communications consultant Janelle Irwin Taylor. With Michelle and Peter Schorsch.