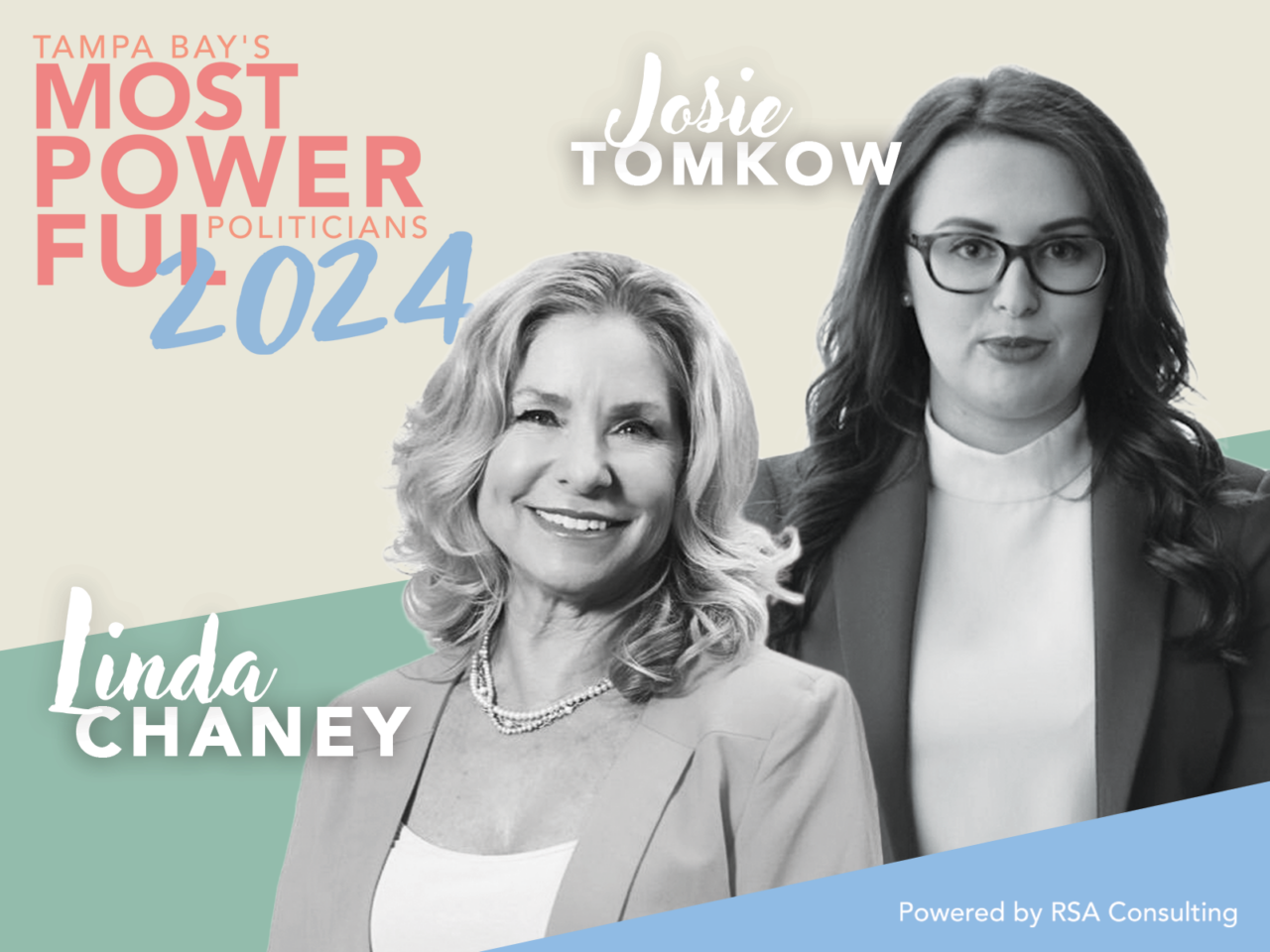 Powerful connections and beach advocacy are strong drivers.
What's a list without a tie?
A pair of women elected to the Florida House are sharing the No. 23 spot on the 10th annual list of Tampa Bay's Most Powerful Politicians.
Josie Tomkow represents House District 51 in Polk City, while Linda Chaney serves constituents in House District 61, in and around St. Pete Beach. Both are Republicans.
At just 27 years old, Tomkow is one of the youngest members of the House. But don't let youth fool you — she won a third term in November, staving off an intra-party challenge in the GOP Primary and being elected in the General without opposition.
And she has a Florida powerhouse in her corner in former Senate President-turned-Agriculture Commissioner Wilton Simpson.
"I have watched Josie Tomkow grow up. She is like a niece to me. She has an incredible family that has a long history of public and community service," Simpson said of his young protégé. "She has taken up the 'Tomkow Torch' very well. She is dedicated to improving Florida, and especially cares for our agriculture community. I am proud to call her my friend."
Furthering her reach, Tomkow is also half of a power couple. She's engaged to Tom Piccolo, a conservative strategist with Strategic Image Management, or as it's more commonly known, "SIM Wins."
Tomkow was tapped this year to chair the PreK-12 Appropriations Subcommittee, a position that primes her to lead one of the hottest issues in Florida politics, and the purse strings that come with it. Tomkow was also named to the powerful Appropriations Committee.
Tomkow is a cattle rancher from Polk County.
"Josie Tomkow came into the legislative process as one of the youngest legislators every elected. What she lacked in age, she made up with hard work, energy and determination," said consultant Anthony Pedicini of Strategic Image Management. "Today, she's poised to be one of the leaders of her class, shaping major policy for millions of Floridians and changing the course of Florida's future. When Neil Combee first introduced me to Josie I had no idea the firecracker of a legislator she would become. The lesson I learned: Never underestimate a Polk County cowgirl."
Chaney, meanwhile, is carrying the torch passed down from former Reps. Dennis Jones and Kathleen Peters as a protector of beach communities in Pinellas County.
"Linda Chaney is the perfect example of the type of citizen representative our founding fathers envisioned. She knows and loves her community, every square inch, even the tiniest of beach towns up and down Gulf Boulevard," said Shumaker Executive Vice President Alan Suskey. "She fights for them every day and is a leading voice on the issues like water quality, beach renourishment, and  tourism. Having a fighter like Rep. Chaney in their corner gives a voice to those who might otherwise not be heard."
Appropriately, she landed committee appointments that lend well to beach advocacy, including the Infrastructure Strategies Committee; the Agriculture, Conservation and Resiliency Subcommittee; Appropriations; and the Infrastructure and Tourism Appropriations Subcommittee.
The Agriculture, Conservation and Resiliency Subcommittee is new this year and will focus on planning for growth, in such areas as transportation, water, flood resilience, land acquisition and infrastructure planning. It will also work on issues regarding agriculture, citrus, conservation, fish and wildlife, and water quality and supply.
There, Chaney plans to pay careful attention to resiliency, an issue she previously said tends to be top of mind only in coastal communities, and only when a storm is coming.
"But we've all experienced storms recently that have been worse inland," Chaney previously said. "In my district, six blocks inland, we had 90 homes flooded to the point where they were uninhabitable, from a storm that wasn't even recognized by (the Federal Emergency Management Agency)."
Chaney's advocacy in that realm extends well beyond Tallahassee. Following devastation from Hurricane Ian last fall, Chaney hosted a supply drive to provide needed items for survivors in hardest-hit Southwest Florida, collecting items such as water and sports drinks; baby formula, diapers and wipes; sunscreen and bug spray; paper and plastic goods; nonperishable foods and pet food; personal hygiene items; solar phone chargers; and campaign stoves.
"Rep. Chaney leads with her constituents at heart and a fierce loyalty to her community. She exemplifies what it means to be a public servant, and it's evident that she serves not for her own satisfaction, but to improve the lives of the people around her," RSA Vice President and Chief Operating Officer Natalie King said. "She is a tireless advocate for increasing access to vital health screenings for women and has enacted meaningful change on resiliency, resources, and tourism for the betterment of her Pinellas beach communities."
Methodology
We define the Tampa Bay region as Pinellas, Hillsborough and Pasco, but can also include Hernando, Polk or Sarasota — if the politicians from those counties impact either Pinellas or Hillsborough.
We define a politician as being in office or running for office.
Being first on a panelist's list earns the politician 25 points, second earns them 24 points and so on, to where being listed 25th earns a politician one point. Points are added and, voilà, we have a list.
Special thanks go to our experienced and knowledgeable panelists, who were essential to developing the 2023 list: Christina Barker of the Vinik Family Office, Ashley Bauman of Mercury, Ed Briggs of RSA Consulting, political consultant Maya Brown, Ricky Butler of the Pinellas Co. Sheriff's Office, Reggie Cardozo of The Public Square, Ronald Christaldi of Schumaker, Barry Edwards, Joe Farrell of Pinellas Realtors, pollster Matt Florell of Vicidial Group, Shawn Foster of Sunrise Consulting Group, Adam Giery of Strategos Group, political consultant Max Goodman, Mike Griffin of Savills, Todd Josko of Ballard Partners, Natalie King of RSA Consulting, political consultant Benjamin Kirby, Merritt Martin of Moffitt Cancer Center, Mike Moore of The Southern Group, Ron Pierce of RSA Consulting, J.C. Pritchett, pastor of St. Pete's Faith Church, Darren Richards of Tucker/Hall, Preston Rudie of Catalyst Communications Group, Amanda Stewart of Johnston and Stewart, Bemetra Simmons of the Tampa Bay Partnership, Alan Suskey of Shumaker Advisors and communications consultant Janelle Irwin Taylor. With Michelle and Peter Schorsch.