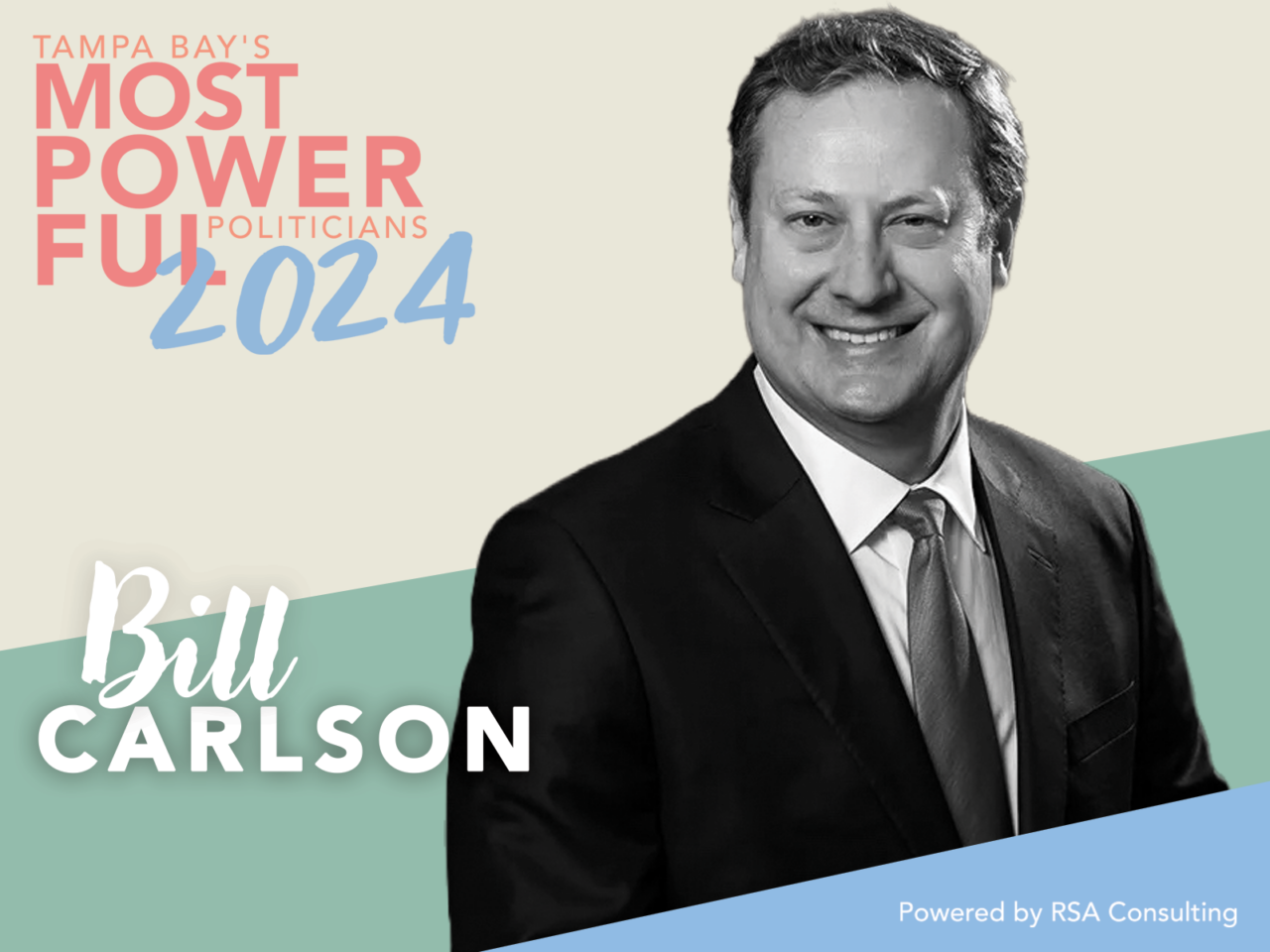 One could define Carlson's leadership as a sort of, opposition government. And progressives love it.
Tampa City Council member Bill Carlson's power is defined perhaps not by what he does, but by what he attempts to do.
Simply put, he's Mayor Jane Castor's bête noire.
For those who oppose Castor's administration, he's the leader of the pack they love to root for, which also includes City Council members Orlando Gudes and Lynn Hurtak.
Carlson has, since being elected four years ago, been the driving force behind efforts to thwart Castor's priorities — see votes on wastewater and the budget, among others — and to roll back her executive authority — see votes on hiring oversight, etc.
One could define Carlson's leadership as a sort-of opposition government. And progressives love it.
"Councilman Carson's name is known for a reason: he's not afraid to challenge the status-quo. Councilman Carlson is deeply involved with his community's affairs, he does his homework, and really listens to the needs of his constituents," said Ron Pierce, president and CEO of RSA Consulting. "He is a champion for advancing cultural arts and economic development in the city. He translates this into effective public service, even if at times it means standing against his peers in pursuit of what's best for his community. Councilman Carlson is certainly a leader, not a follower."
They love it even more now that he's running for re-election against Blake Casper, a wealthy White guy who gave truckloads of cash to Gov. Ron DeSantis and former President Donald Trump.
So beloved are his anti-Castor qualities, many thought — and perhaps hoped — Carlson would challenge Castor for the city's top elected post. Given her incumbency advantage and access to deep pockets through a well-stocked establishment stream of support, Carlson may have been the only viable force to even wager a shot.
"From serving as the most visible countervailing force in City government to the many infamous excesses of the Mayor's Office — for which Carlson would be a fantastic and competitive candidate — to consistently looking out for the public interest, he brings a lot of strength and value to the table in Tampa's local politics," said Kartik Krishnaiyer, a former Democratic operative who now publishes the Florida Squeeze.
Those mayoral ambitions didn't pan out — Carlson said they were never in the works to begin with — but not entering the mayoral contest may only boost Carlson's Tampa shine and political influence. Not to mention that in four years, the Mayor's Office will be an open race ripe for the taking.
If Carlson manages to upset Casper on March 7 (they are the only two candidates, so there's no need for a May runoff) he'll have slayed a monied dragon and set himself up for four more years of building his progressive bona fides.
Carlson wasn't on this list last year. Whether he'll make a cameo next year largely depends on the outcome of the Tampa Municipal Election. After all, not everyone is enamored with his contrarian approach. Joe Farrell, vice president of public affairs for the Pinellas REALTOR Organization, described Carlson as the real-life version of Marvel's Yon-Rogg.
"His role as antagonist to the Mayor seems to only increase her profile," Farrell said. "Head-to-head she seems to always come out on top eventually."
But if Carlson does pull off a victory, expect his name to reappear on this list, and possibly at a higher station.
Methodology 
We define the Tampa Bay region as Pinellas, Hillsborough and Pasco, but can also include Hernando, Polk or Sarasota — if the politicians from those counties impact either Pinellas or Hillsborough.
We define a politician as being in office or running for office.
Being first on a panelist's list earns the politician 25 points, second earns them 24 points and so on, to where being listed 25th earns a politician one point. Points are added and, voilà, we have a list.
Special thanks go to our experienced and knowledgeable panelists, who were essential to developing the 2023 list: Christina Barker of the Vinik Family Office, Ashley Bauman of Mercury, Ed Briggs of RSA Consulting, political consultant Maya Brown, Ricky Butler of the Pinellas Co. Sheriff's Office, Reggie Cardozo of The Public Square, Ronald Christaldi of Schumaker, Barry Edwards, Joe Farrell of Pinellas Realtors, pollster Matt Florell of Vicidial Group, Shawn Foster of Sunrise Consulting Group, Adam Giery of Strategos Group, political consultant Max Goodman, Mike Griffin of Savills, Todd Josko of Ballard Partners, Natalie King of RSA Consulting, political consultant Benjamin Kirby, Merritt Martin of Moffitt Cancer Center, Mike Moore of The Southern Group, Ron Pierce of RSA Consulting, J.C. Pritchett, pastor of St. Pete's Faith Church, Darren Richards of Tucker/Hall, Preston Rudie of Catalyst Communications Group, Amanda Stewart of Johnston and Stewart, Bemetra Simmons of the Tampa Bay Partnership, Alan Suskey of Shumaker Advisors and communications consultant Janelle Irwin Taylor. With Michelle and Peter Schorsch.