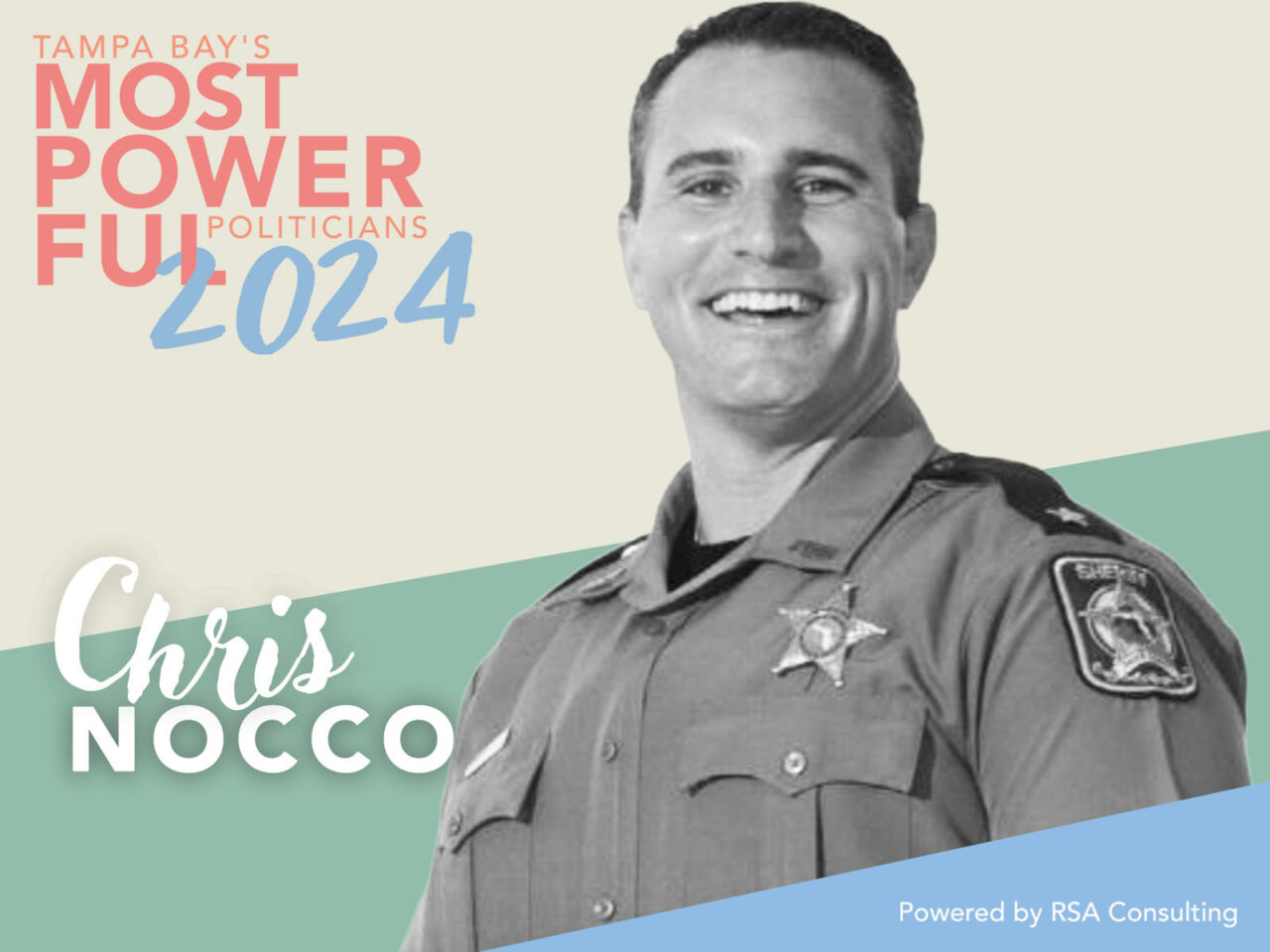 Nocco has thrived as a likable law enforcement leader and, among those in the profession, has earned a reputation as a cop's cop.
Pasco County Sheriff Chris Nocco climbed four spots on the 10th annual list of Tampa Bay's Most Powerful Politicians, jumping from No. 19 in 2022 to No. 15 this year.
The telegenic young Sheriff has friends in high places, particularly in his Republican stronghold, Pasco County. Nocco is well-connected with GOP power players including former House Speaker and former Education Commissioner Richard Corcoran, as well as former House Speaker Will Weatherford. He also has a well-known relationship with the affable Pasco County Tax Collector, Mike Fasano. 
"Sherriff Nocco is an effective leader, who's proactive and integrated approach to law enforcement has made a significant impact on the well-being of Pasco County residents," said RSA Consulting Vice President and COO Natalie King. "His emphasis on community partnerships, particularly within the behavioral health and crisis intervention space, has proved crucial for deescalating concerns before they become major public safety issues."
Sometimes the measure of one's political power lies less in what they do than in what they overcome, and that certainly could be the case for Nocco, who just last year faced a lawsuit from a coalition of civil rights organizations over the Sheriff's Office's refusal to provide public records relating to its controversial predictive policing program.
Pasco County's predictive policing program became the subject of national news after the Tampa Bay Times released an investigation on the initiative, established by Nocco. That investigation found the program was used as an intelligence operation to monitor, intimidate and harass families across the county.
The exposé, entitled "Targeted," dates back to 2020, yet despite the appearance of scandal, Nocco has remained unscathed. No one even challenged him for his job as top Pasco cop in 2020.
It likely doesn't hurt that Nocco's wife, Bridgette Nocco, is a high-caliber GOP fundraiser affiliated with the powerful lobbying firm Ballard Partners.
And as Joe Farrell, Vice President of Public Affairs for the Pinellas REALTOR Organization, points out, "he's still the Sheriff and still popular regardless of what the Tampa Bay Times digs up."
Controversy aside, Nocco has thrived as a likable law enforcement leader and, among those in the profession, has earned a reputation as a cop's cop. 
"What Sheriff Nocco does best, in my opinion, is inspire others. He's an extraordinary leader. Anytime he's announced to speak at a community meeting or gathering of people the place is standing room only. People want to hear what he has to say, and they value his opinion," said Mike Moore of The Southern Group. 
The Pasco Sheriff has also participated in numerous apolitical, feel-good community events, holding food giveaways over the holidays and taking an active role in Florida's fight against human trafficking. On the latter, he formed a human trafficking unit within the Sheriff's Office which has provided valuable support to federal investigators, resulting in the arrest, prosecution and conviction of multiple traffickers.
Most recently, that included the arrests of a dozen individuals accused of "large-scale" human trafficking. 
In early February, Nocco detailed to the press how a 16-year-old runaway faced two weeks of sexual battery and sex work. The girl wound up working in adult businesses in both Pasco and Pinellas counties. The investigation and arrests led the Pasco County Commission to consider new adult business rules. 
In this case, Nocco's work is leading to fundamental changes to reduce the scourge of human trafficking.
"When it comes to widespread issues such as mental health, cybersecurity, substance abuse and human trafficking, Sheriff Nocco brings in statewide leaders to make certain that action leads to results," said Florida Sheriffs Association President and Hernando County Sheriff Al Nienhuis.
"His ability to unite his community and to address the needs of Pasco County has led to multiple prior statewide Chairman positions of committees that address a multitude of public safety concerns."
Methodology
We define the Tampa Bay region as Pinellas, Hillsborough and Pasco, but can also include Hernando, Polk or Sarasota — if the politicians from those counties impact either Pinellas or Hillsborough.
We define a politician as being in office or running for office.
Being first on a panelist's list earns the politician 25 points, second earns them 24 points and so on, to where being listed 25th earns a politician one point. Points are added and, voilà, we have a list.
Special thanks go to our experienced and knowledgeable panelists, who were essential to developing the 2023 list: Christina Barker of the Vinik Family Office, Ashley Bauman of Mercury, Ed Briggs of RSA Consulting, political consultant Maya Brown, Ricky Butler of the Pinellas Co. Sheriff's Office, Reggie Cardozo of The Public Square, Ronald Christaldi of Schumaker, Barry Edwards, Joe Farrell of Pinellas Realtors, pollster Matt Florell of Vicidial Group, Shawn Foster of Sunrise Consulting Group, Adam Giery of Strategos Group, political consultant Max Goodman, Mike Griffin of Savills, Todd Josko of Ballard Partners, Natalie King of RSA Consulting, political consultant Benjamin Kirby, Merritt Martin of Moffitt Cancer Center, Mike Moore of The Southern Group, Ron Pierce of RSA Consulting, J.C. Pritchett, pastor of St. Pete's Faith Church, Darren Richards of Tucker/Hall, Preston Rudie of Catalyst Communications Group, Amanda Stewart of Johnston and Stewart, Bemetra Simmons of the Tampa Bay Partnership, Alan Suskey of Shumaker Advisors and communications consultant Janelle Irwin Taylor. With Michelle and Peter Schorsch.