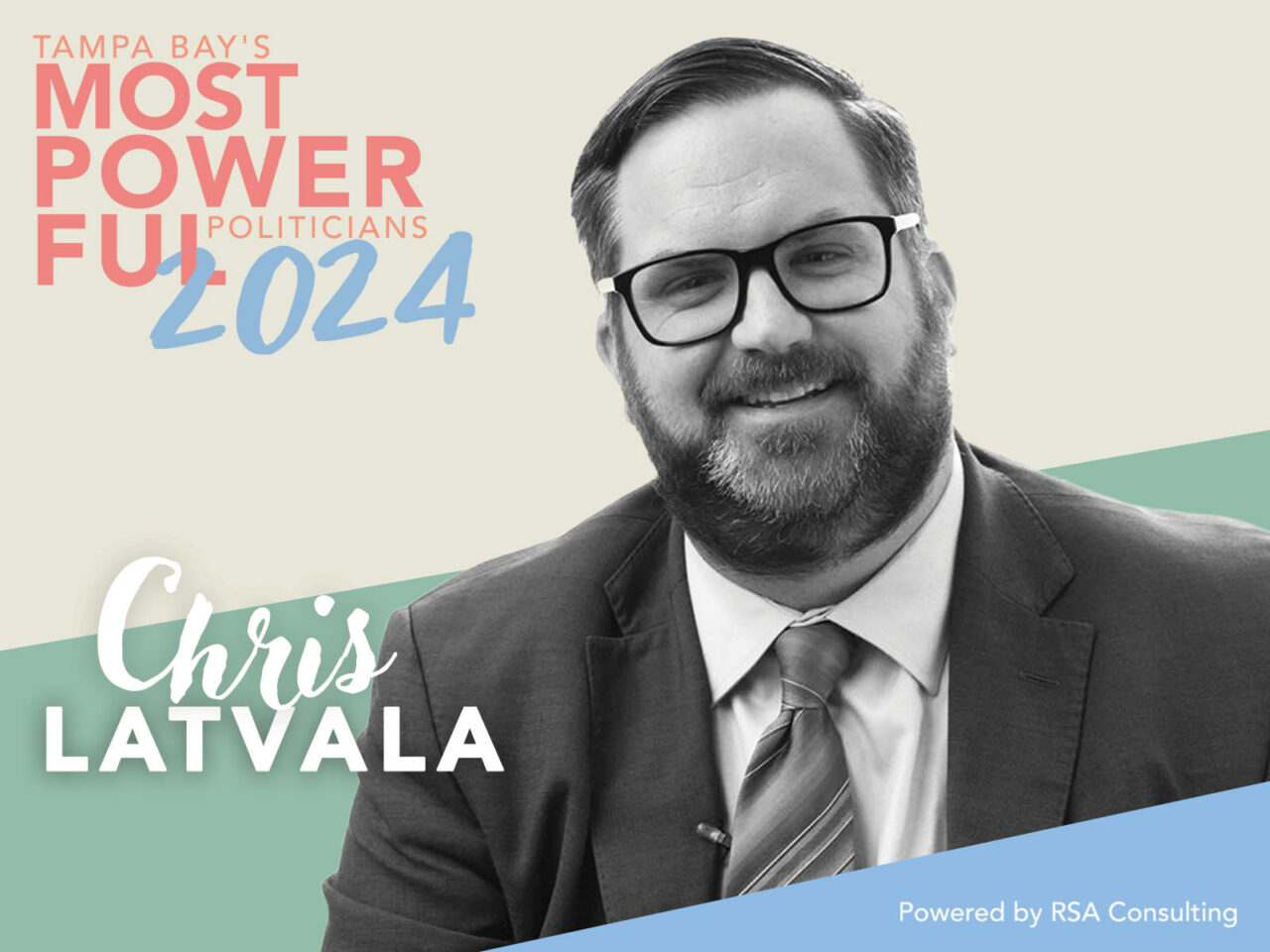 Latvala appears to be hitting his stride in his new role as Pinellas County Commissioner.
The surname "Latvala" is synonymous with power.
Although gone are the days when Chris Latvala, son of former Sen. (and arguably once most influential politician in Florida) Jack Latvala, was seen as the new version of his dad. (We should also note that his former stepmother, Susan Latvala, also previously served on the County Commission).
Leaving the House, one might be forgiven for thinking that would mean a downward shift for the younger Latvala — holding local office tends to carry less notoriety than crafting state law — yet the powerhouse Republican known for his behind-the-scenes brokering inched up two spots on this year's list, from No. 18 to No. 16.
While he's still down from No. 14 just a couple years ago, Latvala appears to be hitting his stride in his new role as a Pinellas County Commissioner. 
"Chris Latvala continues to chart his own political course after stepping out from his father's shadow. Not afraid to take on tough issues, Chris is fiercely loyal, true to his values and a strong advocate for kids. In fact, his legislation (Jordan's Law) that was signed by the Governor in 2021, underscores his commitment to protecting kids in foster care," said Preston Rudie, a communications consultant who has worked with both Latvalas.
"Chris will only grow as a political force in the Tampa Bay region now that he is on the Pinellas County board and his political future is extremely bright."
Most recently, Latvala reminded those who might have forgotten that he has a keen eye for details and won't let anything slip through the cracks. 
In mid-February, Latvala threw a flag on the play regarding a previous County Commission vote awarding $36,800 to a radio station catering to St. Petersburg's Black Community, WBPU 96.3 FM, or Black Power 96. 
What Commissioners didn't mention when they approved the funding — part of $2 million allocated to 34 Pinellas organizations from American Rescue Plan dollars to support COVID-19 relief — was that the radio station has ties to the controversial Uhuru movement and that the funding went to the African People's Education and Defense Fund, an Uhuru-affiliated organization. 
When Latvala raised concerns about the funding and its recipient, Commissioners voted to revoke the allocation. 
That's a big deal, considering the Uhuru house — the group's headquarters and where the radio station broadcasts — was raided by the FBI last year amid allegations it had connections to a Russian national accused of election interference. 
The original vote, in November, happened just before Latvala took office. But that didn't stop him from getting involved, first raising concerns about funding a group under active FBI investigation and later questioning the wisdom behind funding radio equipment rather than social services.
Considering Latvala has only been on the Board a few months, it's a reasonable indication of the type of legislator he'll be from a local dais.
"I've known Chris Latvala for nearly 20 years. He is an elected leader who truly cares about the people he represents. He's bold, courageous and never lacks resolve. We are lucky to have him representing Pinellas County on the Commission," said former House Speaker Chris Sprowls.
During his time in the House, the Republican enjoyed being a part of chamber leadership, including chairing the Education and Employment Committee. Last year, he also served on the Redistricting Committee, which drafted the maps that will impact Florida's elections for the next decade, and which heavily favored the GOP.
"Commissioner Latvala lives as he speaks, and truly says it how it is. This honesty and integrity commands him much respect, and it is evident just how much he cares about the people around him. During his time in the Legislature, he made a lasting impact with forward-thinking public policy solutions, especially within education and child welfare. He has a fierce passion for Pinellas County and will continue to be an excellent leader in his new position as Commissioner," said RSA Consulting President and CEO Ron Pierce.
As a lawmaker, he established himself as a champion for education and juvenile justice reform, issues that can translate to advocacy on the County Commission.
If that's not enough, look no further than Latvala's shift from the Legislature to County Commission. First, it took an act of the Legislature, on which he still served, to make his race happen when it did — Latvala wouldn't have been on the ballot until 2024, which would have forced him at least temporarily to the sidelines.
But lawmakers put a provision into a broader law changing the election to 2022, thus providing a seamless transition for Latvala.
What's more, no one ran against him. Perhaps it's the name. Perhaps it's Chris Latvala himself. Or perhaps it's the money. He raised more than $100,000 for a race with no opposition, and that's not even counting the more than $63,000 he raised to his committee, Friends of Chris Latvala, or money he'd have access to through Jack Latvala's Florida Leadership Committee.
And keep an eye out as Latvala continues getting his sea legs in local politics — most of that money will be available when he's up for re-election.
In the meantime, Latvala continues making friends.
"In the Army, one of the first things you learn are the seven Army Core Values. The first value is loyalty, because without that you can't ever hope to have the six that follow. No one I've met in politics epitomizes loyalty like Chris Latvala," said Shumaker Executive Vice President Alan Suskey.
"He is with you from start to finish and he demands that same loyalty in return. He is a conservative's conservative with a heart for public service that is a Latvala family tradition. Now on the County Commission after eight years in leadership with the Florida House, he never forgot where he came from or those that helped shape the man he is today. Pinellas County couldn't have asked for a better person to be in their foxhole."
Methodology
We define the Tampa Bay region as Pinellas, Hillsborough and Pasco, but can also include Hernando, Polk or Sarasota — if the politicians from those counties impact either Pinellas or Hillsborough.
We define a politician as being in office or running for office.
Being first on a panelist's list earns the politician 25 points, second earns them 24 points and so on, to where being listed 25th earns a politician one point. Points are added and, voilà, we have a list.
Special thanks go to our experienced and knowledgeable panelists, who were essential to developing the 2023 list: Christina Barker of the Vinik Family Office, Ashley Bauman of Mercury, Ed Briggs of RSA Consulting, political consultant Maya Brown, Ricky Butler of the Pinellas Co. Sheriff's Office, Reggie Cardozo of The Public Square, Ronald Christaldi of Schumaker, Barry Edwards, Joe Farrell of Pinellas Realtors, pollster Matt Florell of Vicidial Group, Shawn Foster of Sunrise Consulting Group, Adam Giery of Strategos Group, political consultant Max Goodman, Mike Griffin of Savills, Todd Josko of Ballard Partners, Natalie King of RSA Consulting, political consultant Benjamin Kirby, Merritt Martin of Moffitt Cancer Center, Mike Moore of The Southern Group, Ron Pierce of RSA Consulting, J.C. Pritchett, pastor of St. Pete's Faith Church, Darren Richards of Tucker/Hall, Preston Rudie of Catalyst Communications Group, Amanda Stewart of Johnston and Stewart, Bemetra Simmons of the Tampa Bay Partnership, Alan Suskey of Shumaker Advisors and communications consultant Janelle Irwin Taylor. With Michelle and Peter Schorsch.