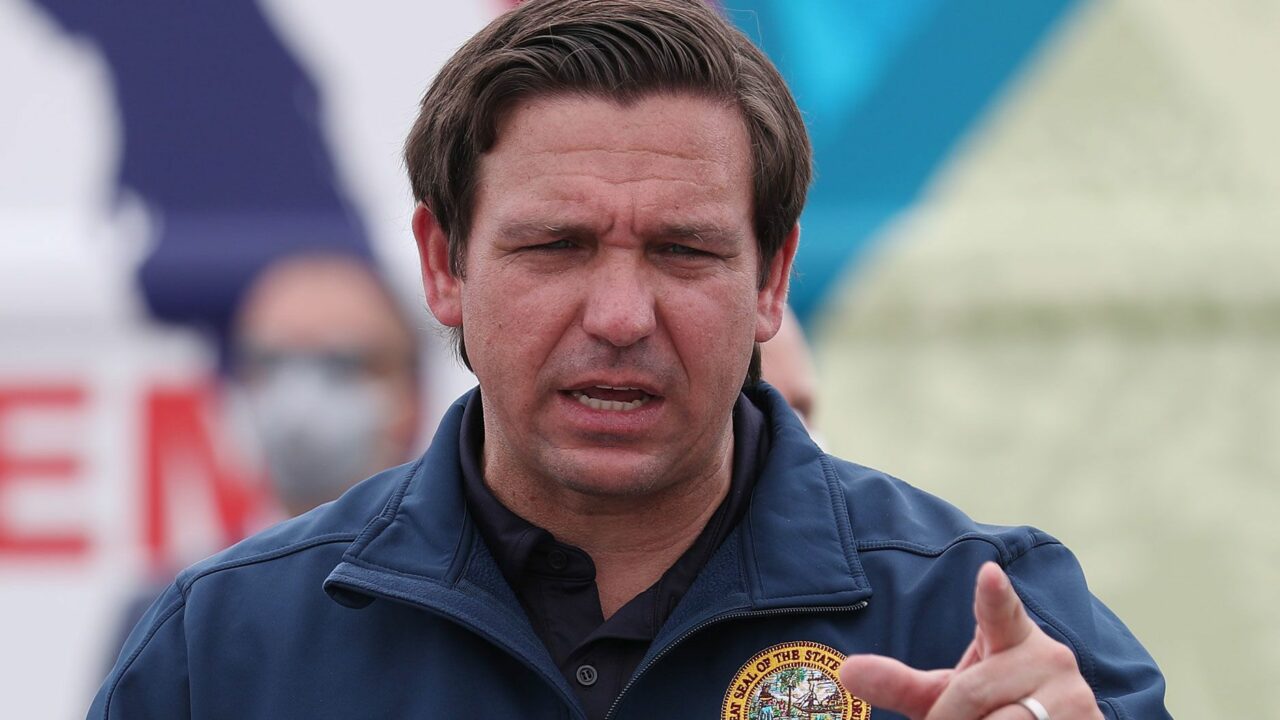 'This country is unable to control its own borders.'
Gov. Ron DeSantis unveiled a slate of measures aimed at curbing illegal immigration in Florida, including the repeal of a law allowing undocumented migrants to pay in-state tuition rates at universities.
That measure was sponsored by then-Rep. Jeanette Nuñez, who now serves as his Lieutenant Governor.
"This country is unable to control its own borders," DeSantis told reporters in Jacksonville, slamming President Joe Biden's administration for what he says are lax border policies.
The Governor also touted his efforts to remove undocumented immigrants from Texas and those attempting to reach Florida by boat. "We're having a great effect and basically I'm going to keep those operations going as long as they need to go."
When Nuñez was a House member in 2014, she sponsored HB 851, which gave undocumented immigrants brought to Florida as children by their parents the ability to pay in-state tuition rates. The bill was a priority of then-House Speaker Will Weatherford (whom DeSantis has appointed as University of South Florida trustee) and was touted by then-Gov. Rick Scott during his re-election campaign that year to help his appeal with Hispanic voters.
Republican politics have shifted dramatically since then. Donald Trump won Florida and the presidency while campaigning on a hardline anti-immigration stance, and DeSantis won the Governor's mansion by taking aggressive stances against illegal immigration, winning re-election by 20 points in 2022.
But Scott defended the bill when reporters asked him about DeSantis' proposal Wednesday.
"When I think about that bill I think about little two, or five year-old girls. They were brought here, they didn't come here on their own volition," Scott said.
"They lived in this country. They went to school. Maybe they were an honor roll student, and maybe they tried to get Bright Futures with the belief that they could go to one of our great universities in the state. So for them we cannot put this thing out of reach for them to live their dream. It was a bill I was proud to sign, I believe in it. I believe these individuals ought to have the opportunity to live the dream of this country. It's a bill I would sign again today."
Other parts of the plan include increasing the penalty for human smuggling to a third-degree felony and a second-degree felony if the migrant is a minor; prohibiting local governments from issuing identification cards to unauthorized immigrants; requiring hospitals to collect data on care given to undocumented immigrants and submit reports on the costs to DeSantis and the Legislature; and barring illegal immigrants from practicing law.
Voters are already required to attest they are U.S. citizens to get registered to vote but DeSantis' plan would require prospective voters to do so under penalty of perjury.
DeSantis also wants all businesses to use E-Verify, the federal system that checks the eligibility of potential employees. Pushed by DeSantis, lawmakers passed a bill requiring businesses to use E-Verify in 2019, but allowed businesses to opt out if they kept I-9 documents verifying the citizenship and immigration status of their employees.
DeSantis said the state can audit those documents but prefers upfront verification for potential hires.
"If you remove the enticement of employment, then they're not going to want to come illegally to the state of Florida," DeSantis said.
Under the plan, the state would be able to revoke a business license if a company violates the E-Verify requirements twice within two years.
Lawmakers will consider the plan when they convene their 60-day Regular Session that starts March 7.