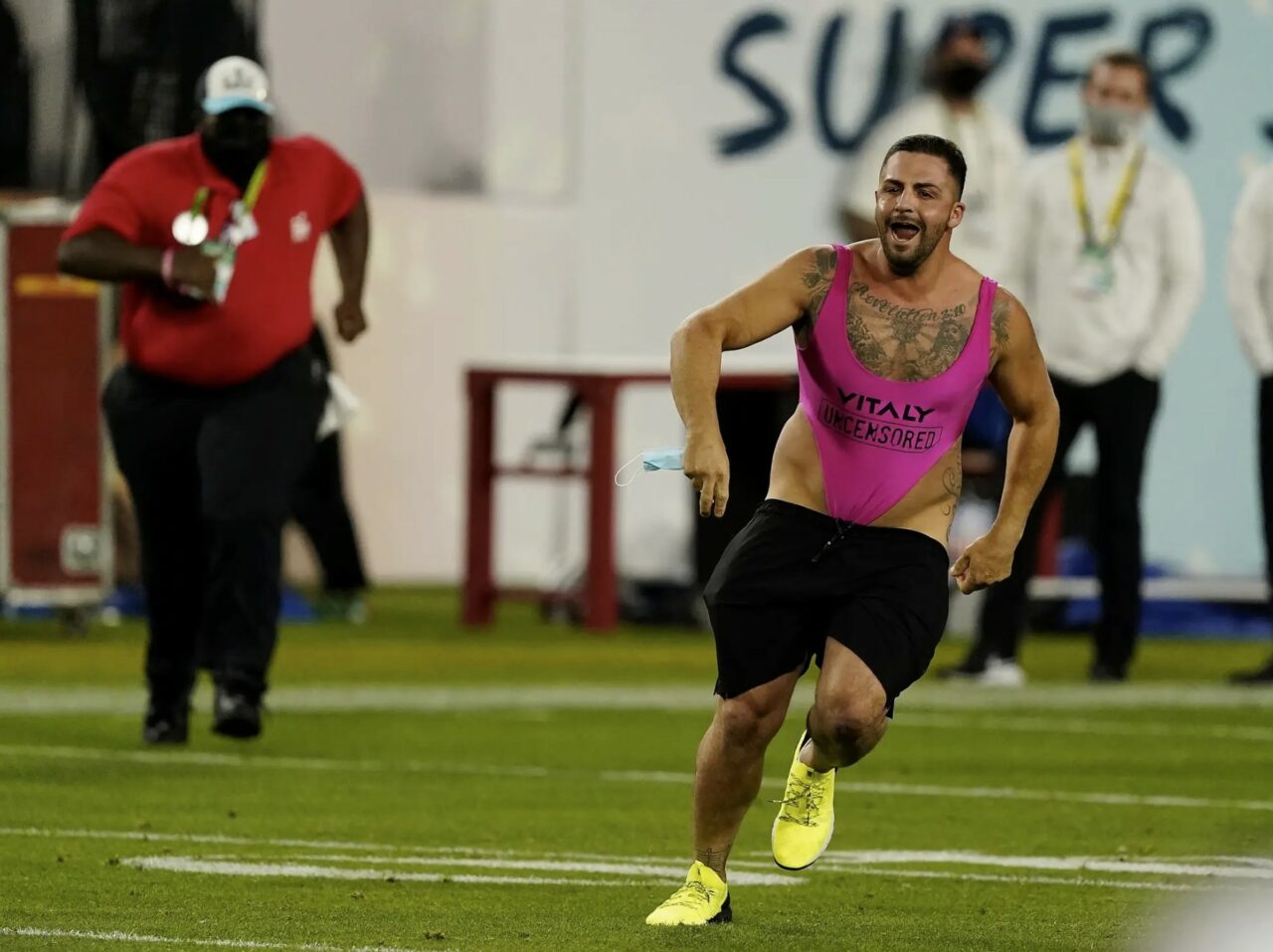 Event disrupters could receive a year in jail and $2,500 in fines. Those paying them to do it would face even steeper penalties.
A bill cracking down on fans who intentionally interrupt live sports and entertainment events is heading to its final committee stop in the House with updated language targeting people or companies that pay the disruptors.
The House Criminal Justice Subcommittee unanimously voted to advance HB 319, which would make running uninvited onto a field, stage or other area hosting live sports or entertainment a first-degree misdemeanor punishable by up to $2,500 and a year in jail.
The same penalty would apply to people who throw objects onto a field or stage, or attempt to strike players, coaches or entertainers. Any money gained from those interruptions would be subject to seizure by the state.
The committee also approved an amendment authorizing even steeper punishment for paying someone to engage in such unruly behavior. Under the new language, any person, business or group that pays a person to interfere with a live event would face a third-degree felony charge punishable by up to five years in prison for the first offense and up to $5,000 in fines.
That charge would not apply to someone who merely encourages or dares someone to interfere with a live event without offering payment.
"We have a problem in our sporting arenas and our concert venues, etcetera, where bad actors are hijacking these moments, these events, for indecent exposure and, most importantly, corrupt financial gain," said Republican Monteverde Rep. Taylor Yarkosky, the bill's sponsor.
"Folks save up their money, bring their kids to these events, and this is not the place (for) this stuff."
Running onto a playing field and stages to either disrupt an event, harass the players and gain brief notoriety is hardly a new phenomenon. Records of people doing so in the nude — an act called streaking — date back to 1799.
But there's been a disturbing rise in two less time-tested trends: people paying fans online to run onto fields and stages, and players and entertainers taking it upon themselves to stop them.
One of the more high-profile instances in recent memory of a fan running onto a field for money happened right here in Florida. On Feb. 7, 2021, Boca Raton man Yuri Andrade interrupted Super Bowl LV in Tampa. He later claimed to have committed the stunt after placing a $50,000 wager that the game would have a streaker.
Police charged Andrade with misdemeanor trespassing and booked him into county jail, but he got out a day later. He faced a maximum penalty of $500 in fines and up to 60 days in jail. That was later reduced to a year's probation and 100 hours of community service.
Andrade's brief brush with fame earned him verification on Instagram, where he has close to 200,000 followers.
In that case, no one was physically hurt. But it happens. In January 2022, a Kansas City Chiefs fan interrupted a game on a $1,000 TikTok bet. The incident went viral when Buffalo Bills wide receiver Stefon Diggs knocked him down.
Here comes the boom! #ChiefsKingdom #streaker pic.twitter.com/GPWRUFt5a8

— Carl Fugate @ Edge Field Day (@carlfugate) January 24, 2022
A similar instance occurred Oct. 3, when Bobby Wagner of the Los Angeles Rams tackled a gamegoer at Levi's Stadium in Santa Clara. That person and the animal rights group he was protesting for, Direct Action Everywhere, later filed a police report accusing Wagner and fellow Rams linebacker Takk McKinley, who helped Wagner in taking down the fan, of "blatant assault."
Sometimes it impacts the wrong person, like in July last year, when a security guard accidentally hit Rage Against the Machine guitarist Tom Morello while chasing down a fan who jumped on stage in Canada.
"These athletes (and entertainers) are now getting roped into this," Yarkosky said. "We're seeing in the news that they're taking people down. They're getting injured, and to add insult to injury, then these perpetrators are suing the premises, the owners of the arenas, they're suing the athletes, and it's just out of control."
Yarkosky clarified that the bill is not meant to target celebratory traditions in sports, including when people run onto a field after a game to rejoice in a victory. To ensure that sort of thing isn't affected, the bill's amended language specifies that the penalties apply only between when a venue opens to the public for an event and at the conclusion of the game or performance.
He said the bill has the backing of the Dr. Phillips Center for the Performing Arts, ESPN Wide World of Sports, Florida Sports Foundation, Hillsborough County Sheriff's Office, Jacksonville Jaguars, Miami Dolphins, National Football League, Orlando City SC, Orlando Magic, Tampa Bay Buccaneers and Tampa Bay Rays.
Barney Bishop, President and CEO of the Florida Smart Justice Alliance, waved Thursday in support of the bill as well.
"Everyone in Florida is dealing with this," Yarkosky said. "They actually have staff now that are assigned just to watch (for) this stuff."
The bill may undergo further changes in the coming weeks. Davie Democratic Rep. Michael Gottlieb, who commended Yarkosky on the bill and the changes he made based on talks the two had before the meeting, raised concern over language prohibiting people convicted under the bill's proposed rules from profiting off of their crime.
That could qualify as excessive punishment, he said, citing a 2018 Supreme Court decision, Timbs v. Indiana. He recommended Yarkosky delete the section, the aim of which would still largely be covered under the provision allowing the state to seize any money made from event interruptions.
"We need to be protected from government overreach, and I understand that might be a stumbling block in how this bill is intended to act," he said.
Yarkosky indicated that he intends to further fine-tune the bill, which is headed to the House Judiciary Committee. If its winning streak continues there, the bill would next go to a full vote by the chamber.
A Senate version of the legislation (SB 764) still awaits committee referrals from Senate President Kathleen Passidomo. That bill's sponsor is Tallahassee Republican Rep. Corey Simon, a former NFL player.
If passed and signed by the Governor, HB 319 would become law Oct. 1.