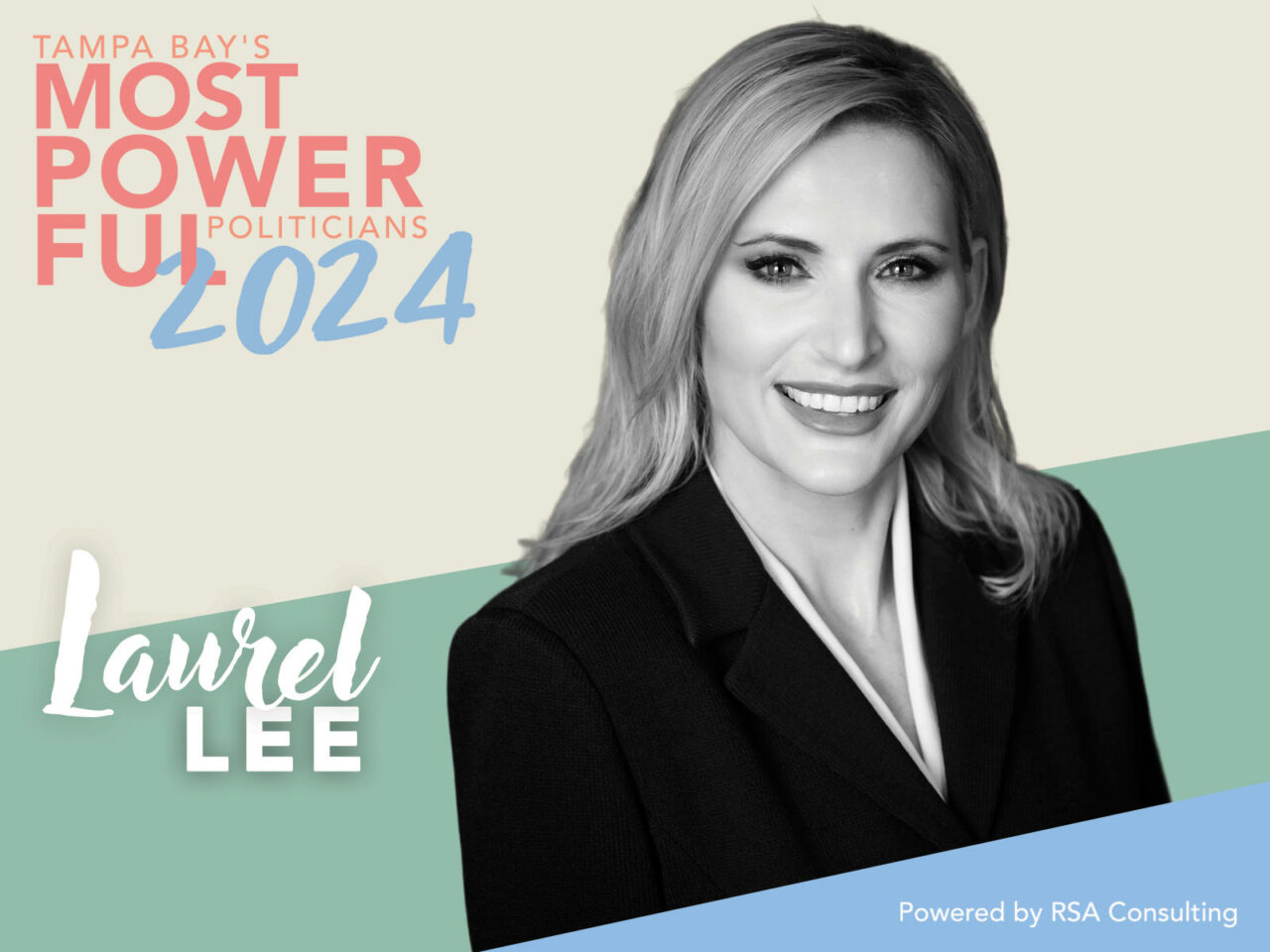 The former Judge and Secretary of State has already proved herself a 'standout' member of Congress.
Laurel Lee has served as a federal prosecutor, a circuit court judge and as Florida's Secretary of State. In November, she won election to Congress in a district that proved the most sharply divided of any in Florida during the 2020 Presidential Election.
Now, she's being recognized as one of the most powerful politicians in Tampa Bay.
"Congresswoman Lee leads with her core values at heart and her community front of mind. Whether she's in Congress or in the courtroom, her ability to analyze a situation with compassion and an unmatched attention to detail is an incredible leadership trait. I can't think of a more grounded and thoughtful person to represent Tampa Bay in Washington," said RSA Consulting President and CEO Ron Pierce.
The freshman Congresswoman quickly secured spots on key House committees, a sign she has garnered the trust of leadership quickly.
"Given all of her experience in the state of Florida and significant accomplishments along the way, she has already been recognized as a standout freshman member of Congress, being given substantial responsibilities, including being named Chair of the Subcommittee on Elections, and Vice Chair of the Homeland Security Committee Cybersecurity and Infrastructure Protection Subcommittee, not often seen by a first-term Congresswoman," said Sarah Bascom, president of Bascom Communications & Consulting.
She's already become part of the Republican Study Committee, a philosophically conservative flank of the Republican caucus.
Bascom worked media relations for Lee's congressional campaign and continues to serve as her political spokesperson.
Others close to the campaign said Lee quickly established herself on the campaign trail as a force demanding attention. She emerged from a crowded field of Republican Primary candidates seeking an open seat in Florida's newest congressional district, besting sitting lawmakers Kelli Stargel and Jackie Toledo.
On the GOP side, political advisors said it helped tremendously this year that she had the clear trust of Gov. Ron DeSantis. While the Governor had not endorsed in the race, he had praised Lee strongly for years for her work as his Secretary of State, particularly on the election security front. That was an issue particularly important to Republican Primary voters this election cycle.
She also had the support of another statewide official, Attorney General Ashley Moody.
"Like me, Laurel has been a federal prosecutor and a judge. She's worked side-by-side with law enforcement to protect Floridians and ensure that the laws of our state are respected," Moody said in an endorsement statement.
Support of the state's top cop burnished Lee's law-and-order bona fides, which again was a top issue for conservative voters in 2022.
But Moody also holds a special place in the psyche of voters in the district. A Plant City native, the Attorney General held the title of Florida Strawberry Festival Queen before any other public office. Both Lee and Moody served on the circuit bench together in Hillsborough County. Her backing wasn't just support from another Tallahassee figure, but from east Hillsborough's favorite daughter.
The mood of Florida certainly helped carry her to a November victory over Democrat and former broadcaster Alan Cohn, besting him with more than 58% of the vote to his 42%. That's despite the fact that Donald Trump won the district with less than 51% of the vote in the 2020 Presidential Election.
Lee also, of course, shares a last name with husband and former state Sen. Tom Lee, who appeared on the ballot and won as recently as 2018. The Thonotosassa Republican was widely expected to run for the congressional seat and now instead can join the Congressional Club.
But it's Laurel Lee's own reputation in the community and her cool demeanor that those close to her credit for her electoral success.
"Laurel Lee's background as a prosecutor and a judge, along with her commitment to supporting law enforcement and our military, coupled with her service as Secretary of State and all she did to protect the integrity of our election system, helped her stand out in the Primary Election," Bascom said.
"These same qualifications led her to victory in the General Election. She was a stellar first-time candidate who wants to serve her community and her state and country and wants to be a part of the new direction in the U.S. House. From inflation to gas prices, to supply chain issues, failed immigration policies and out-of-control spending — the issues that led her to run are the issues Floridians want to see fixed."
Bascom said personal influence isn't something Lee cares to measure herself. Nevertheless, she's already earned strong notice from others in the community, and the trust of voters as well.
Methodology 
We define the Tampa Bay region as Pinellas, Hillsborough and Pasco, but can also include Hernando, Polk or Sarasota — if the politicians from those counties impact either Pinellas or Hillsborough.
We define a politician as being in office or running for office.
Being first on a panelist's list earns the politician 25 points, second earns them 24 points and so on, to where being listed 25th earns a politician one point. Points are added and, voilà, we have a list.
Special thanks go to our experienced and knowledgeable panelists, who were essential to developing the 2023 list: Christina Barker of the Vinik Family Office, Ashley Bauman of Mercury, Ed Briggs of RSA Consulting, political consultant Maya Brown, Ricky Butler of the Pinellas Co. Sheriff's Office, Reggie Cardozo of The Public Square, Ronald Christaldi of Schumaker, Barry Edwards, Joe Farrell of Pinellas Realtors, pollster Matt Florell of Vicidial Group, Shawn Foster of Sunrise Consulting Group, Adam Giery of Strategos Group, political consultant Max Goodman, Mike Griffin of Savills, Todd Josko of Ballard Partners, Natalie King of RSA Consulting, political consultant Benjamin Kirby, Merritt Martin of Moffitt Cancer Center, Mike Moore of The Southern Group, Ron Pierce of RSA Consulting, J.C. Pritchett, pastor of St. Pete's Faith Church, Darren Richards of Tucker/Hall, Preston Rudie of Catalyst Communications Group, Amanda Stewart of Johnston and Stewart, Bemetra Simmons of the Tampa Bay Partnership, Alan Suskey of Shumaker Advisors and communications consultant Janelle Irwin Taylor. With Michelle and Peter Schorsch.