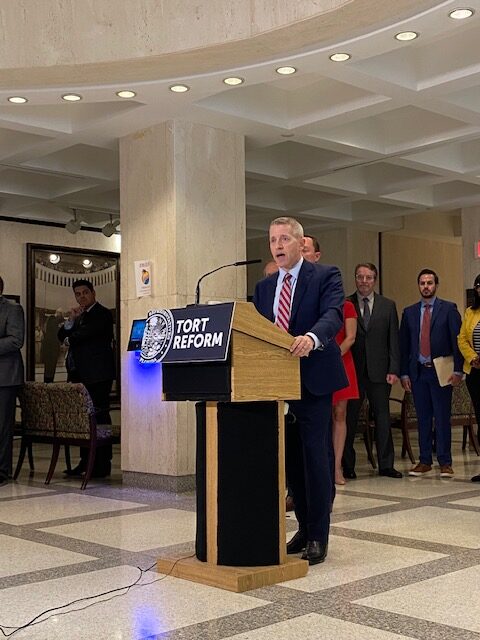 Tommy Gregory said he was 'proud to run' what he called a 'long overdue bill.'
Flanked by pro-business, insurance groups and bill sponsors, House Speaker Paul Renner took a victory lap after HB 837 advanced through its first subcommittee stop. But he also said that the bill, which he said eliminates the "heads-I-win, tails-you-lose litigation climate" is not in its final form.
"We're beginning this bill today. There is going to be more give and take and more compromise to be had before this bill gets to the end," Renner said.
The measure makes broad changes on how people can sue businesses and insurance companies across all lines of insurance including the elimination of one way attorneys fees. While there is no mandate in the bill that insurance companies lower their rates, Renner said "there's no doubt by trying to reach balance, we will allow for affordability to be brought to all Floridians."
"Our small businesses, where most of our Floridians work, are one threatening lawsuit away from going out of business. Now, having said that, we want to make sure that people who have legitimate claims can bring those claims," the Speaker said. "And we want to make sure we're clear that we are trying to hit the middle of the fairway."
House Judiciary Committee Chairman and bill co-sponsor Tommy Gregory said he was "proud to run" what he called a "long overdue bill."
Gregory said the state's civil justice system operates like a casino or a cash machine that will spit out money so long as plaintiffs have an attorney.
"They've got the PIN number and they have the PIN number because we have one-way fees, because we have inflated fee multipliers, because we have excessive and inflated damages," Gregory told the crowd that assembled on the Fourth Floor outside the House chambers. "This bill is designed to address those problems, bring this civil justice system back into equilibrium."
Florida Chamber of Commerce President and CEO Mark Wilson said Florida does a lot of things properly. "But we also have the fifth worst legal climate in the United States and that's making everything more expensive," he said, noting that it increases the costs of products.
It was a message that Alix Miller, president and CEO of the Florida Trucking Association, agreed with. Miller has taken a lead among Tallahassee association executives in speaking in support of what proponents are calling "truth in damages."
Specifically, HB 837 creates a new section of law that limits what the jury can see in terms of past medical expenses. If the plaintiff is insured, the jury will see the amount the health insurer is obligated to pay to satisfy the plaintiff's medical treatment, plus any co-payments or deductibles.
If the plaintiff is uninsured, the jury will see the Medicare reimbursement rates that were in effect at the time of the trial. If there is no applicable Medicare rate for a service, the bill sets the fees at 140% of the Medicaid rate.
Miller said that inflated jury verdicts are out of control and Florida consumers get hurt.
"It has to stop. We deliver everything you eat, wear and touch. Inflated medical damages and outlandish settlements — or just being 1% at fault — directly affects all Floridians. The costs of this get added to everything you buy. It slows down our economy and puts small companies out of business."
Miller said she has spoken with second, third- and fourth-generation truckers who have described HB 837 as "the most significant changes since deregulation."
Renner's press conference was called after the House Civil Justice Subcommittee voted 12-6 in favor of the far reaching bill.