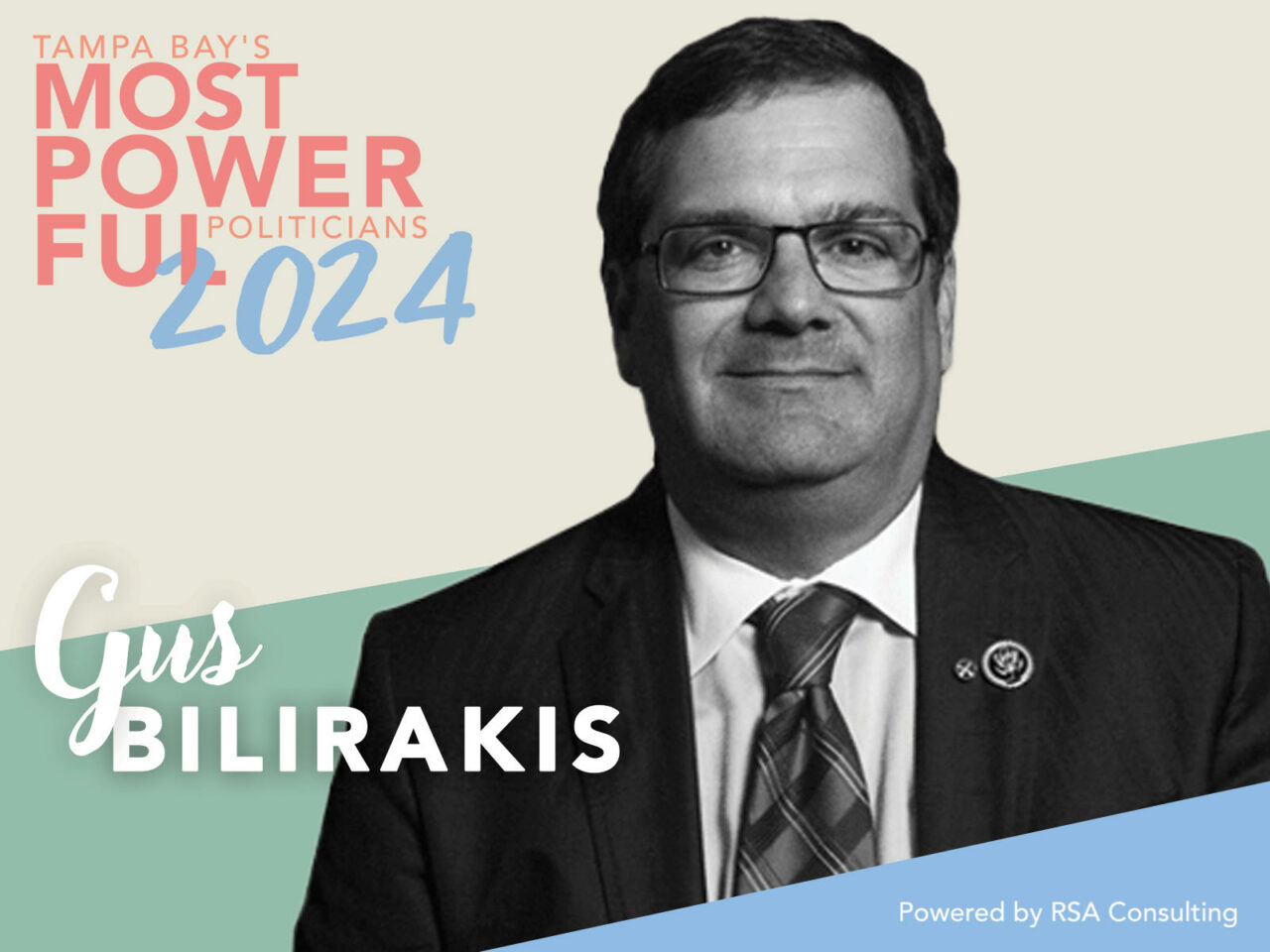 Effective and bipartisan, the Congress continues to be Tampa Bay's workhorse on the Hill.
Redistricting moved the borders of U.S. Rep. Gus Bilirakis' district north of Pinellas County. But there's likely no family name as thoroughly connected to politics there as his.
But Bilirakis also has built up incredible trust throughout Capitol Hill. It's why the Center for Effective Lawmaking last year rated the Palm Harbor lawmaker the most effective Republican House member in Florida, scoring him higher than any Florida Representative except since-retired Democratic U.S. Rep. Ted Deutch.
And keep in mind: that was when Bilirakis sat in the minority.
Local leaders say Bilirakis' workhorse mentality, while not eliciting as much time as some peers on cable news outlets, makes him one of Tampa Bay's most important leaders.
"Gus Bilirakis is a guy who does the work — and does so without the fanfare or the 'look at me' mentality that has come to infect Washington," said Chris Sprowls, a former Florida House Speaker.
Expect his power to expand decidedly now that Republicans once again control the House.
He's one of the longest-serving Republicans on the House Energy and Commerce Committee, where he has worked closely with Chair Cathy McMorris Rodgers on a legislative agenda regarding consumer privacy and cybersecurity.
Bilirakis also just moved back into the Chairman's seat on the Innovation, Data and Commerce Subcommittee. And he's the longest-serving member from either party on both the Health Subcommittee and the Communications & Technology Subcommittee.
"Gus Bilirakis' influence across both Tampa Bay and nationally continues to grow. With his new chairmanship of the Innovation, Data and Commerce Subcommittee, he's tasked with leading the country through some hot-topic conversations, particularly around data privacy and overseas competition," said RSA Consulting President and CEO Ron Pierce. "For the Tampa Bay region, Congressman Bilirakis successfully secures federal dollars for local organizations, and has been particularly effective at bringing home funding to increase access to quality healthcare and veterans' support services."
Since winning his seat in Washington in 2006, succeeding father and former U.S. Rep. Mike Bilirakis, Gus Bilirakis has focused on bread-and-butter issues that impact his constituents' lives.
In particular, Bilirakis has fought alongside Democrats and Republicans in the region on behalf of area veterans. He celebrated some of that progress earlier this year at the ribbon-cutting for the new James A. Haley Veterans' Hospital bed tower in Tampa. He shared the stage with a Democrat in Tampa Bay's congressional delegation.
"As I look back on our work to make this day possible, I am thankful for partnership with Rep. Gus Bilirakis and the federal and local VA officials who worked to make the bed tower a reality," said U.S. Rep. Kathy Castor, a Tampa Democrat. "Today and always, I promise to serve our veterans as well as they have served us and deliver the benefits they have earned."
The particular focus on veteran health care has earned local admiration.
"He is well-liked by his colleagues, respected by his constituents, and loved by the thousands of veterans he has made it his mission to help," Sprowls said.
Castor and Bilirakis also serve together on the bipartisan Children's Health Care Caucus. They have also teamed up to craft legislation cracking down on Medicare fraud.
Indeed, to scan the caucuses where Bilirakis serves, including many he co-chairs, the relationship building that has defined his career comes into full view. As just one example, he just formed a Longevity Caucus, focused on biotechnology and aging, with Democratic U.S. Rep. Paul Tonko of New York.
The Lugar Center, which tracks how often lawmakers work together across the aisle, scored Bilirakis as the most bipartisan member of Florida's congressional delegation in the last Congress. He was the 27th highest scoring member nationwide in the 435-member chamber.
The Greek American Congressman was just voted in as Co-Chair of the Congressional Hellenic Caucus, and in February led an international delegation to Crete to visit U.S. Navy and international NATO facilities. Amid military conflict in Ukraine and unrest in the region, Bilirakis has focused significant energy on the impacts to Greece, where a number of constituents and former constituents have family and business ties.
Tampa Bay this year will be represented by more Republicans than the region has seen in years, which could be useful as the GOP moves back into a majority for the first time since 2017. But many of those members are serving in Congress for the first time.
This could make Bilirakis' role within the House all the more important as he not only brings the level of advocacy he's known for, but helps mentor the next generation of leaders.
Methodology 
We define the Tampa Bay region as Pinellas, Hillsborough and Pasco, but can also include Hernando, Polk or Sarasota — if the politicians from those counties impact either Pinellas or Hillsborough.
We define a politician as being in office or running for office.
Being first on a panelist's list earns the politician 25 points, second earns them 24 points and so on, to where being listed 25th earns a politician one point. Points are added and, voilà, we have a list.
Special thanks go to our experienced and knowledgeable panelists, who were essential to developing the 2023 list: Christina Barker of the Vinik Family Office, Ashley Bauman of Mercury, Ed Briggs of RSA Consulting, political consultant Maya Brown, Ricky Butler of the Pinellas Co. Sheriff's Office, Reggie Cardozo of The Public Square, Ronald Christaldi of Schumaker, Barry Edwards, Joe Farrell of Pinellas Realtors, pollster Matt Florell of Vicidial Group, Shawn Foster of Sunrise Consulting Group, Adam Giery of Strategos Group, political consultant Max Goodman, Mike Griffin of Savills, Todd Josko of Ballard Partners, Natalie King of RSA Consulting, political consultant Benjamin Kirby, Merritt Martin of Moffitt Cancer Center, Mike Moore of The Southern Group, Ron Pierce of RSA Consulting, J.C. Pritchett, pastor of St. Pete's Faith Church, Darren Richards of Tucker/Hall, Preston Rudie of Catalyst Communications Group, Amanda Stewart of Johnston and Stewart, Bemetra Simmons of the Tampa Bay Partnership, Alan Suskey of Shumaker Advisors and communications consultant Janelle Irwin Taylor. With Michelle and Peter Schorsch.