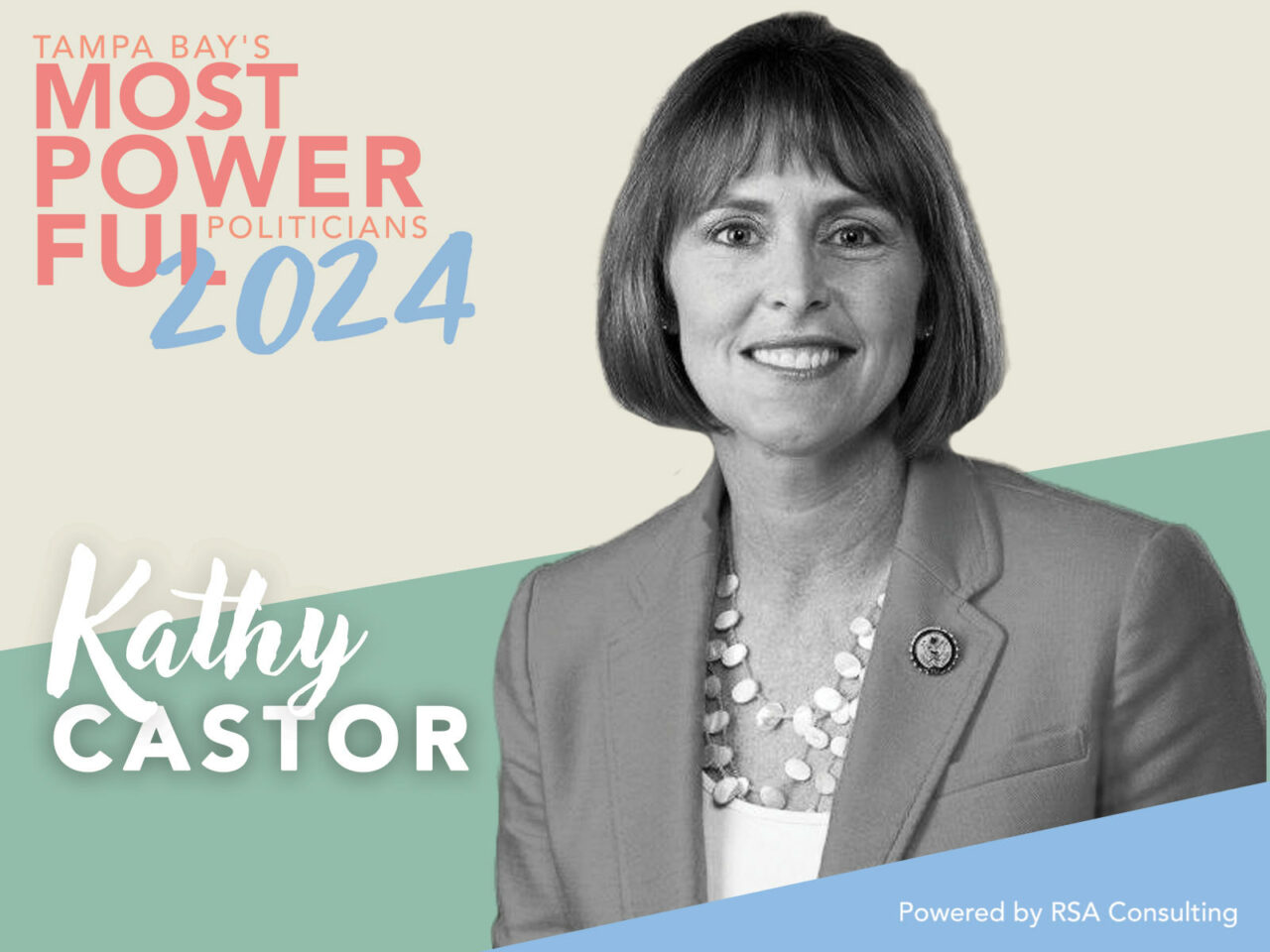 She helped craft the most important environmental legislation ever — and made sure Tampa got its share.
As President Joe Biden signed the Inflation Reduction Act, a handful of Democratic lawmakers surrounded his desk. Most were from the highest levels of Democratic leadership. But U.S. Rep. Kathy Castor also earned a place in the huddle for the special ceremony.
The Tampa Democrat, as Chair of the House Select Committee on the Climate Crisis, helped craft much of the environmental and sustainability policy included in the wide-ranging legislation. It's work that still has leaders in the environmental advocacy community cheering her name.
"There is simply no overstating how critically important a leader Kathy Castor has been for climate and environmental justice," said Tiernan Sittenfeld, Senior Vice President of Government Affairs for the League of Conservation Voters.
The Climate Crisis committee may have dissolved when Republicans took over the House, a move Sittenfeld bitterly criticized. But Castor's work on the environment continues, as does the legacy of that legislation, which Sittenfeld described as the biggest thing Congress has ever done to address climate change.
The accomplishment boosted Castor's reputation as a champion for the environment within the House Democratic Caucus, but she also made sure much of the funding for that project ended up in Tampa Bay.
The level of effective advocacy on behalf of the region earned her respect in many quarters.
"Kathy has been a tremendous partner in meeting the needs of constituents throughout Tampa Bay," U.S. Rep. Gus Bilirakis, a Palm Harbor Republican, told Florida Politics. "We've successfully joined forces to protect our pristine natural resources through support of a moratorium on drilling in the Gulf of Mexico."
The partnership extends beyond green issues. Castor worked across the aisle with other members of the Tampa Bay congressional delegation to achieve success on veteran issues and infrastructure investment.
Bilirakis noted the work between his office and hers to fund construction of a new Bed Tower at James A. Haley Veterans' Hospital, which opened last month.
"On the health care front, we've partnered on many important initiatives to protect the most vulnerable populations in our community," he said.
"Together, we championed the ACE Kids Act, which improves care coordination for children with complex medical conditions, secured a 10-year reauthorization of the Children's Health Insurance Program and re-authorized Federally Qualified Community Health Centers for five years. Additionally, for the first time in more than 20 years, we increased the civil and criminal penalties for Medicare and Medicaid fraud.
Castor has shown herself capable of achieving success for Tampa Bay, whether it means working with the White House and Democratic leadership on partisan issues or with other Republicans from Florida on nonpartisan matters of regional significance.
That's likely why, even though Democrats were relegated to minority status in the House after the Midterms, the jury for this year's list of Tampa Bay's Most Powerful Politicians still ranks Castor higher than any of the four other U.S. Representatives — all Republicans — representing the region on the Hill.
Regional leaders say there are few others who have such a record of bringing federal resources back home.
"Kathy Castor delivers for Tampa Bay," said Tampa Mayor Jane Castor (no relation).
"In addition to her leadership on issues central to our community's future — including climate change and health care — she is a relentless advocate in Washington for our region. Congresswoman Castor has been instrumental in bringing home federal resources to tangibly improve the quality of life for our residents, including funding through the Bipartisan Infrastructure Law. We are so lucky to have her represent us in Washington."
Part of that is the practical approach she brings to the process. Sittenfeld said Castor was able to achieve as much as she did in the Inflation Reduction Act by approaching climate threats not only as an environmental issue but an economic one.
The intersection of conservation and job creation fueled much of the discussion about resiliency. She attached the conversation to matters of racial justice, and discussed how work done to improve the environment needed to be accompanied by the creation of good-paying jobs.
"She was working in concert with other committees because climate touches everything." Sittenfeld said. "And she worked in a bicameral way with the Senate, and with the administration."
"Of course, she represents a state hard hit by the climate crisis, and a district that is hard hit," Sittenfeld added. "It's also a district that is so beautiful and has so much to gain from acting on climate. So I know it's been a passion for her throughout her career."
Before her election to Congress, Castor served on the Hillsborough County Commission, which included working on the Environmental Protection Commission here. Before that, she did legal work for the now-defunct Florida Department of Community Affairs.
Castor's roots in the community run deep. Her mother, Betty Castor, served as Florida Education Commissioner and later as President of the University of South Florida. This also gives Castor an intricate understanding of government at the local, state and federal level. That has helped her to not only build influence over a decades-long political career, but to more effectively serve the region in all facets.
None of that changes, regardless of which party holds a majority in Congress.
"As my colleague on the Energy & Commerce Committee, we will continue working to develop practical solutions that meet the needs of our constituents and the Tampa Bay area," promised Bilirakis, ranked No. 9 on this year's list.
Methodology 
We define the Tampa Bay region as Pinellas, Hillsborough and Pasco, but can also include Hernando, Polk or Sarasota — if the politicians from those counties impact either Pinellas or Hillsborough.
We define a politician as being in office or running for office.
Being first on a panelist's list earns the politician 25 points, second earns them 24 points and so on, to where being listed 25th earns a politician one point. Points are added and, voilà, we have a list.
Special thanks go to our experienced and knowledgeable panelists, who were essential to developing the 2023 list: Christina Barker of the Vinik Family Office, Ashley Bauman of Mercury, Ed Briggs of RSA Consulting, political consultant Maya Brown, Ricky Butler of the Pinellas Co. Sheriff's Office, Reggie Cardozo of The Public Square, Ronald Christaldi of Schumaker, Barry Edwards, Joe Farrell of Pinellas Realtors, pollster Matt Florell of Vicidial Group, Shawn Foster of Sunrise Consulting Group, Adam Giery of Strategos Group, political consultant Max Goodman, Mike Griffin of Savills, Todd Josko of Ballard Partners, Natalie King of RSA Consulting, political consultant Benjamin Kirby, Merritt Martin of Moffitt Cancer Center, Mike Moore of The Southern Group, Ron Pierce of RSA Consulting, J.C. Pritchett, pastor of St. Pete's Faith Church, Darren Richards of Tucker/Hall, Preston Rudie of Catalyst Communications Group, Amanda Stewart of Johnston and Stewart, Bemetra Simmons of the Tampa Bay Partnership, Alan Suskey of Shumaker Advisors and communications consultant Janelle Irwin Taylor. With Michelle and Peter Schorsch.