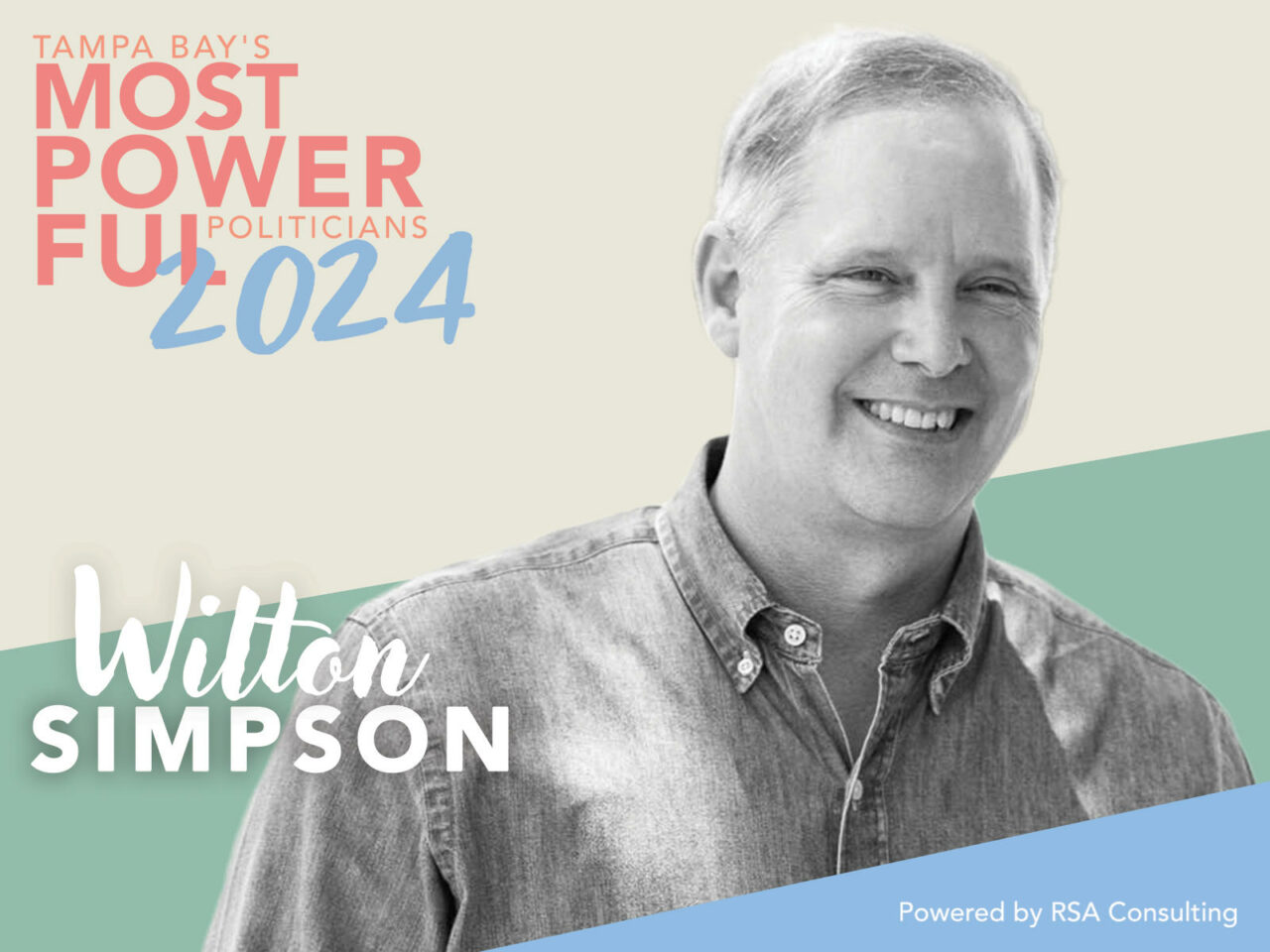 Simpson is still flexing plenty of might.
Agriculture Commissioner Wilton Simpson didn't make the 10th annual list of Tampa Bay's Most Powerful Politicians this year, but that's not because he's lost his relevance. After all, just one year ago he topped the list.
Rather, Simpson's new job as head of the state's second largest industry isn't quite as flashy as his previous one as the gavel-wielding Senate President. 
Make no mistake, Simpson got votes from our panel, just not quite enough to land back on this year's list. And even though the type of power he now wields doesn't grab headlines — or the attention of insiders — to the same degree as before, Simpson is still flexing plenty of might. 
"There are leaders who understand the process, and there are leaders who understand the people. It's rare that you find a leader with as much expertise in both as Commissioner Simpson," said RSA Consulting President and CEO Ron Pierce.
"He enters the Cabinet with an impressive 10-year legacy in the Senate, including a term as President during two of Florida's most turbulent years. And yet, his extensive background in public service is not even his greatest qualification to lead his new Department. Commissioner Simpson has a unique understanding of the issues, people, and industries that he deals with every day because he is part of it. He brings hands-on, lived experiences as a successful agriculture business owner. This passion and expertise make him a particularly influential leader, and he is certain to leave a lasting impact for generations to come."
Take, for example, one of his first acts in office — a swearing in that shifted the Department of Agriculture and Consumer Services to GOP control. In mid-January, Simpson withdrew from a lawsuit against the Florida Department of Law Enforcement over information it provides during background checks for concealed weapons licenses. 
The withdrawal was a snub to Simpson's predecessor, Democrat Nikki Fried, who filed the suit to get more information on applicants seeking concealed carry permits. 
Even before that, Simpson proposed legislation days after being sworn into office that would prevent businesses from tracking Floridians' firearm and ammo purchases. 
That he was able to so swiftly identify a lawmaker to file the measure — Sen. Danny Burgess, a former subordinate no less — reminds just how much sway the Pasco County Republican still maintains.
Let us also not forget that in addition to having friends in the Legislature, Simpson now sits on the Cabinet, a perch from which he, at the very least, has Gov. Ron DeSantis' ear. As such, he's likely to find more opportunity for progress within the office without the partisan squabbles that marked Fried's tenure.
He's now one of only six statewide elected officials in Florida, and while the campaign this year felt lopsided and drew little media attention, this gave Simpson a platform to introduce himself to voters statewide. The political power and name recognition that comes from appearing on ballots statewide should not be underestimated just because his election seemed like a lock.
The position makes him an instant contender to seek other major offices, including a run for Governor should he so choose. His last two predecessors, Fried and Republican Adam Putnam, both tried to use the Agriculture Commissioner's Office as a launchpad to Governor unsuccessfully. But each was the runner-up in their respective Primaries, so don't dismiss the prospect of a pipeline someday forming from this Cabinet office to the mansion.
Simpson boasts a perch from which to reach political figures across the state, continuing to build relationships and grow influence further. And he continues to speak with every lawmaker in the Legislature as he presents his agency's agenda each Session.
And let's not forget, it's now Simpson's name that will adorn stickers at every gas station pump in Florida.
In any case, Simpson is certainly deserving of an honorable mention and a hearty pat on the back.