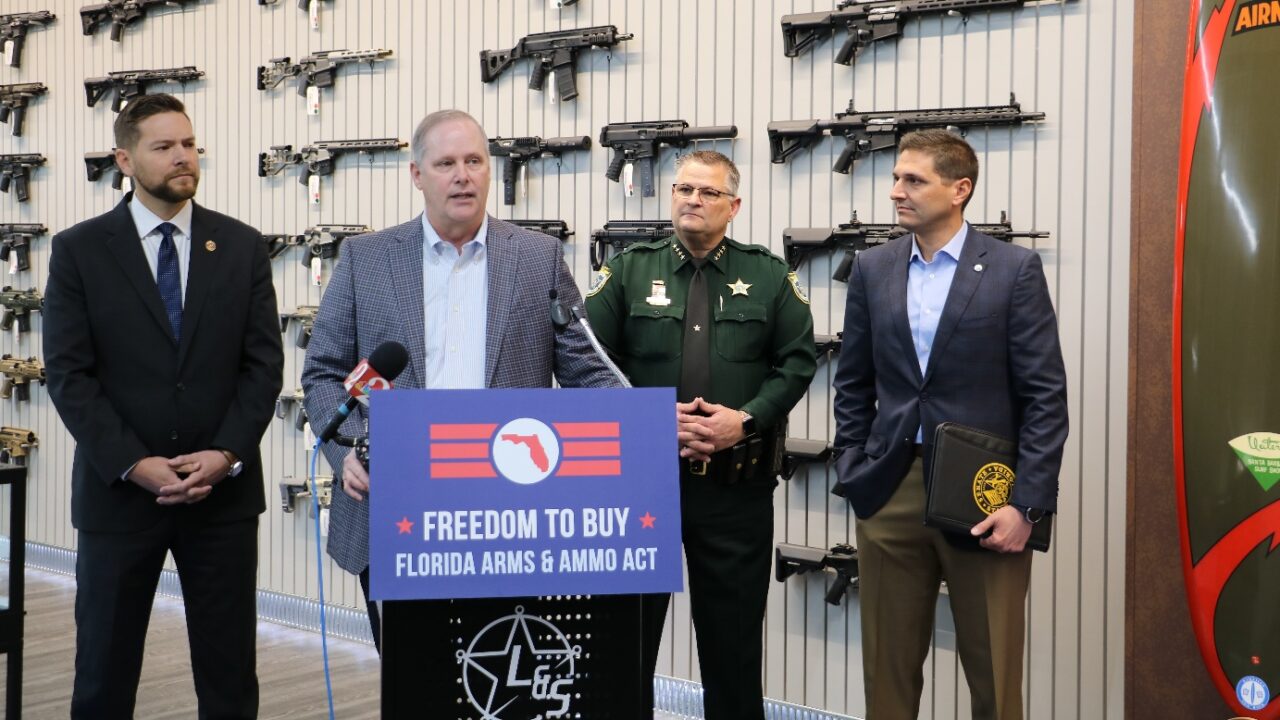 Florida could be the first state to protect gun sale data with the Arms and Ammo Act.
Agriculture Commissioner Wilton Simpson is unveiling his first legislative proposal since taking office, a first-in-the-nation measure to prevent businesses from tracking Floridians' firearm and ammo purchases.
Simpson, the former Senate President who was sworn in as Agriculture Commissioner last week, announced his proposal for the "Florida Arms and Ammo Act" Tuesday.
The measure comes in response to new international standards for recording payment transactions last year that established a separate identification code for firearm and ammunition sales. With the new merchant category code, it is potentially easier to track people who have purchased guns or ammo.
"We are all blessed to live in the free state of Florida where our Second Amendment rights are valued and protected, but Democrats in Washington continue to try to chip away at these rights — and we must stay vigilant," Simpson said.
"The 'Florida Arms and Ammo Act' draws a line in the sand and tells multi-national progressive financial institutions, and their allies in Washington, that they cannot covertly create a backdoor firearm registry of Floridians — or else."
As the Commissioner of Agriculture, Simpson heads up the Department of Agriculture and Consumer Services (FDACS). Among other licensing services, FDACS issues firearm licenses.
Simpson, a Republican, announced the measure at Lawmen's & and Shooters' Supply location at the Knight's Armament facility in Titusville. His former colleague, Zephyrhills Republican Sen. Danny Burgess, will file the legislation.
"This is the United States of America. You don't get penalized for exercising a Constitutional right," Burgess said. "The Second Amendment is nonnegotiable, and here in Florida, we are going to fight to protect the rights of Floridians."
Joining Simpson and Burgess in Titusville was Stuart Republican Rep. John Snyder, who will also sponsor the legislation.
"Gun owners will not be targeted by financial institutions in the free state of Florida," Snyder said. "I am proud to stand with Commissioner Simpson and Senator Burgess to prevent the creation of a comprehensive database of law-abiding Floridians."
While several states' Attorneys General have threatened legal action against major credit card companies over their plans to track firearm and ammo sales, Florida would be the first state to pass such a law. Chief Financial Officer Jimmy Patronis, another member of the Florida Cabinet alongside Simpson, in September announced plans to void credit card companies that track gun sales.
Brevard County Sheriff Wayne Ivey also joined Simpson and the bill sponsors for the announcement. He said the bill would ensure that Florida remains free.
"We have a responsibility to make sure our citizens are able to exercise their God given rights and can rest easy knowing that our 2nd Amendment is being protected as well as Florida's Freedom Loving Citizens," Ivey said.