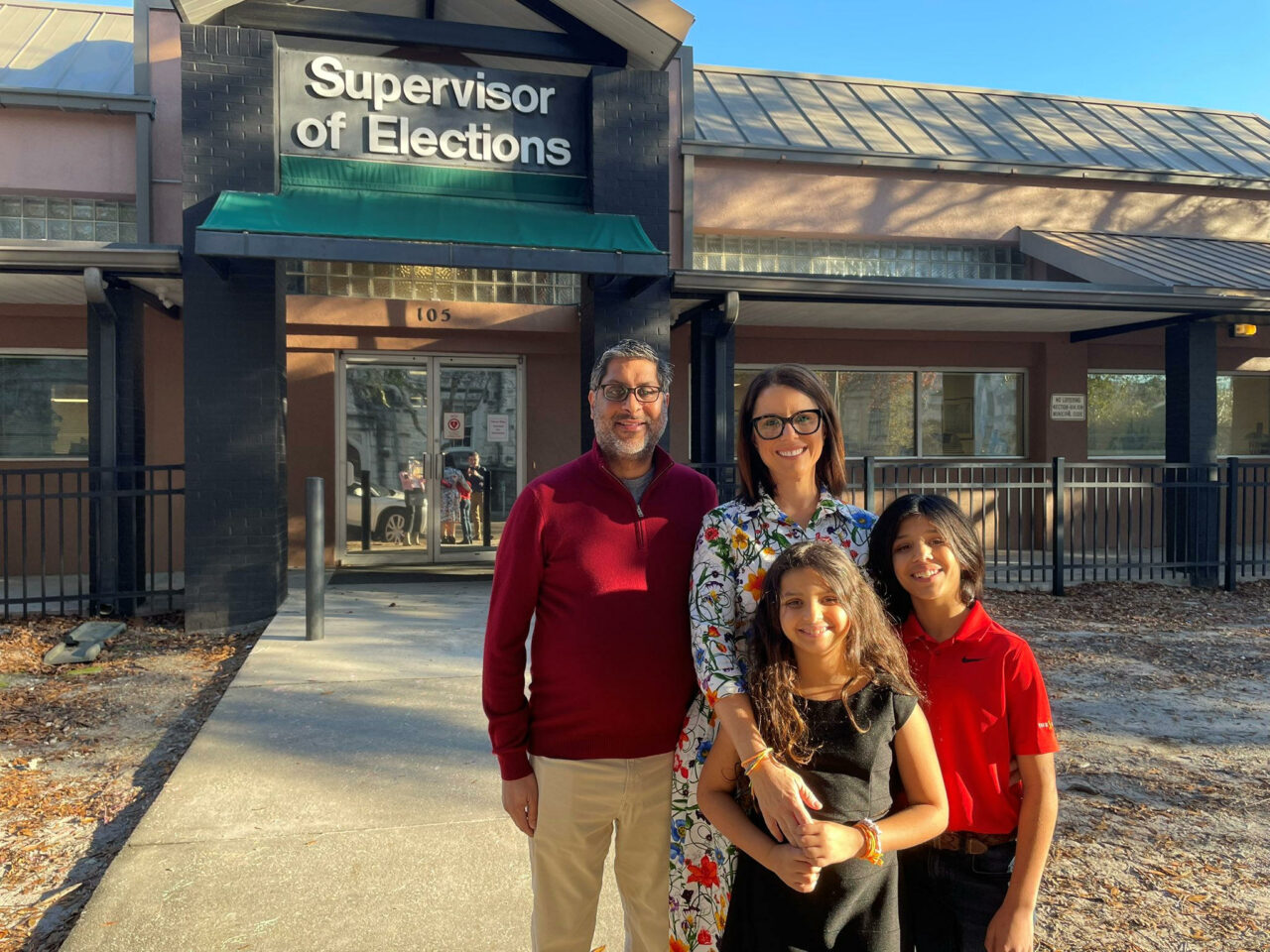 One of the most active — and, at times, dramatic — weeks in Duval County politics is now underway.
One of the most active — and, at times, dramatic — weeks in Duval County politics started Monday and ends Friday.
In one sense, qualifying week is the height of the aspirational part of the news cycle. Negative ads may precede it, and more will certainly follow; but for one day, candidates can be as positive as they can get away with.
On Monday, LeAnna Gutierrez Cumber, a Republican City Council member who launched her bid last March, filed paperwork. She made the smart decision to bring her children Jake and Poppy, who took softball questions courtesy of a local TV reporter.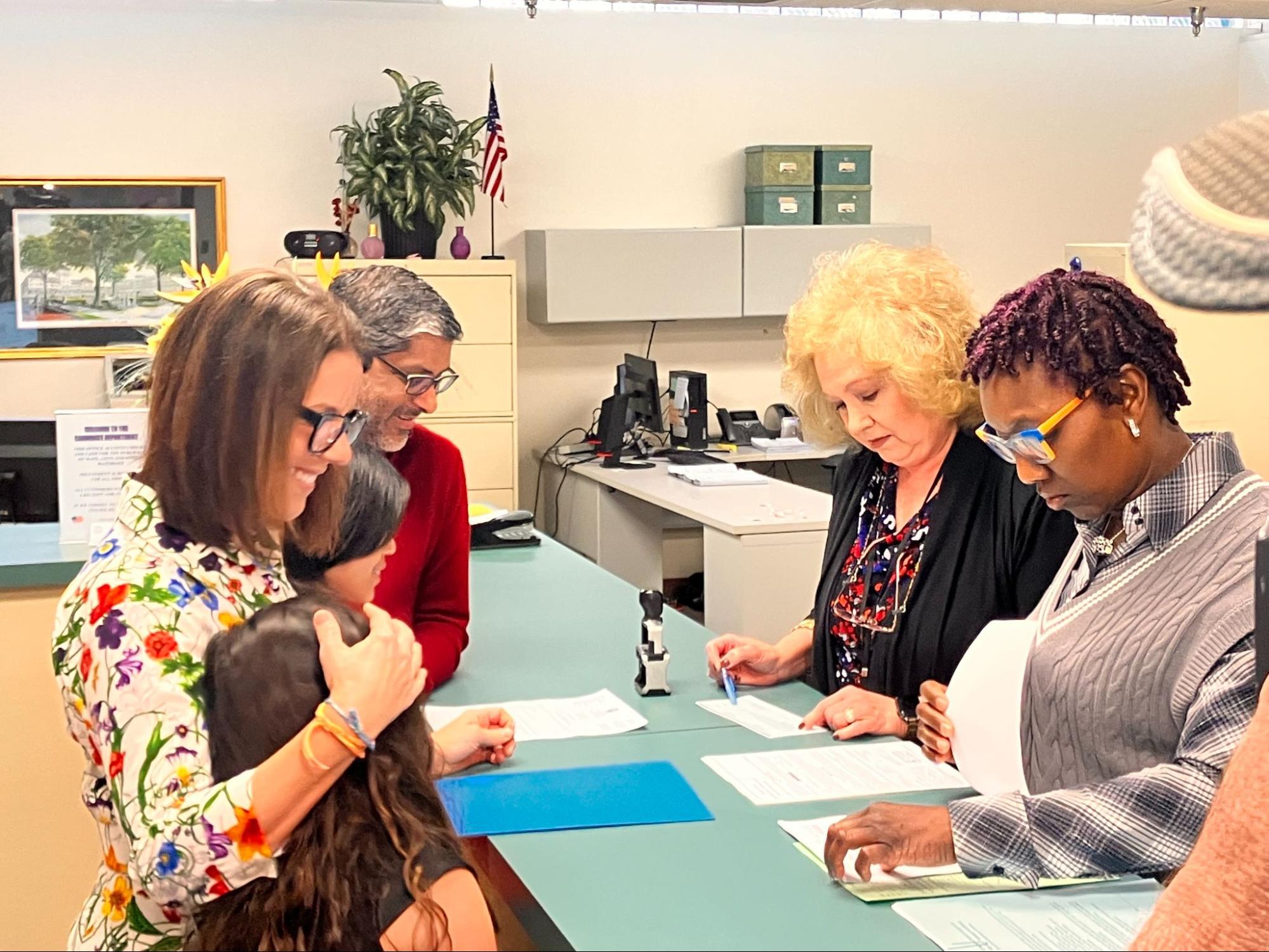 Qualifying news conferences are not a time to ask about burn rate, future staffing decisions, and campaign mechanics (as we keep finding out).
Cumber was still talking to reporters when not just one, but two, of her Council colleagues showed up for their own appointments.
Republican Matt Carlucci, who had explored a run for Mayor before opting for a re-election bid to his at-large seat, could not be baited into endorsing Cumber on the spot when asked. But he said he liked her at least. Carlucci will run unopposed if no competition shows up before Friday.
Another at-large Republican, Ron Salem, was also on hand, and he will face off with Democrat Joshua Hicks in March. He wouldn't commit on the spot to debating Hicks, but he noted his fundraising is strong and he is running a "full campaign."
Cumber wasn't the only mayoral candidate to qualify on Monday.
Donna Deegan did also, and her campaign stressed it was the only one to do so by petition, a sign that her campaign is "of, by, and for the people."
"Thousands of you helped," Deegan contended.
By Wednesday, other mayoral contenders qualified, with Republican Al Ferraro and Democrat Audrey Gibson making it official.
As Friday approaches, more candidates will qualify, including surprises galore. By noon, the questions will be about which candidates opted not to qualify, and what that means.
Education Senator
Sen. Rick Scott was in Jacksonville Monday, as part of a statewide tour reminding various local markets that he is still in the Senate and already ramping up a 2024 re-election bid.
The topic was education, which, as a member of the GOP Senate minority, Scott may have a minor impact. But that didn't stop a host of local leaders from showing.
On hand, according to a release: Belinda Keiser, vice chancellor, Keiser University; Lisa Marie Winslow, president of Keiser University Jacksonville Campus; Dr. John Avendano, president, Florida State College at Jacksonville; Dr. Moez Limayem, president of the University of North Florida; and other Northeast Florida Education leaders.
All heard "several of his proposals to bring Florida's educational success nationwide, keep tuition affordable, and ensure parents, not the government, have a say in their child's education."
"I have long believed that parents, not the government, know what is best for their children. That's why, in Florida, I've fought to make sure that school choice isn't just for the elites — it is for everyone. Every family deserves the chance to send their child to the school that best meets their needs: whether that's public school, home schooling or a private school. And no family or student should worry that attending a college or university will break the bank or rack up mountains of debt," Scott asserted.
"When I was Governor of Florida, I fought every day to make our education system the best in the nation, from K-12 to our colleges and universities. Our hard work with the leaders of Florida's colleges and universities allowed us to maximize school choice and educational outcomes for K-12 students while keeping higher education affordable by holding the line on tuition and demanding cost transparency.
"These actions not only make sense for Florida families, they helped improve our school systems and make Florida the #1 state in the nation for higher education, according to U.S. News and World Report. It was great to be with so many education leaders in Jacksonville today to hear their ideas and share my plans to bring the Florida model nationwide."
Tweet, tweet:
Thank you to @SenRickScott for coming to Jacksonville today to speak with us about the importance of education! #rescueamerica #floridaleads pic.twitter.com/mT9R6QI65O

— april arena carney (@carney0134) January 9, 2023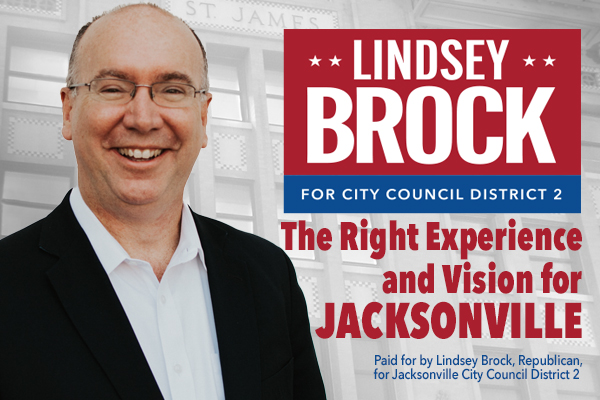 Sterling SilverLeaf
One of the leading Republicans in the Senate is also a leading force in development in Northeast Florida, and industry experts are taking notice.
The Hutson Companies' SilverLeaf's 1,034 sales in 2022 were good for third place among all master-planned communities, according to industry source RCLCO.
Hutson Companies' Vice President Travis Hutson, who represents St. Johns, Flagler and Volusia counties in the Florida Senate, took stock of the achievement.
"Selling over 1,000 homes in just under our third year of breaking ground has been truly remarkable. We want to thank our builders, contractors, sub-contractors and residents for making this all possible," Hutson said in a news release.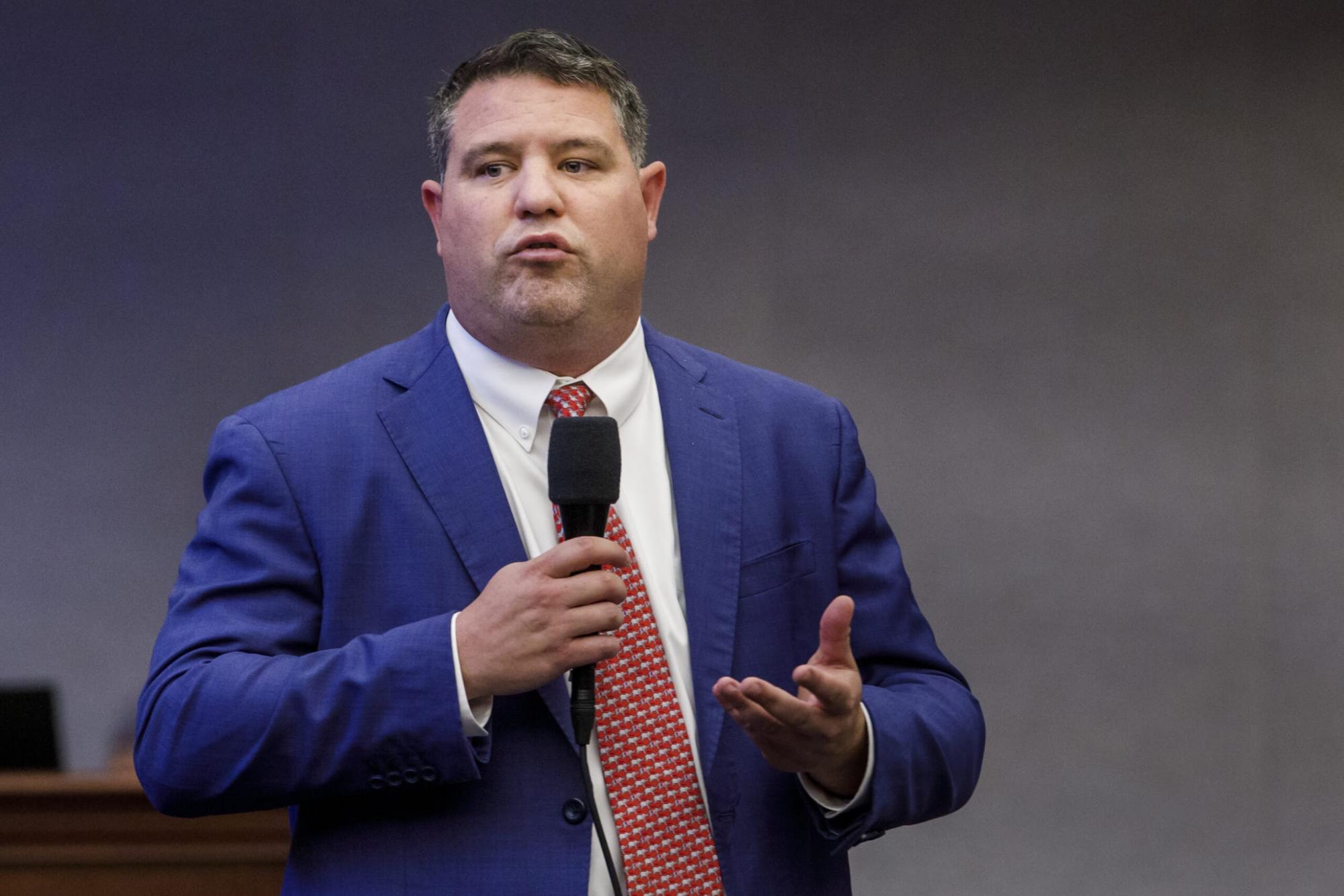 St. Johns County Commissioners lauded the development's achievement, noting development concessions that could set a new standard in the county.
"I want to congratulate SilverLeaf on all its successes," said Commissioner Sarah Arnold. "This developer pledged all the infrastructure like roads and sidewalks, as well as dedicated the land for parks and schools all up front before they would agree to build a single house. This kind of commitment is what St. Johns County needs when we discuss what smart development looks like."
"SilverLeaf has set a new standard for development in St. Johns County," added Commissioner Christian Whitehurst. "By building infrastructure up front, it ensures that the county can accommodate the new residents who are moving into their homes. We've seen other developments following in the footsteps of SilverLeaf's successful model for growth."
Succession plan
Hutson is termed out in 2024, and one major Republican candidate is already in the mix to succeed him in SD 7.
Last week, Rep. Tom Leek filed to run for Senate District 7, which will be on the ballot in 2024.
Leek, an Ormond Beach Republican, was first elected to the state House in 2016 and rose in rank in the chamber, including serving as Chair of the House Redistricting Committee last Session.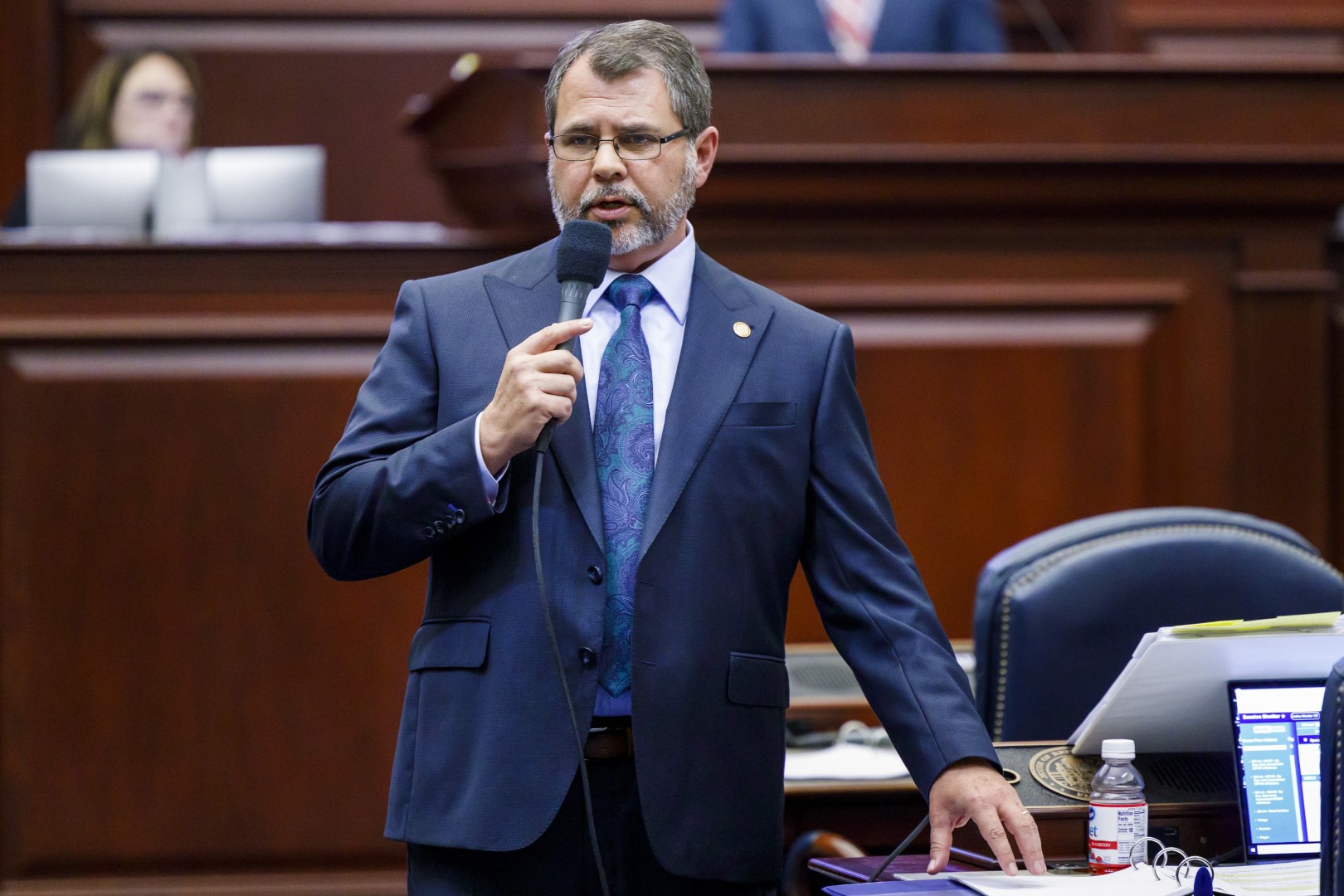 Now in his final term, Leek has been tapped to lead the House Appropriations Committee, giving him enormous influence over the state budget.
Leek currently stands for House District 28, covering part of Volusia County. He mostly cruised in his four elections, winning with more than 60% of the vote in all but one.
Leek briefly faced a challenge from the right last year, but after strong endorsements from Gov. Ron DeSantis and House Speaker Paul Renner, he went unopposed in the GOP Primary. He went on to trounce Democrat John Navarra in the General Election.
Though SD 7 includes a part of Volusia — including Ormond Beach — its footprint also includes all of Flagler, Putnam and St. Johns counties.
Leek is so far the only candidate to file for the seat.
He enters the contest with an edge — thanks to SD 7's heavy Republican lean.
According to the most recent book closing report from the Division of Elections, Republicans account for nearly half of registered voters in the district compared to a 25% share for Democrats.
Third- and no-party voters account for the rest.
Pitch your policy
Ever wanted to turn an idea into law?
Via a virtual town hall later in the month, Rep. Angie Nixon has a platform to make just that happen. The Jacksonville Democrat, who represents HD 13, said the event, to be held the evening of Jan. 19, is a chance to offer "ideas on how we can improve Florida law to increase your quality of life!"
Nixon is entering her third year in the House. In 2020, she unseated Rep. Kimberly Daniels in the HD 14 Democratic Primary. Redistricting last year moved Nixon to HD 13, where she won convincingly in the Primary and the General Election.
Despite the drama-free re-election, Nixon mulled leaving the House this year to run for the Jacksonville City Council. She passed up that run but given the likelihood of the District 10 seat being represented by a term-limited Democrat for the next four years, Nixon may run when that seat is open again in 2027.
Here's your chance to PITCH YOUR POLICY!!!

🎥Virtual TownHall with Rep. Angie Nixon

Share your ideas on how we can improve Florida law to increase your quality of life!

🗓️ January 19, 2023
⏰ 6:00pm
💻 https://t.co/Gg0lWF0zA5 #LetsFlourish#PitchYourPolicy#VirtualTownHall pic.twitter.com/a6zdBerRyK

— State Rep. Angie Nixon (@AngieNixon) January 9, 2023
Sapp to House?
A former Congressional candidate is in the initial stages of a 2024 run for the Florida House.
Last week, Clay County's Judson Sapp opened a campaign account for a House District 20 run, according to records with the Florida Department of State's Division of Elections. Nancy Watkins will serve as his campaign treasurer.
Sapp, a Republican from Clay County, is the only candidate in the field.
The incumbent Republican in HD 20, Rep. Bobby Payne of Putnam County, is term-limited in 2024 and cannot run again.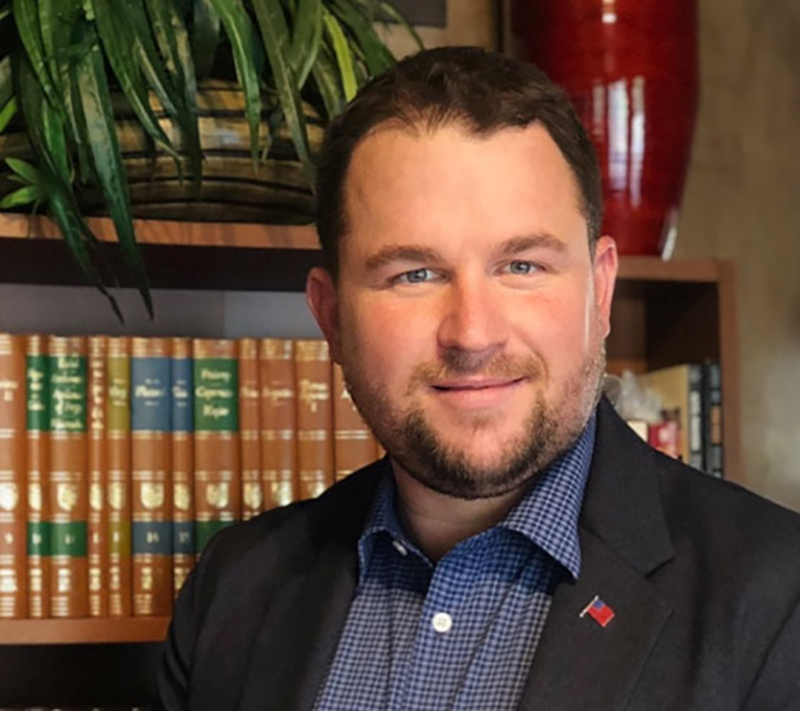 Before redistricting last year, HD 20 was a Democratic district. Under the new number system adopted by the Legislature in 2022, the district is now solidly Republican.
Payne handily defeated hard-right challenger Luis Miguel in the August Primary. Ahead of that defeat — in what was an open Primary — Miguel achieved notoriety for earning a Twitter ban for fomenting violence against the federal government.
Sapp finished a strong second in the Congressional District 3 Primary in 2020, garnering 20% in a crowded field, five points short of eventual winner Rep. Kat Cammack.
Sapp is the CEO of W.J. Sapp Railroad Contractor. He lives in Green Cove Springs with his wife and two sons.
Mail call
If you missed one of Cumber's recent television advertisements, she coupled the biographical ad with a mail piece paid for by her committee JAX First, which hit mailboxes around Jacksonville in recent days.
The flyer touts Cumber as a conservative Republican and a proud Cuban American, with a quote from Cumber: "My dad escaped communist Cuba in search of freedom in America. Thanks to the values he taught me, I've been blessed to live the American Dream."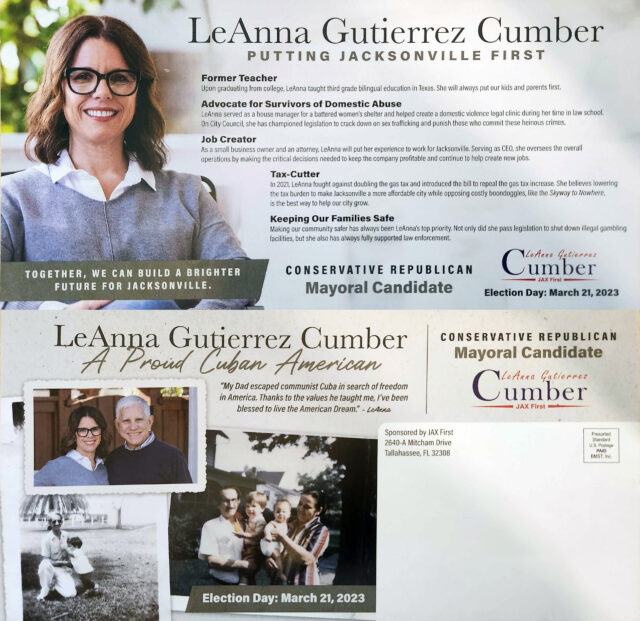 The piece also provides kind of bullet points on her bio, like her teaching experience, advocacy for domestic abuse survivors, running a business, cutting taxes and supporting law enforcement.
Joe Carlucci, who is running for the City Council in District 5, also dropped a mail piece recently, featuring Gov. Ron DeSantis, the most ubiquitous presence in Florida politics. Carlucci received permission from the DeSantis team to use the image, in which Carlucci and DeSantis appear under the words, "Always Lead Right."

It isn't an outright endorsement by the Governor, but he did recently pick up endorsements from the local police and firefighters' unions, the Fraternal Order of Police, Lodge 5-30, and the Jacksonville Association of Fire Fighters, IAFF Local 122.
"Joe Carlucci is trusted by the men and women of law enforcement in Jacksonville," FOP President Randy Reaves said. "He has demonstrated his commitment to public safety and is the best choice for City Council, District 5."
Carlucci is honored by the endorsements and hopes to make them proud.
"Joe is a proven community leader with a record of getting results for District 5 families," JFRD President Randy Wyse said. "He has always been a close friend of Jacksonville's firefighters and today, we're proud to endorse Joe for City Council."
So far, Carlucci and Morgan Roberts, both Republicans, have announced runs for the district.
Phillips is in
Local attorney (and Folio Weekly publisher) John Phillips is in the Jacksonville City Council race in the revamped District 7, which includes Downtown, Riverside, and Avondale.
"I have dedicated my career to giving a voice to the under-represented. Now I want to do the same for the citizens of Jacksonville. I have worked and raised my family in District 7 since 2001 and I see the enormous potential the city and the district has. It is time to elect leaders who are willing to take action to capitalize on that potential. I hope you will allow me to serve you as and bring the same compassion to City Council that I have brought to my clients for decades."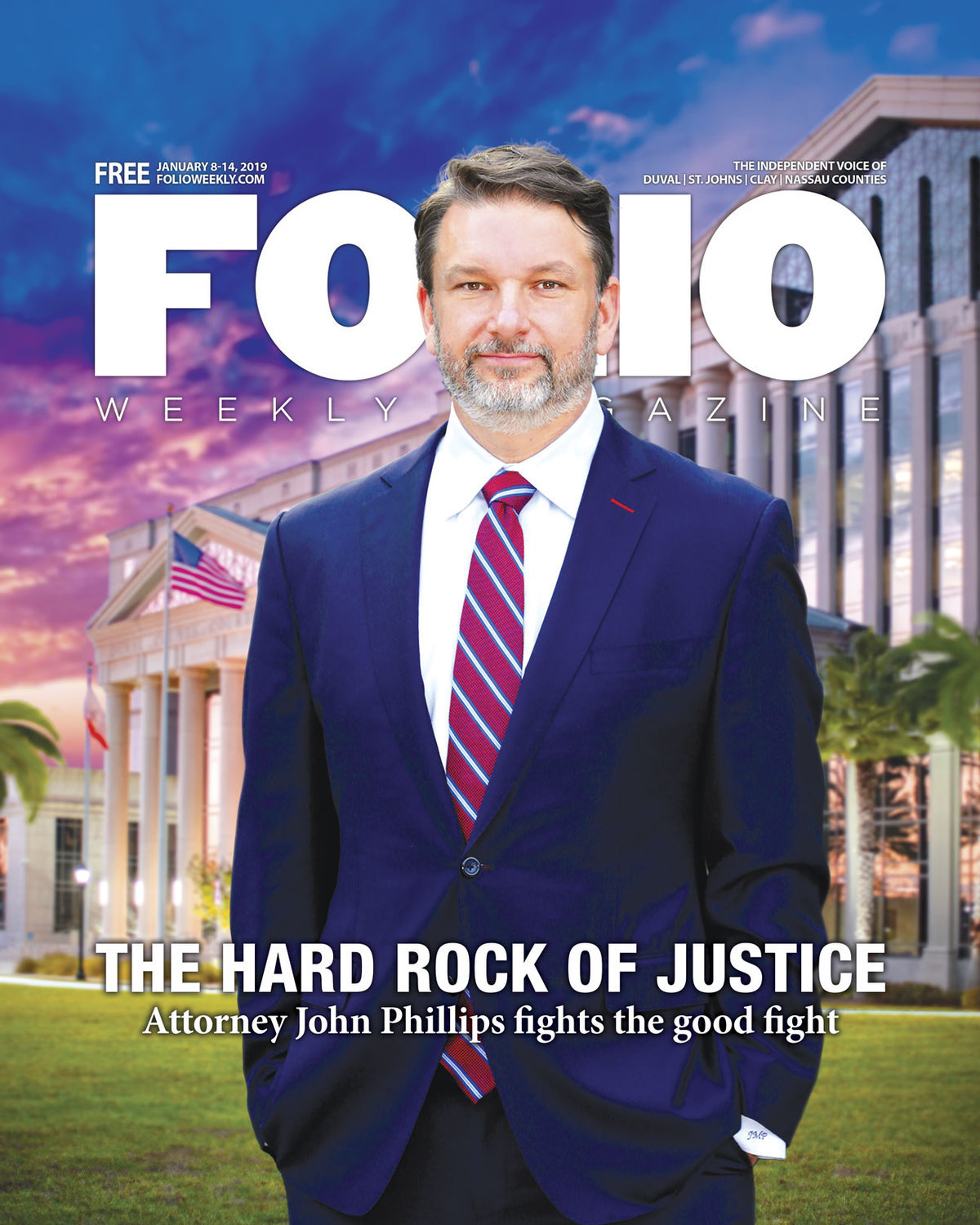 Phillips is known for his work standing for the family of Jordan Davis, a Black youth who was slain at a gas station last decade for playing loud music. More recently, he has represented Ben Frazier, the Black activist who has been arrested for showing up and speaking out at venues ranging from Ron DeSantis news conferences to Jacksonville City Council meetings.
Though best known as a lawyer, Phillips also bought the former alt-weekly Folio recently. Consultant Obi Ummuna tells Bold that he will keep ownership but will hand off duties as publisher.
Though a number of candidates with media backgrounds, including City Council member Joyce Morgan, Ken Amaro and Deegan, have run for local office, Phillips is the first active member of the media to run for local office since former Folio Weekly columnist Shelton Hull ran — without relinquishing his column — in what was District 14 back in 2011.
It appears though that Phillips will not be driving Folio content as a candidate.
'Boring death?'
Call it what you will — welcome sign, gateway to the city — but the sign at 8th and Lime streets greeting people as they enter Fernandina Beach is the latest line in the sand among local leaders trying to limit change from the current atmosphere on Amelia Island.
The sign is under the purview of Fernandina Beach Main Street, and changes are coming. The site also includes landscaping needs, with respect to the tree canopy and lighting. Lisa Finkelstein of Fernandina Beach Main Street went to the Fernandina Beach City Commission last week seeking ideas and consensus on what the design should be of one of the two sides of the gateway.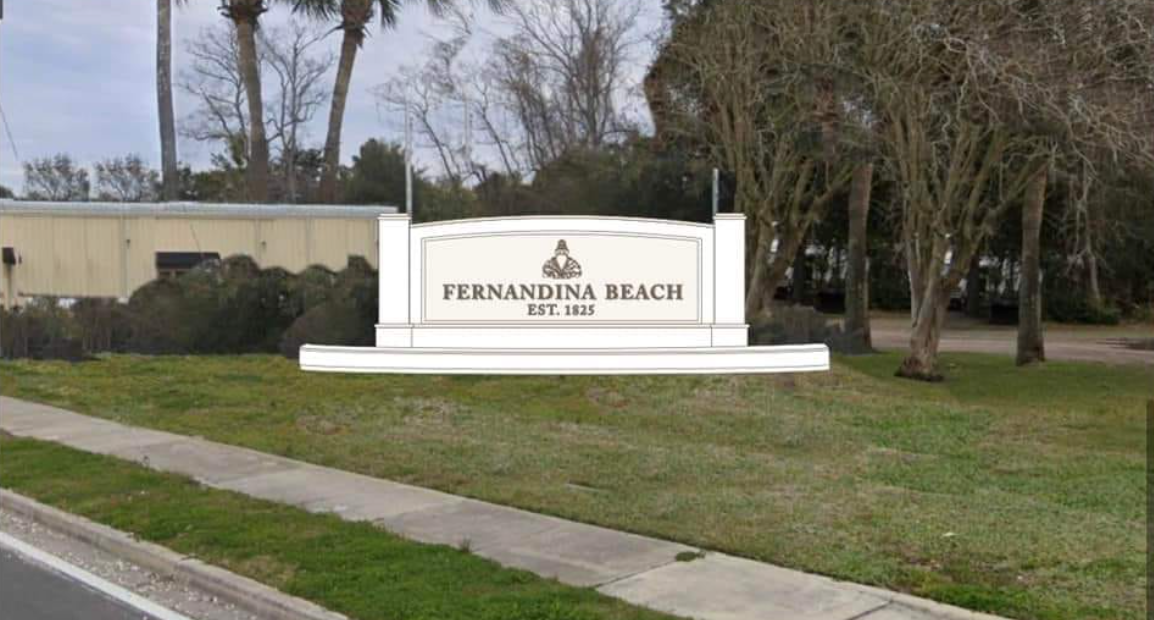 A suggestion for the southbound side of the road is a set of flags, while the northbound side of 8th Street has the sign itself.
"It became more of an emergency recently because of the condition of the sign," Finkelstein said. "Finally, in the last hurricane, the right side of the sign was removed — torn off — so both sides were removed, leaving us with the center section. It's become more of an urgent situation that we refurbish it or do something with it, because it is currently an eyesore."
That sign originally went up in the 1980s, when sleepy Florida fishing villages like Fernandina Beach became the hot spots for coastal land development and tourism.
Money for the effort is coming from a Nassau County fund, based on 2021 for branding the Amelia Island gateways. This sign was part of that problem, and the county is working with Main Street to release money for the new sign design.
One plan, a straightforward design, at once drew jeers through online discussions.
"The majority of those who look at the proposed City entrance sign think it looks like a tombstone," local resident and group administrator Mac Morriss wrote in a message for Commissioners. "My guess is about 95% don't like it for several reasons: looks like a tombstone, boring, costs too much, not unique and looks like an everywhere else sign. They like the old signage with nonprofit symbols.
"This is the gateway to the City of Fernandina Beach. It represents this community. The old signage declared that we were a strong community with local volunteer group involvement. The old signage declared we had a history and culture uniquely ours. The new signage looks like boring death. You can do better."
Reception among Commissioners was a little better. Commissioner Darron Ayscue said he liked the new design but preferred the older sign. Ayscue asked about repair costs. Commissioner Chip Ross remarked on the new design's simplicity and elegance.
Commissioners agreed (generally) that Main Street is on the right path for redesign; work is set to continue through the coming weeks.
Irish gold
If you want a glimpse on the inner workings of the media behemoth that is college football and Disney-owned ESPN, a recent meeting on Nassau County tourism cast light on the subject.
In times gone by, it would be a newsworthy event when a man wearing a sport coat, emblazoned with a bowl game logo, would show up to a game to scout the teams.
However, between the College Football Playoff, conference tie-ins and the influence of ESPN, bowls tend to get who they are assigned.
"When I first got here, and I was on the team selection committee, we actually used to have to work and make suggestions to ESPN as to who we want to play in our bowl," said Gil Langley, president and CEO of the Amelia Island Convention and Visitors Bureau, regarding the Gator Bowl.
"Nowadays, we sit around and tell jokes and laugh about the possibility that Alabama's going to be in the Gator Bowl."
So, it was well-received when the call came in with a different tradition-rich program, Notre Dame, which agreed to appear opposite a team with an energetic fan base like South Carolina.
"Within 48 hours of the announcement, ticket sales went off the charts," Langley said. "We had over 70,000 people there for the game. The great thing about our contract is it mandates the (Atlantic Coast Conference) representative stay at the Omni on Amelia Island."
The impact on the Omni was "well over a million dollars," Langley said.
Notre Dame football, while not officially in the ACC, nonetheless has contractual obligations with the conference. Most other Irish teams play in the ACC. Amelia Island played host to 120 players and 60 staff members from the university.
The Gator Bowl also made a $10,000 donation to Fernandina Beach High School, where the Irish practiced before the game, and 50 Nassau County children received backpacks through the Blessings in a Backpack program.
One more time
Is it a year of miracles for the Jacksonville Jaguars? The team went 7-3 in its last 10 games after starting the year a woeful 2-6, and they're in the NFL playoffs for only the fourth time this century, five years after their last appearance.
An opportunistic defense made the difference in the season finale at home last week against the Tennessee Titans, in which the Jaguars caused a sack, forced fumble, and fumble recovery for a touchdown to seal the win and secure the AFC South division championship.
"You talk about peaking at the right time," Jags head coach Doug Pederson said to reporters this week. "That started for us in December and now here in early January where you're starting to come together and figure some things out."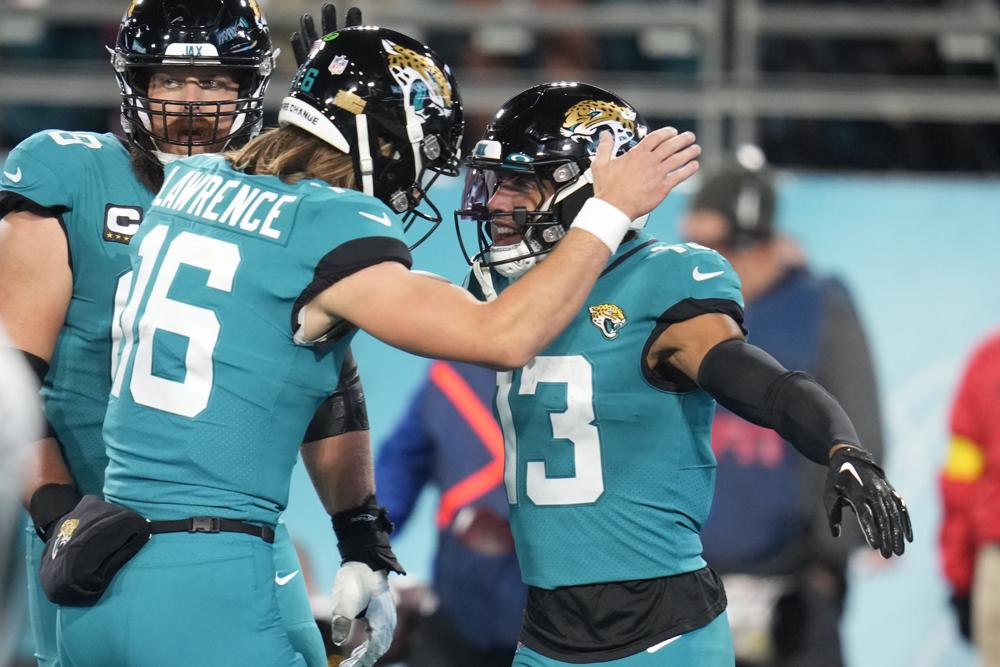 Thanks to wrapping up the division crown, Jacksonville (9-8) gets to play host to the Los Angeles Chargers (10-7).
"There's not a ton of teams left," quarterback Trevor Lawrence said. "When you're in this position and you're playing guys like (Chargers signal-caller Justin Herbert), that means you're playing the best teams and that's where you want to be at this time of year."
The point spread is 1-2.5 in favor of the Chargers, depending on which sportsbook provides the odds.
___
Jacksonville Bold is published by Peter Schorsch, assembled and edited by Phil Ammann with contributions from A.G. Gancarski and Wes Wolfe.