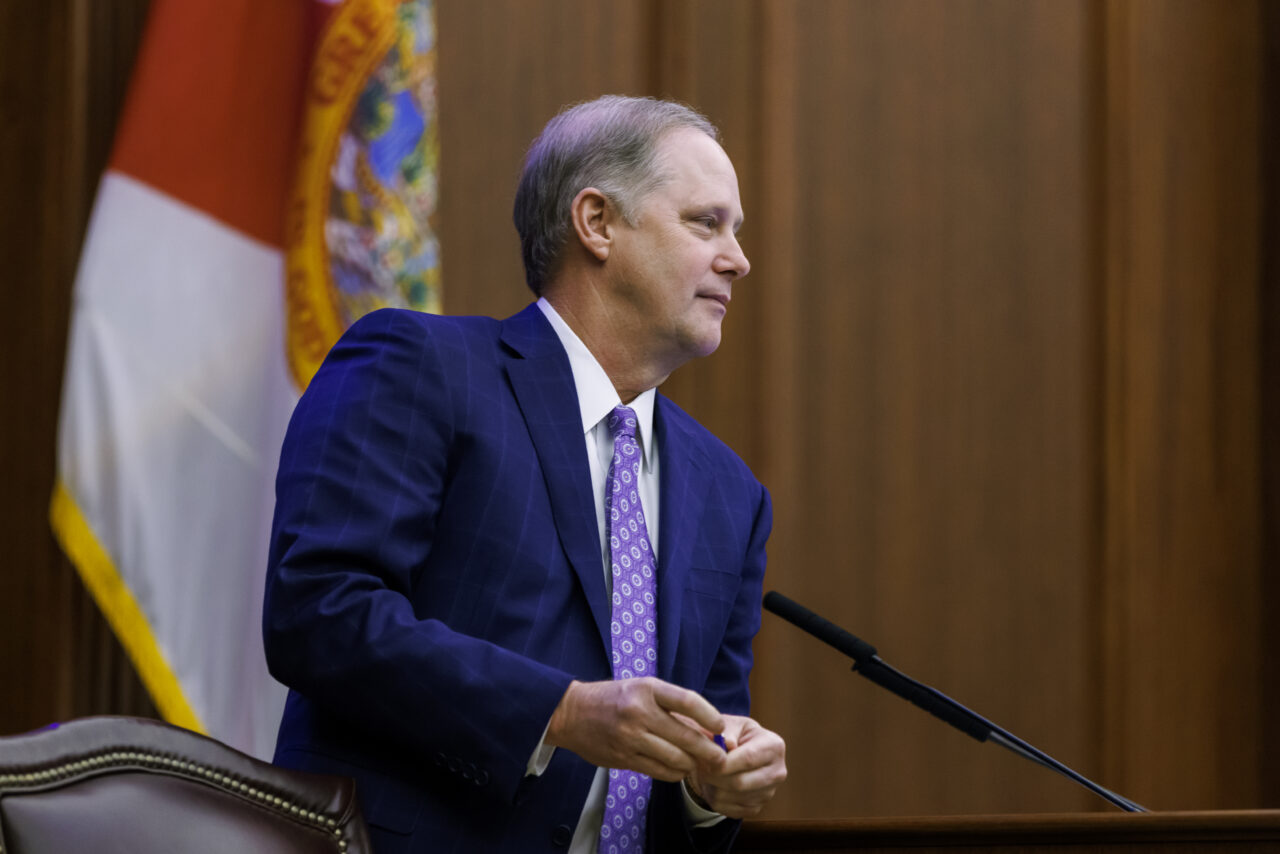 Agriculture Commissioner was the sole statewide office held by Democrats.
Senate President Wilton Simpson has flipped the Democrats' final statewide office red after winning the race for Agriculture Commissioner.
Simpson, who cruised his way through the Republican Primary, faced a bruised Naomi Blemur, Democrats' choice to succeed outgoing Commissioner Nikki Fried. Blemur decisively won her Primary, but not without bleeding support from prominent South Florida Democrats over her social media history.
Two hours after polls closed in the Panhandle, Simpson's lead was 59%-41%, making it the closest race of the Florida Cabinet.
In a statement after polls closed, Simpson said he was grateful to hardworking Floridians for their support.
"Floridians showed up today for freedom. They showed up for economic freedom, the freedom to make decisions for their children, to run their businesses and raise their families without fear of government overreach," he said. "Floridians showed the rest of the country that common sense is bipartisan in a stunning rejection of socialism, woke ideology and the economic ignorance coming out of Washington and embraced by so many politicians who look down on, instead of lifting up the people we serve."
"As I traveled the state over this last year, what I've learned is that Floridians are resilient and willing to fight for the American Dream," he continued. "I am honored that they have entrusted me to continue that fight with them as Florida's next Agriculture Commissioner."
Simpson is moving on from the Senate after being term-limited there. The egg farmer and businessman served west Central Florida in the Senate for 10 years, including as Senate President for the last two.
As Senate President, he has coordinated much of Gov. Ron DeSantis' legislative achievements and helped oversee Florida's record budget surplus. Now, he hopes to translate that into a career alongside the Governor on the Cabinet.
There was speculation early in the Republican Primary that DeSantis would back a challenger against Simpson, who was endorsed for the seat by former President Donald Trump before even confirming his intention to run. DeSantis ultimately endorsed Simpson, but the political tug-of-war over Simpson continued up to Election Day as the Governor and former President hosted competing rallies across the state this weekend.
Blemur lost support from leading South Florida Democrats in August after screenshots of her past anti-abortion and anti-LGBTQ social media comments emerged. Some, like Fried, still supported her campaign because she was the party's nominee, but her fundraising was outmatched by Simpson's hauls by around 1,000-to-1.
While Democrats lamented that their choices for Agriculture Commissioner this year were lackluster, the Miami Herald has gone even further. The editorial board declined to endorse between Blemur and Simpson, calling Blemur an unprepared candidate and Simpson one who refuses to answer questions about his record.
Florida's Agriculture Commissioner oversees the Department of Agriculture and Consumer Services. That agency oversees the state's agriculture, fishing and forestry, as well as other sectors like firearm licensing.
Fried has only served as Agriculture Commissioner for four years, but opted to run for Governor instead of standing for re-election. She lost the Democratic Primary to former Governor and Congressman Charlie Crist.
When Fried won the office in 2018 by less than one-tenth of a percentage point, she became the first Democrat to win a statewide race in Florida since 2012. With Simpson's win and the re-election of Attorney General Ashley Moody and Chief Financial Officer Jimmy Patronis, Republicans eliminate any internal dissenting voice against the state board's actions.