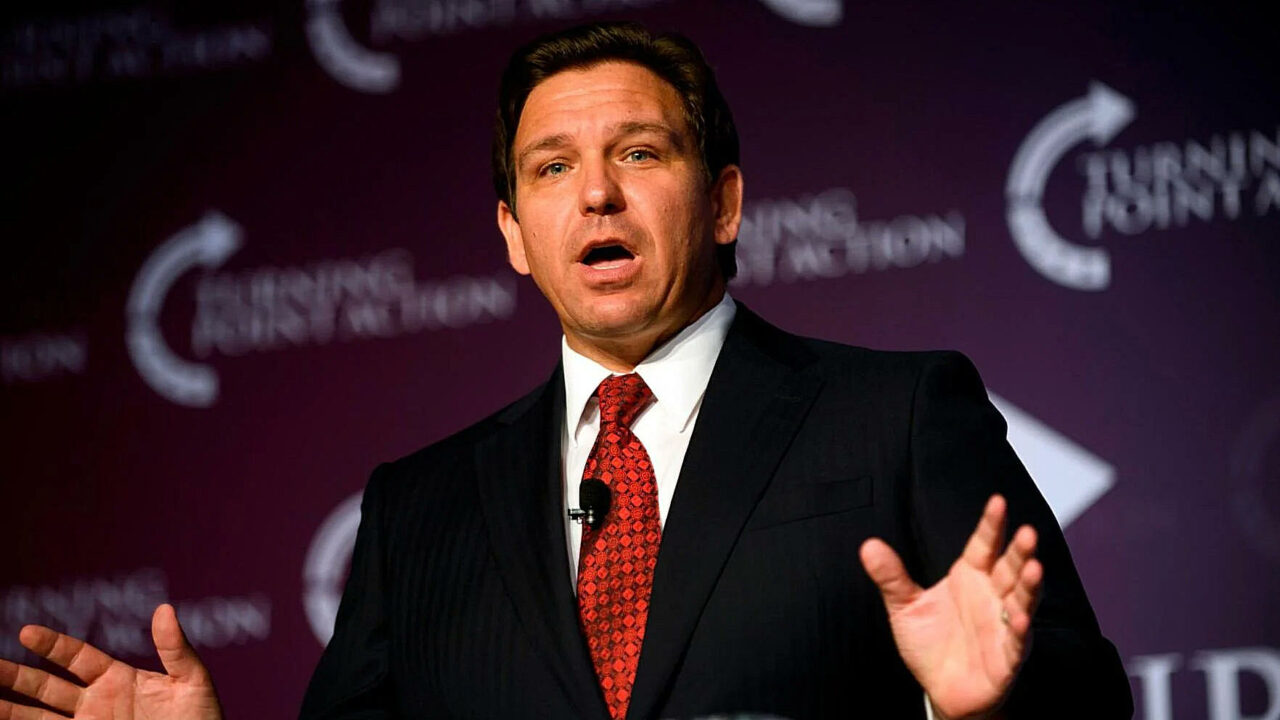 Four years after a recount victory brought him into office, the Republican easily won a second term.
Gov. Ron DeSantis won election to a second term in a landslide victory over Democrat Charlie Crist.
With 99.9% of all precincts reporting statewide, DeSantis and running mate Jeanette Nuñez had a major lead, with more than 59% of the vote as compared to Crist and running mate Karla Hernández's near 40%. The nearly 20-percentage-point lead marked the largest margin of victory ever for a Republican Governor in Florida.
The margin of victory dwarfed the narrow win DeSantis secured four years ago over Democrat Andrew Gillum. Then, he won by a razor-thin 32,463-vote margin after a statewide machine recount of the votes. By comparison, DeSantis' margin of victory in his re-election bid exceeds 1.5 million votes.
The Republican won then as an underdog, with a poll-defying victory in the General Election and a come-from-behind Republican Primary win over then-Agriculture Commissioner Adam Putnam.
But after his 2018 victory, DeSantis quickly garnered favor with voters by embracing broadly popular and bipartisan actions like Everglades restoration and pardoning the Groveland Four. He also kept conservatives content with a series of Florida Supreme Court appointments, and four years into his term, he significantly reshaped a court that for decades had remained the only liberal-leaning branch of Florida's government.
In a victory speech, DeSantis said the growth was a sign people have been voting with their feet, moving to Florida to flee other states.
"The woke agenda has caused millions of Americans to leave these jurisdictions for greener pastures," DeSantis said. "Now this great exodus of Americans, for those folks, Florida for so many of them has served as the Promised Land. We we have embraced freedom. We have maintained law and order. We have protected the rights of parents. We have respected our taxpayers and we reject woke ideology."
The true shift in DeSantis' political trajectory would begin in March 2020, when the first test came back positive on a patient with a coronavirus infection. A global pandemic reached Florida's shores, and national attention immediately fell on the nation's third-most populated state as it addressed the situation.
At first, consensus sentiment pressured DeSantis to close down beaches. DeSantis in fact did so, and ordered a lockdown of businesses statewide in April that year. But as the state began reopening faster than many other Democratic-led states, DeSantis developed a national reputation as a skeptic of COVID-19 lockdowns and began rebranding the state as the "Free State of Florida."
It's that reputation that served as a theme to DeSantis' re-election efforts this year. And based on the number of Republicans who relocated to Florida since 2020, the economically focused approach to managing a public health emergency also helped to dramatically reshape the state electorate along the way.
Republican Party of Florida Chair Joe Gruters cheered the win as evidence Florida has now moved firmly into red state status.
"Florida is now officially the Republican Rock for America," Gruters said.
"The Republican Party of Florida has made voter registration a priority over the last several years and the results are overwhelming, as registered Republicans now outnumber registered Democrats by nearly 300,000 voters. We also put together a turn-out machine at the state level, working closely with every county GOP. Tonight's results, bolstered by strong candidates, reflect the fruit of those efforts. Further, voters know they can trust the results because Florida has been a leader in election integrity and rapid results.Governor Ron DeSantis, Attorney General Ashley Moody, CFO Jimmy Patronis and Agriculture Secretary Wilton Simpson all had impressive blowout wins today, and will head to Tallahassee with a supermajority in both the State House and State Senate. This was not a fluke. This is the result of years of efforts by the Republican Party of Florida and our candidates. Winning counties such as Duval, Miami-Dade and Pinellas puts an exclamation point on where Florida is leading the nation. What other states have turned major metro areas red?"
The past few years also turned DeSantis into a presidential contender, with many observers in the state and nation presuming he will now run for the White House in 2024. That's something that could divide Republican figures in the state, including many loyal to another Florida resident, former President Donald Trump.
"We are the State of Freedom, home to America's best Governor, Ron DeSantis, and best President to have ever served, President Donald Trump," Gruters said.
Still, the laissez-faire approach to public health, combined with a zeal for right-wing culture war policies that grew with DeSantis' profile, also gave fodder to critics.
Crist spent much of 2021 attacking DeSantis over Florida's high death toll from the pandemic. This year, Crist critiqued the Governor over signing a 15-week abortion ban with no rape or incest exceptions, approving a parental rights law dubbed by LGBTQ advocates as the "Don't Say Gay law," and a reluctance to call out Nazi demonstrations appearing with disturbing frequency.
Of course, the fact that Crist now serves as the face of the Florida Democratic Party says as much about Florida's shift in politics as DeSantis' lurch toward right-wing politics. Crist, after all, won his first term in the Governor's mansion as a Republican in 2006, a victory that followed successful runs for Attorney General and Education Commissioner as a GOP nominee.
For most of Crist's political life span, whether as a Republican state Senator from Pinellas County or as a once-considered prospect to be Republican presidential candidate John McCain's running mate, his name appeared with an "R" on the ballot.
That started to change when the moderate came out in support of Democratic President Barack Obama's infrastructure spending in 2009. Crist famously embraced Obama at a Fort Myers rally in a show of bipartisanship that quickly thrust the Governor into disfavor with the conservative base.
When Crist decided to run in 2010 for U.S. Senate, a former state Speaker named Marco Rubio bet on an uprising in the GOP Primary. A series of straw poll losses prompted Crist to leave the Republican Party and run for Senate as an independent. Rubio eventually won the Senate seat he holds to this day.
Crist ran for Governor again in 2014, then as a Democrat, and tried to unseat Republican Gov. Rick Scott. But Crist lost by a single percentage point. Still, he built enough favor in his new political party to win a seat in Congress in 2016, defeating GOP incumbent David Jolly.
Last year, Crist announced he would again run for Governor, this time with his sights on DeSantis. That meant facing Agriculture Commissioner Nikki Fried in a Democratic Primary. Crist ultimately defeated her handily in an August Primary, but expended millions to secure the Democratic nomination.
Any hope national donors would jump in once a nominee became clear fizzled quickly. DeSantis amassed a 21-to-1 fundraising advantage over Crist less than a month from the General Election.