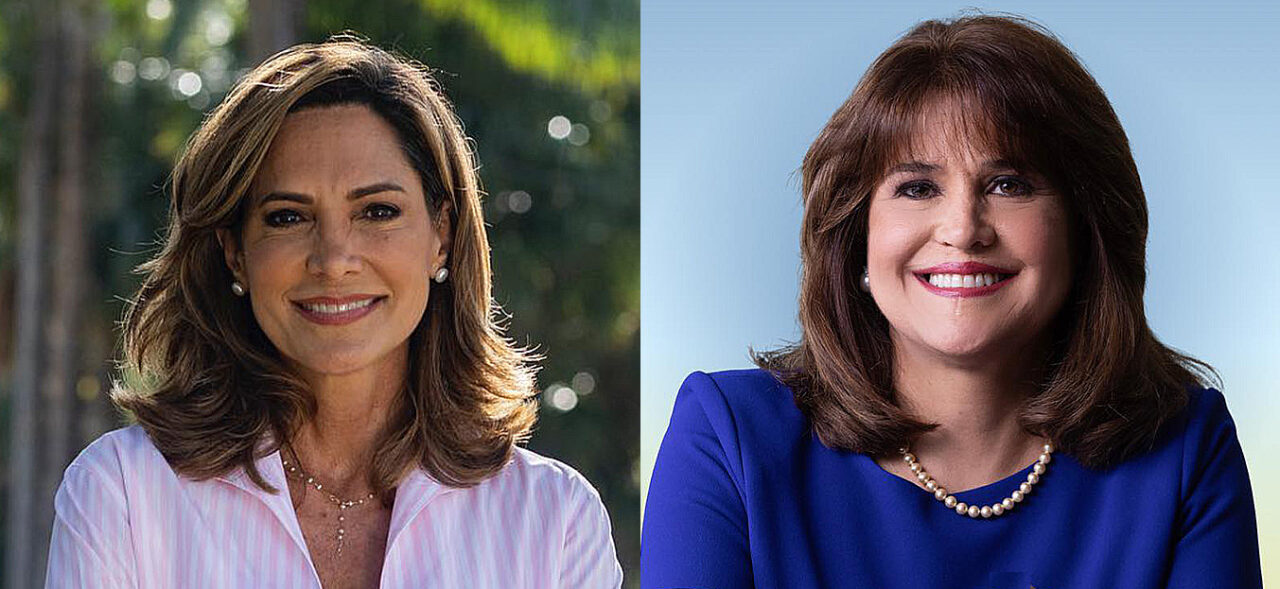 The race for CD 27 was the costliest congressional contest in South Florida this year.
After months of mutual name-calling and accusations of impropriety, Republican U.S. Rep. María Elvira Salazar has won the right to serve for another two years in Florida's 27th Congressional District.
With all ballots tallied by early Wednesday morning, Salazar had 57.3% of the 237,345 votes cast compared to 42.7% for Democratic state Sen. Annette Taddeo.
The outcome caps the costliest and what many predicted to be the most closely contested congressional race in South Florida this election cycle.
It also marks the first time in eight years a political party retained control of CD 27, which encompasses all or part of the Miami-Dade County municipalities of Miami, Coral Gables, Cutler Bay, Key Biscayne, Pinecrest, North Bay Village, South Miami and West Miami.
The district also contains the unincorporated neighborhoods of Coral Terrace, Fisher Island, Glenvar Heights, Kendall, Olympia Heights, Richmond Heights, Sunset, The Crossings, Three Lakes, West Chester and Westwood Lakes.
The General Election race for CD 27 pitted Salazar, a decorated former TV journalist with two years of lawmaking experience, against Taddeo, a small business owner who made history in 2017 as the first Latina Democrat to win a seat in the chamber.
The two share some commonalities. Both candidates have long lived in Miami-Dade County. Both performed strongly in the Aug. 23 Primary Election. Salazar took 81% of the vote against a lone opponent, while Taddeo knocked off two adversaries with 68% of ballots cast in her favor.
Both have roots in Latin American countries overrun by Marxist oppressors. Salazar was born in Miami to Cuban expatriates who escaped Fidel Castro's communist regime. Taddeo fled Colombia as a teenager to escape communist terrorism.
Since their Primary wins, however, each has tried to label the other as a socialist through misleading campaign ads. Taddeo's camp took aim at Salazar's support of abortion restrictions and votes against Joe Biden's "Build Back Better" plan and prescription drug costs as evidence Salazar "talks like a conservative" but "votes like a socialist."
The move was an attempt to flip the script on the incumbent, who since her first run at public office has applied the "socialist" label to Democrats.
The GOP, in turn, this year produced an ad painting Taddeo in a similar light for participating in an April 2018 panel discussion on expanding health care access alongside several other local politicians and groups, including the Miami chapter of the Democratic Socialists of America.
Positions and platforms
Salazar, 61, entered politics in 2018 by running to succeed longtime Republican Congresswoman Ileana Ros-Lehtinen. She lost that year to Democrat Donna Shalala, a former cabinet member in President Bill Clinton's administration.
But she won their rematch two years later. As she continued to do this election cycle, Salazar targeted. As she continued to do this election cycle, she targeted the district's Spanish-speaking population frequently by radio, likening her opponent's policy proposals to those of the Cuban oppressors and tying her to U.S. Sen. Bernie Sanders of Vermont, a self-described Democratic socialist.
Fighting "leaders in Congress on the left (who) want to implement socialism in this country" was the top platform issue listed on Salazar's website this cycle. Others include boosting the economy, job creation, establishing term limits for federally elected officials, improving health care affordability, environmental protection and broadening access to education.
Taddeo, 55, leaned into her personal story this election cycle. As a young girl, she underwent 19 surgeries to correct a cleft lip. At 17, she fled to America — first to Alabama — after the Marxist guerilla group FARC kidnapped her father, a World War II veteran.
For nearly 30 years, she's run LanguageSpeak, a Miami-based translation services company. She began her political career in 2008, when she unsuccessfully tried to unseat Ros-Lehtinen, a moderate Republican with some liberal leanings.
In the years since, Taddeo sought several elected posts and won some, including her 2012 election as Chair of the Miami-Dade Democratic Executive Committee and her 2017 victory in a Special Election for Senate District 40. The win made her the first Latina Democrat to earn a seat in the chamber.
She was also former Gov. Charlie Crist's running mate during the 2014 gubernatorial race. Before switching to the CD 27 contest in June, she ran this year against Crist and Agriculture Commissioner Nikki Fried in the Democratic Primary for Governor.
Taddeo's platform this election prioritized access to affordable education and health care, protecting women's reproductive rights, enacting "commonsense" gun reform, supporting measures to improve Florida's water cleanliness, combating climate change, protecting the environment and strengthening American democracy.
Her work in the Senate comported with those priorities. She passed successful legislation to lower education costs for disabled veterans, improve protections for apartment dwellers, boost development of affordable housing and require financial literacy education in high school.
After reports surfaced of a voter registration scam in which Spanish-speaking Miami residents were tricked into switching their party affiliation from Democratic to Republican, Taddeo spearheaded an effort to determine who was responsible.
She later convinced her Republican colleagues in Tallahassee to include language raising financial penalties for organizations whose employees alter voting registration forms without a person's knowledge in legislation that will go into effect next year.
Taddeo similarly pushed to amend Florida's ban on abortion after 15 weeks to include an exception if a fetal abnormality is detected by sharing her experience of ending an ectopic pregnancy. The amendment failed 23-15.
Taddeo was also unafraid to criticize her own party. In February, she and Republican Miami Sen. Ileana Garcia teamed up to lead the Senate in opposing Biden's removal of FARC from the U.S. list of foreign terrorist organizations.
Salazar, too, broke from party ranks on multiple occasions. In the June aftermath of the elementary school massacre in Uvalde, Texas, she was one of 14 House Republicans — and the only one from Florida — to vote for raising the legal age to buy so-called assault rifle-style firearms from 18 to 21.
The vote cost her with the National Rifle Association, which gave her a "D" rating in September, the lowest ranking the organization gave any member of the GOP.
The following month, she was among six Florida Republican members of Congress to vote for the Respect for Marriage Act to preserve national marriage equality.
She also earned praise for supporting a bipartisan resolution reinstating federal limits on methane emissions from oil and gas producers.
But she hasn't been as effective a lawmaker. Since taking office in Washington, Salazar filed 22 pieces of legislation. None gained traction. She was also an active co-sponsor, signing on to 502 bills of which 11 became law.
Her signature legislation is the Dignity Act, a 532-page package that would create a pathway to citizenship for migrants living in the country illegally. The measure would create multiple programs through which undocumented residents can stay and work in the U.S. while paying an annual fee. The money collected would fund retraining programs for U.S. workers and strengthen the southern border.
But Salazar's rhetoric regarding immigrants has been less than dignifying. Just three weeks after DeSantis took credit for flying planes of mostly undocumented Venezuelan migrants from Texas to Massachusetts, Salazar said the migrants "would kiss the floor" in thanks for the opportunity they were being given to live in America.
Taddeo decried the move as a political stunt using asylum seekers as political pawns. Of note, she and 32 of her Senate peers approved the state's $109.9 billion budget, which included a $12 million set-aside for DeSantis' migrant-relocation program. However, the authorizing language specified the funds were for moving migrants out of Florida, not between other states.
Salazar also perpetuated Trump's false narrative that there was systemic voter fraud in the 2020 election. Speaking on Spanish-language Miami station Radio Mambi on Jan. 11, 2021, she referenced a widely discredited conspiracy theory involving voter discrepancies in Pennsylvania.
Two years after Americans elected Biden as President, there is still no evidence of voter fraud widespread or systemic enough to have swayed the outcome of the election.
Endorsements, fundraising, polling
Salazar raised more than $5 million to defend her seat through a blend of grassroots donations and contributions from corporate and organizational interests. She burned through most of it. As of Nov. 1, thanks to ample spending on advertising, she had $735,000 remaining.
She also benefited from $1.7 million worth of ad buys House Minority Leader Kevin McCarthy's Congressional Leadership Fund made in late September. Taddeo's campaign manager, Nick Merlino, called the "last-minute" GOP infusion evidence the contest for CD 27 "is a tossup and Annette can flip the seat."
Taddeo raised $1.6 million and spent all but $45,000 of it by early November. Outside PACs provided assists, including actress Eva Longoria's progressive PAC, Latino Victory Fund, and Drain the DC Swamp, a PAC targeting vulnerable Republicans across the country.
Salazar carries into Election Day endorsements from most of her Republican peers in Congress, as well as nods from DeSantis, Miami Mayor Francis Suarez, Coral Gables Mayor Vince Lago, West Miami Mayor Eric Díaz-Padrón, former U.S. Secretary of State Mike Pompeo, the South Florida Council of Firefighters and National Association of Police Organizations, among others.
Taddeo, meanwhile, had backing from House Speaker Nancy Pelosi, House Majority Leader Leader Steny Hoyer, and U.S. Reps. Kathy Castor, Lois Frankel, Ruben Galego, Eric Swalwell and Debbie Wasserman Schultz.
A passel of current and former elected officials, including Crist, also announced their support of Taddeo. So did many locally elected officials like Miami-Dade Mayor Daniella Levine Cava and national organizations including Planned Parenthood, Communication Workers of America and the Human Rights Campaign.
Her most newsworthy endorsement, however, came from former Florida GOP Chair Al Cárdenas on Oct. 6. He said it was the first time in four decades he was backing a Democrat for Congress.
"She puts her country and her state above herself," he told attendees of a private fundraiser in a video shared to social media. "And to me, that's now a precondition for supporting anyone running for office: Is your country more important than your particular career, political career?"
Analyses of the CD 27, whose 74% share of voting-age Hispanics is the largest  statewide, showed was safer for Republicans after Gov. Ron DeSantis' administration carved the predominantly Democratic city of Miami Beach out in April.
Recent polling supported that assessment. An Oct. 9-11 poll by Republican firm Cygnal, commissioned by a super PAC supporting Salazar, and an internal survey for Taddeo's campaign conducted Oct. 3-5 found the two candidates are statistically tied.
The website FiveThirtyEight offered a less sunny forecast for the challenger. By Tuesday morning, it gave Taddeo an 8% chance of winning based on 40,000 simulations of the election.
Early voting in Miami-Dade didn't help to brighten matters for Taddeo as more Republicans than Democrats casted ballots ahead of Election Day.