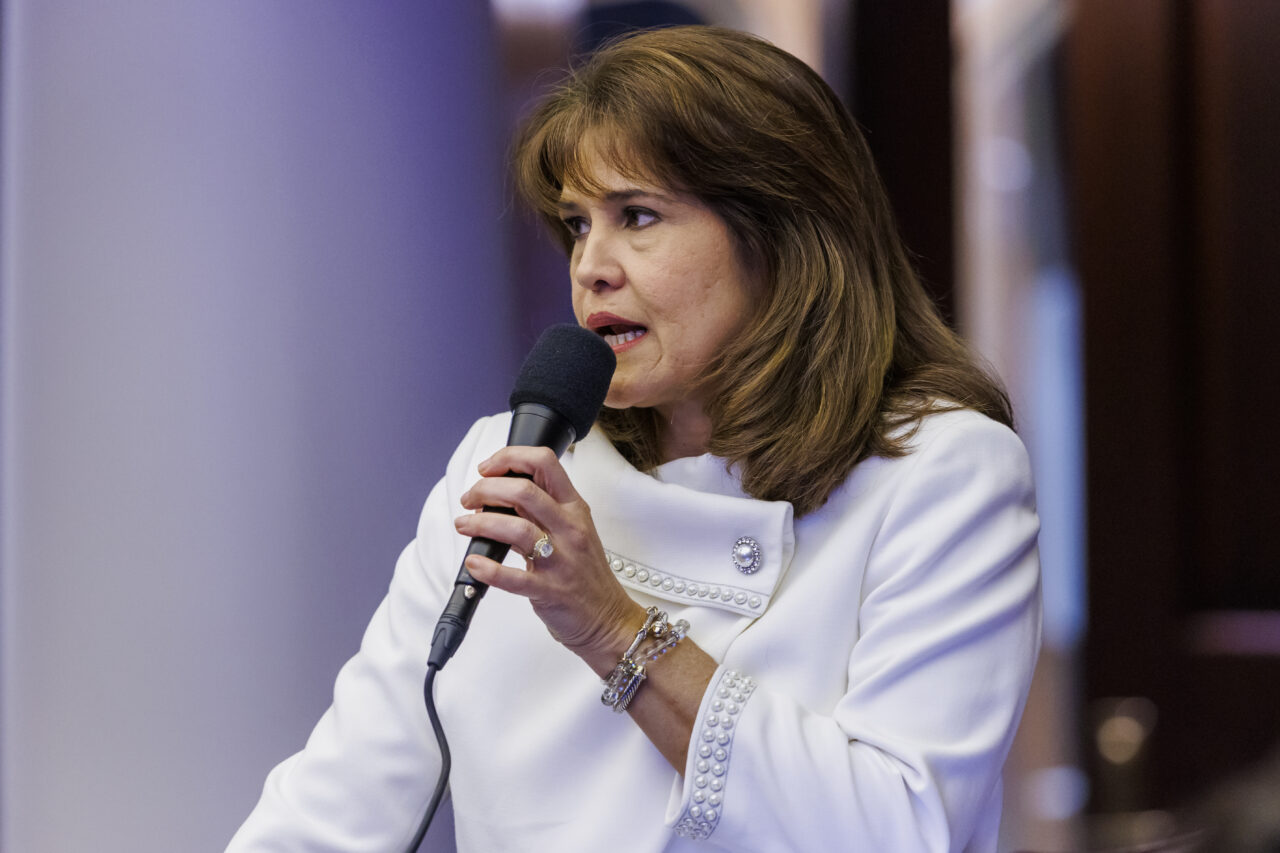 'We are at a pivotal moment in our country and we desperately need leadership in Washington.'
Miami Democratic state Sen. Annette Taddeo is dropping out of the Governor's race and will instead run to unseat incumbent Republican U.S. Rep. María Elvira Salazar in Florida's 27th Congressional District.
Taddeo confirmed the decision Monday, telling Florida Politics that recent mass shootings across the country prompted her to reevaluate her political priorities.
"After the tragedies in Buffalo and Uvalde and a conversation with my daughter about the realities our kids face daily, I knew what I needed to do," she said in a statement. "We are at a pivotal moment in our country, and we desperately need leadership in Washington that can be trusted to put politics aside for the best interest of Miamians.
"I'm excited for the opportunity to earn the trust and support of the people who live in Florida's 27th Congressional District, which includes much of the area I've been grateful to represent in my historic time in the Florida Senate since 2017."
Taddeo's announcement comes after months of speculation that she would cancel her gubernatorial bid in favor of a run at the U.S. Legislature's lower chamber. That included May 11 comments by Miami-Dade County Commissioner Eileen Higgins, who ended her campaign for CD 27 less than a week after announcing it upon hearing that Taddeo was planning a switch.
"I believe having a unified front is critical in taking this seat back (and) intend to stand behind a strong leader like Sen. Taddeo rather than force an unnecessary Primary," Higgins said.
It also comes after months of disappointing fundraising and polling for Taddeo, who entered the Governor's race in October, long after Democratic front-runners Charlie Crist and Nikki Fried filed to run.
Since then, she's struggled to compete in fundraising, amassing less than $925,000 between her campaign account and political committee through April 30 compared to more than $9.2 million for Crist and $4.3 million for Fried.
Republican Gov. Ron DeSantis, meanwhile, has hauled in more than $47 million in the last six months alone.
Multiple polls for the Governor's race showed Taddeo trailing far behind Crist and Fried with as little as 3% overall support among statewide voters.
Taddeo's campaign manager, Nick Merlino, denied at the time that Taddeo had any plans for a shift. On Monday, he maintained that was true then but said the "overwhelming support from community leaders" that the rumors helped to generate influenced her choice this week.
"That's what got it to become a real thought," he said. "Honestly, she's been getting calls to run for this seat since January or February of last year, but she never really considered it. It wasn't until that fake story broke a month or so ago that it became a real thought. Then she sat down with her daughter and, given what's going on right now, she decided this is the best choice for her in this critical moment."
Running for CD 27 will put her on a collision course with Democratic Miami Commissioner Ken Russell, who initially filed to run against U.S. Sen. Marco Rubio before shifting his campaign to CD 27 in early May. Russell's campaign has collected several union endorsements. He's also gone viral numerous times on TikTok for videos calling out his opponent and sea polluters.
Taddeo will also face Angel Montalvo, a self-described "unapologetically progressive" Democrat who is running a 100% grassroots campaign.
Other candidates in the race include Republican Frank Polo, who filed to run in late January, and no-party candidate Ian Anthony Medina, who filed to run in July 2021 but has reported no campaign finance activity since.
Russell did not immediately provide comment upon Florida Politics' request. Speaking about her CD 27 run last month, he said he had no intention of dropping out of the race but stressed a need for unity among Democrats.
"I'm running against María Elvira Salazar, and after launching my campaign a week and a half ago, I've gained the support of Mayors from across the state as well as City Commissioner. I've worked on municipal issues all over Florida and raised $200,000 in the last week. The support has been incredible," he said at the time.
"As Democrats, our eyes on the prize should be the General Election, and unification is the only way we get there. We need to support each other as a Party, and we need to build a slate statewide that is effective in holding onto and winning back as many seats as possible."
Taddeo narrowly won her current seat representing Senate District 40, which she flipped blue in a 2017 Special Election by defeating Republican José Félix Díaz with less than 51% of the vote. She successfully held onto the district in 2020 even as Republican former President Donald Trump there won with about 52.5% of the vote as Democrats throughout South Florida suffered losses.
That could make her well suited to run in CD 27, the most closely divided district in the state of Florida. Trump won in the jurisdiction with just 49.76% of the vote in 2020, while Democrat Joe Biden won 49.49% of the vote.
Like Taddeo, Salazar was able to outperform her Party's presidential nominee. She won with 51% of the vote to Shalala's 49%. And the once-a-decade restricting process has made the city somewhat more Republican-friendly.
Throughout Taddeo's campaign for Governor, the Colombian American has argued she offered bipartisan appeal and a record of performing well with South Florida's Hispanic voters.
Several noteworthy political figures from Florida opined on Taddeo's switch Monday.
Fried spokesperson Carolina Korba said the campaign wishes Taddeo well and expects "a new South Florida Democratic Congressmember and an ally of the Fried Administration in 2023."
"The choice for Democrats couldn't be any starker," Korba said in a statement. "This race is now only between a proven statewide Democratic winner and a three-time statewide loser and self-described 'pro-life' former Republican."
Fried herself added on Twitter, "Thank you @Annette_Taddeo for inspiring many to 'believe' during your campaign. Best of luck to you and your team on the next campaign."
In a statement describing Taddeo as "a dear friend and a force to be reckoned with," Crist said he hopes to see his former opponent succeed.
"She is a tireless public servant and fearless advocate for working Floridians across the Sunshine State and in South Florida," he said. "I thank her for her leadership, civility, and fighting spirit in Tallahassee and in this Governor's race. And I wish her nothing but the best as she embarks on her run for Congress."
Chris King, a past Lieutenant Governor candidate, called her "a class act."
"I look forward to seeing her public service continue for years to come," he said on Twitter. "It's time for our party to unite behind (Crist) and beat Ron DeSantis!"
Republican National Committee spokesperson Julia Friedland used the switch to potshot both Taddeo and Crist.
"The third wheel of the Florida Democratic Primary for Governor, Annette Taddeo, just lost her fourth race in Florida," she said in a statement. "It won't be long until Charlie Crist follows suit."
Orlando Democratic Rep. Anna Eskamani said Taddeo "will be an amazing Congresswoman."
Primary opponent Montalvo took also to Twitter to "welcome (Taddeo) to the race."
"Democratic Party primaries represent the very essence of a functioning democracy. We advocate for the policies that we believe will best serve our communities," he wrote. Let's talk about the elephant in the room (with Ken Russell and Annette Taddeo): corporate money.
"Sadly viability in Dem primaries is based on how much money you can raise. Just this year we've seen millions pumped into Dem primaries from even GOP donors. Is this OK?"
___
Jacob Ogles of Florida Politics contributed to this report.