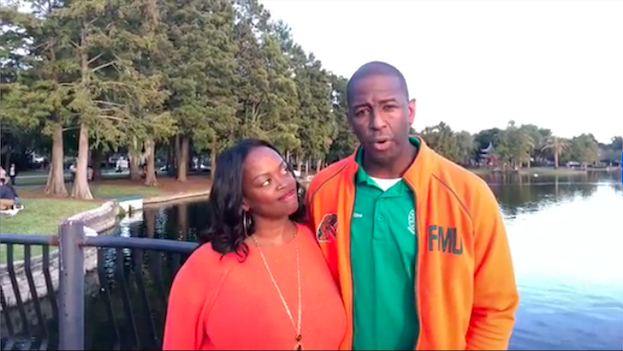 Democrat Andrew Gillum formally conceded the race for Florida Governor for a second time.
Standing alongside wife, R. Jai, in a Facebook Live video and wearing an jacket for his alma mater Florida A&M University, the Tallahassee mayor formally brought to a close one of the most dramatic gubernatorial elections in state history.
"This has been the journey of our lives," Gillum said.
The video (available below) posted shortly before 5 p.m., a symbolic acknowledgement that thousands of vote-by-mail ballots that could still be entered into state totals if verified by that time held no potential to close a gap of more than 30,000 votes separating Gillum from Republican Gov.-elect Ron DeSantis.
Setting a conciliatory tone, Gillum wished his opponent well.
"R. Jai and I wanted to take a moment to congratulate Mr. DeSantis on becoming the next governor of the great State of Florida," Gillum said.
The concession came hours after Republican President Donald Trump praised Gillum as a "strong Democrat warrior" and "a force to reckon with."
Gillum later tweeted similar sentiments to DeSantis, who responded with a conciliatory tone as well.
"This was a hard-fought campaign," DeSantis wrote. "Now it's time to bring Florida together."
Gillum first conceded on Election Day as returns across the state showed DeSantis ahead.
But as late returns counted over the next two days put the race within a 0.5 percent margin, that triggered a machine recount for the Governor's race and two other statewide contests.
That led Gillum to retract his initial concession.
In the following days, attorneys for Gillum closely watched recount proceedings as the Democrat toured the state encouraging the counting of every vote. Supporters for DeSantis and Gillum clashed in major protests outside elections offices in Broward County, where national media captured the friction of video.
The gubernatorial contest, though, was the least close of the three major races. The initial tabulation of the votes put DeSantis up 33,684, or 0.41 percent of more than 8.2 million votes cast.
After a machine recount, the gap shrank by one, to 33,683 votes.
While Gillum encouraged voters straight into Saturday to make sure their vote-by-mail ballots did not get rejected in error, he ultimately conceded minutes before the 5 p.m. deadline for voters to contact election officials.
Gillum said in his Facebook video, though, that his own fight for progressive values would not end with this race.
"Although nobody wanted to be governor more than me, this was not just about an election cycle," he said.
"More than 4 million of you decided you wanted a different direction for the state of Florida… Your voices will continue to power us as we stand at the front lines right alongside you to make this a state that works for all of us."
Gillum said he would still champion progressive issues as a private citizen. His first priority, though, will be on demanding Florida's election systems be modernized so avoid the protracted and at times uncertain confusion about the election results this year.
"We need to update Florida's election system and bring it into the 21st century," he said.
Gillum had been a surprise Democratic nominee, surging just ahead ahead of the August primary on a platform endorsed by Bernie Sanders and embraced by the far-left of his party.
While Gillum lost, he championed passage of Amendment 4, which passed and will automatically restore voting rights for 1.6 million Floridians previously convicted of felonies.
The Democratic leader, who drew national interest in Florida's gubernatorial contest, said his candidacy representing the start, not an end, to a progress movement in the state. He encouraged supporters to continue demanding change.
"You win that, yes in many cases through elections, but you also win that through the dedicated, committed and hard work that's required to transform communities, to transform neighborhoods, to transform the state of Florida," he said.
Democrats praised Gillum quickly upon his concession.
"You captured our moral imagination and called on us to remember that in Florida and our nation, great leaders don't divide or demean but seek to unite and elevate all," wrote New Jersey Sen. Cory Booker.
State Rep. Carlos Guillermo Smith, an early supporter of Gillum, wrote: "You inspired a generation to #BringItHome for fairness and equality and softened the soil for the next progressive champion to fight for a Florida that deserves better. I'm ready for your next journey whatever that may be."
Former HUD Secretary Julian Castro wrote: "He ran with class, integrity and a positive vision for the future that inspired millions of people in Florida and beyond. Great things ahead."
State Rep.-elect Anna Eskamani praised Gillum and running mate Chris King for running "one of the most inspirational campaigns our state has ever seen." "No matter who our Governor is, know that I am fighting for hardworking families everywhere," she added.
Florida Democratic Party chairwoman Terrie Rizzo echoed the sentiment. "FlaDems are incredibly proud of you. Looking forward to continuing the fight with you," she wrote.
Rizzo later released a lengthy statement praising Gillum's run. "We could not be more proud of Mayor Gillum and Chris King for running a historic campaign, that inspired millions and gave people hope for a better Florida. We are grateful for the sacrifices you both made to run for Governor, and Florida is better because of your candidacies. We look forward to continuing the fight with you, and will keep working toward your vision to bring it home."
And Tom Perez, Democratic National Committee chairman, suggested Gillum still had a bright future in politics. Perez wrote that Gillim "ran an inspiring campaign that energized millions of Floridians & sparked hope across the Sunshine State. He refused to get in the gutter with his opponent, & he never gave in to the politics of fear and division. Thank you for fighting the good fight."
California Sen. Kamala Harris suggested as much in her own post, asserting Gillum's "campaign inspired millions of people not just in Florida but across the country to create change in their communities. I know we haven't seen the last of him.
U.S. Rep. Stephanie Murphy said she was proud to stand with Gillum and King. "Both of you, along with R. Jai, Kristen, & your beautiful families, led by such example and handled it with grace," she tweeted. "Thank you."
State Rep. Shevrin Jones remarked that Gillum still made history as Florida's first black nominee for a major party, done at the same Stacey Abrams ran as Georgia's first black woman to be a nominee and as Ben Jealous ran for governor in Maryland. "Regardless of the outcome, history was still made, and I am happy to say that I was part of it," Jones wrote.
U.S. Rep. Frederica Wilson made reference to the historic group of governor candidates as well. "You are all brilliant trailblazers who God has placed on a path to greatness. This is just the BEGINNING! KEEP STANDING!"
We are going to keep fighting. We will keep working. And in the end, I believe that we will win. I am so thankful to each and every one of you. pic.twitter.com/fWCKQysGmZ

— Andrew Gillum (@AndrewGillum) November 17, 2018